THIS GIVEAWAY IS NOW CLOSED
Happy Monday!  Wow, I can't believe Thanksgiving is this week.  So crazy!  But maybe over the holiday break you can be refinishing some beautiful furniture or making a custom decorative piece, because the sweet folks at Altar'd are giving away 4 of their e-books! Yahoooo!!
Three people will win their e-book How to Paint Furniture, and 1 winner will receive a copy of their latest e-book, Decorative Finishes for Furniture.  Are you excited yet? :)
So you will either be learning how to paint beautiful furniture like this…
or creating awesome decorative pieces like this…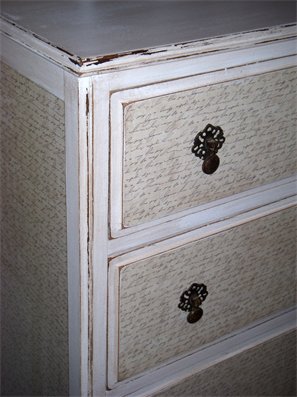 Both are fantastic reads with lots of great information.  Even if you are a beginner just learning, or if you are advanced, these e-books are a must read.  And if you can't wait, you can always purchase one or both books for just $10 by clicking here.
Isn't that sweet of them to do??  I'm excited because there will be 4 winners!  I love it when more than 1 person wins. :)
To enter just do the following:
1. Leave a comment and let us know that you would love one of their e-books. :)
For additional entries (leave separate comments)…
2. Become a liker of Altar'd on their Facebook page and come back here and let me know you did.
3. Become a follower or subscriber of my blog, and if you already are just let me know!
So that's it friends.  I will run this giveaway through Saturday, November 27 and will have Random.org choose the 4 lucky winners. Good luck!!
If you are new here to my site (thank you!), don't forget you can follow me on Facebook, Twitter, and subscribe to my RSS feed by clicking here.  :)
THIS GIVEAWAY IS NOW CLOSED
xxoo,
Decorchick!