This week's giveaway is a little different than previous giveaways, and one that I am so excited to share with all of you!  First off, there will be 5 winners!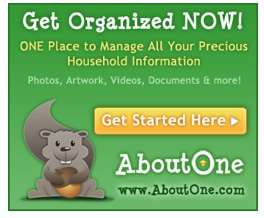 AboutOne is a secure online family management system that allows you to store and manage household information all in just one location, including:
Health Records
Education Records
Photos/Videos
Home Records
Address Book
Family Memories
Vehicle Records
"AboutOne's technology makes data entry fast and easy, from a smartphone, scanner, or other web-enabled device. It also enters much of your information automatically, saving you time by making that information work for you in a way that other applications don't, including automatically created hard copy memory books, family newsletters, health summaries, babysitter instructions, and greeting cards that mail themselves."
Access to your stored information is always easily accessible, and the software is VERY user-friendly.  I am not the most tech savvy person and I've been using this program for about a week and it is extremely easy and actually kind of fun to enter everything.  Also, I am not the most organized person (although I like to think I am) so I am so excited to have this program so I can better keep up with everything.  There is nothing boring about it or any crazy manuals to read.  Just enter your info and you're good to go!
Besides the obvious records and information that I will use it to store, I am also going to use it to keep up with all of the home improvement projects that we do around the house.  This will really come in handy for me since I try to keep a running list of everything and the costs.
AboutOne is the hottest new online management resource and has been featured on many major T.V. networks and websites, and has grown very rapidly since it's launch.
So are you ready to organize your life and your family's life?  AboutOne is giving away 5 yearly memberships to their online service (each a $30 value)!
To enter the giveaway to win 1 of 5 free yearly memberships to About One, please do the following:
Leave a comment telling us you want to get organized!
Visit AboutOne's site and sign up for their FREE 17 day trial and you will get access to all of the features AboutOne offers.  Absolutely no credit card is required for this, just your name and an email address.  Then come back to this post and leave a comment that you signed up.
Like AboutOne on Facebook and leave a comment on this post that you did;
Follow AboutOne on Twitter and leave a comment on this that you did.
Tweet or Facebook about this giveaway with a link back to this post, and leave a comment that you did.
And that's it!  I know you will love this once you get set up, and rest assured that all information is very secured.  What's even better is that if you decide to sign up after your trial period runs out, it only costs $30 for a yearly membership.  I will post a 25% off coupon code for all of you once the giveaway winners are announced!
I'll run this giveaway through Saturday, April 16, 2011 and will announce the 5 winners using Random.org.  Good luck everyone!
xxoo,
Decorchick!