I know that title sounds silly but I didn't know what to call this, and still don't.  But I promise it's cute, AND functional.  Well, it is for us anyway. :)
Do any of you have one of these coffee machines?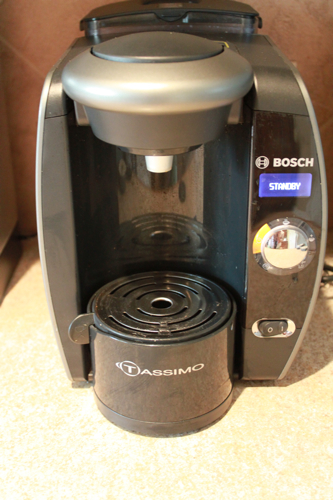 Ours is the Tassimo machine, but Keurig also makes them and other fancy retailers.  You know, where it will just make 1 cup of coffee at the push of a convenient button?  We LOVE this machine and use it every single day.  BUT…for some reason, we can't seem to walk the 5 steps to the trash can that's under the sink to throw away the used coffee pods.  So, typically every day I have at least a few (or more) of these on my kitchen counter…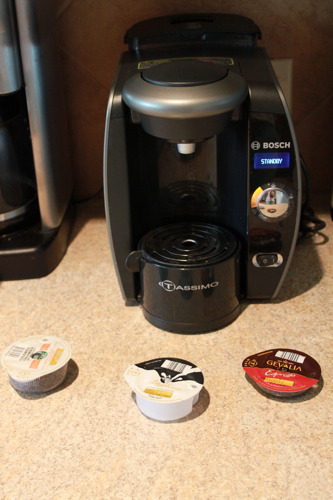 And it DRIVES.ME.NUTS!!!   I don't just blame my husband either.  I apparently have problems walking those 5 steps to the trash can too.
I hunted around the house for some sort of thing I can set by the machine and we could just throw the used pods away in. And then once it's full, I could just carry the whole thing to the trash can. Brilliant right? :)  But it had to be cute, so I decided to spray paint one of these with chalkboard paint…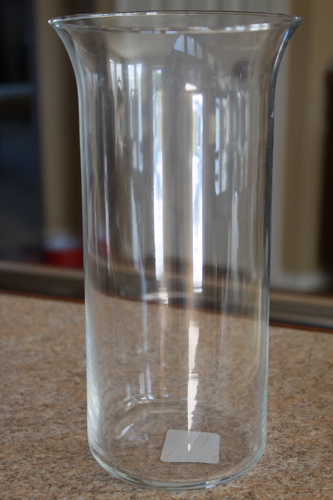 Yes, a hurricane from the Dollar Store.  I always keep plenty of these on hand in case I need a last minute birthday gift. :)
Once the paint was dry, I wrapped some burlap around it and trimmed the top and bottom with some black ribbon.  I just used hot glue for all of that.  I had to wrap something around the bottom so I would be able to pick it up.  Otherwise, whenever you get fingerprints on chalkboard paint it's not a pretty sight.
And here is what it looks like.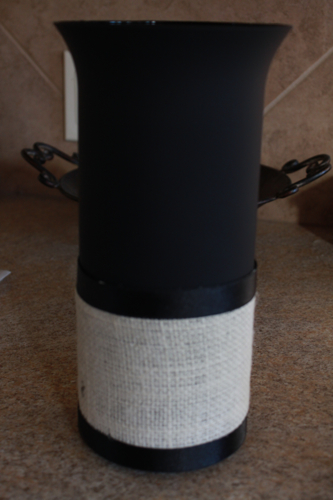 Then I gave this little cutie it's new purpose in life with some chalk…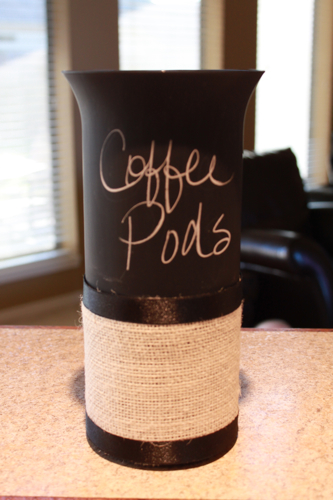 Isn't it cute? :)
Here it is by our little coffee station in the kitchen.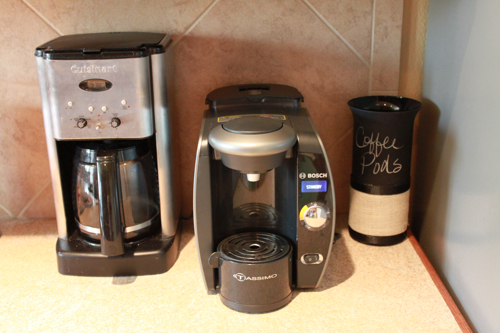 And guess what?  It works!!  I made this 4 days ago and I've had no used coffee pods on the counter.  They somehow magically make their way into this little chalkboard canister thingy.  It's amazing how that happens, eh?  I've already had to empty this one time because it got full, and I happily walked the 5 steps to the trash can with no problems to empty it.  Again, amazing how that happens.  :)
Now, all I need to figure out is what to do with the spoon that we stir our way-too-much-sugar and heavily creamed coffee with. For whatever reason, the spoon can't make it to the sink…
Anyone else have a coffee pod issue?  I'm probably 98% sure I'll be in the minority on this one unfortunately.
Don't forget to enter the giveaway from Red Letter Words here to win a beautiful gallery wrap canvas.
Please visit these lovely sponsors too. :)
Altar'd – How to paint furniture guide
xxoo,
Decorchick!