This was probably the easiest little project I've done to date.  But it's sooo cute!!
I had these 2 books that I got at a resale shop recently…
Well I took that blue one and fixed her up!
First I spray painted it Heirloom White.  I did tape around all of the pages so I could leave them old and worn looking.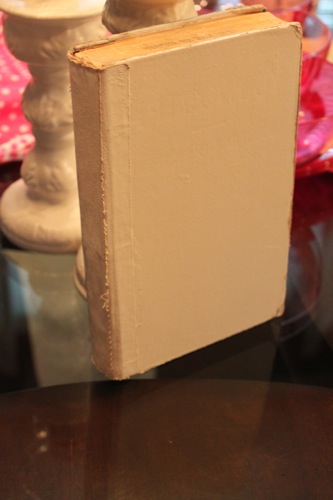 And then I took these 2 things…A stamp from Hobby Lobby and an ink pad.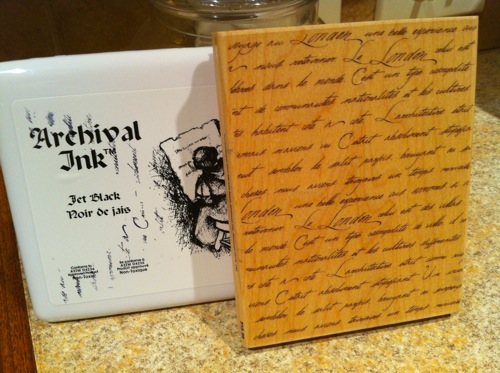 And did this!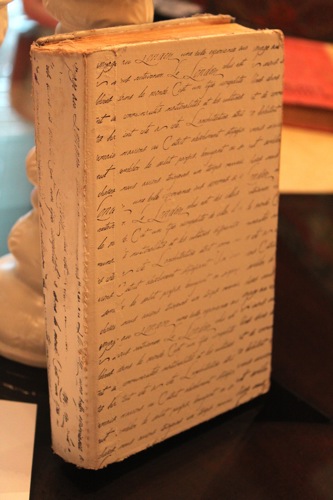 Helloooo lovely!!  Now, as much as I would LOVE to take the credit for this project, I get to give big props to Manuela at The Pleasures of Homemaking for coming up with this.  You can click here to see her painted books.  I never would have thought in a million years to spray paint a book, much less use a stamp afterwards to make it even cooler.  Thanks Manuela!  :)
I got my stamp and pad at Hobby Lobby and used my 40% off coupon.  I just picked this stamp because the script was pretty.  The stamp is huge too!
Ok so then I tied a little ribbon around the book.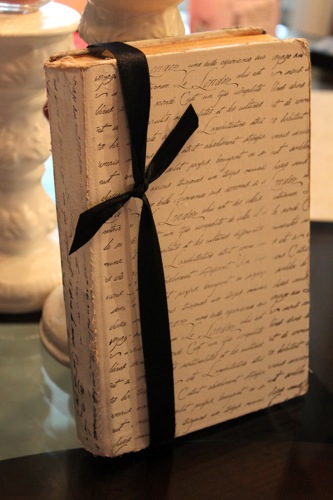 Then I sat it on my entryway table and put my interchangeable cheese dome cloche on top of it.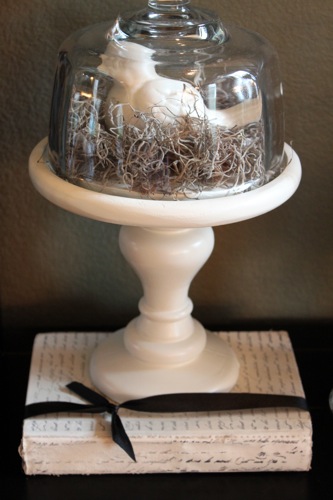 I don't know if it will live here forever, but that's where it ended up for my photo shoot. :)
Here's a few more close-ups.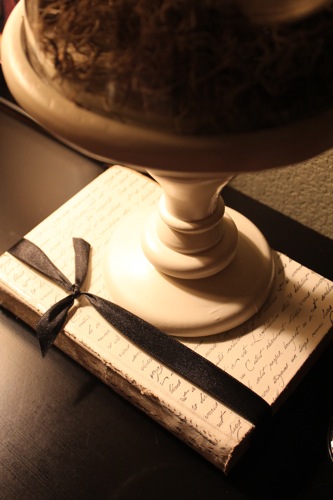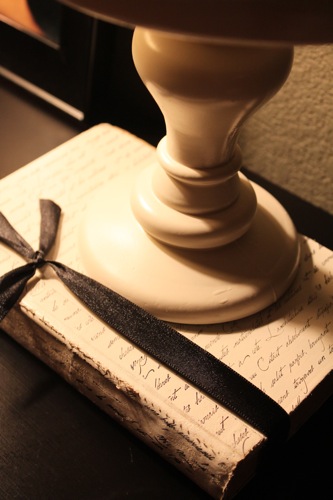 Don't you love how old and vintage it looks?  I love those worn edges.
So, now I guess I will be a stamp junkie, as well as many other things.  The list is never-ending.  I had so much fun doing this. Stamps are cool!!!  I almost went on a stamping spree earlier thinking of all the things that could be decorated with stamps.  I also bought some pretty scrapbook paper today that could easily be framed and then just stamp on something!  Easy!  I will definitely be expanding my book collection when I go to the thrift stores now.  I would love to have a little collection of pretty, painted, and stamped books.  :)  And I know everyone uses books to raise up their accessories, so now you can go paint those books and make your display even prettier. :)
And in case you are wondering, I still have that red book.  I'm going to do some modge-podge action on it and decorate that one too.
Gosh, I know I promised you I would ease up on the exclamation marks, but I just get too excited and can't help myself!! :)
xxoo,
Decorchick!