Welcome!
I'm so glad you're here! I'm Emily, a homemaker and home decor/DIY blogger. I love decorating, DIY projects, any kind of molding and strong coffee. I hope you enjoy browsing around here, and I hope you'll feel empowered to create all things beautiful in your own home after you visit my site. Read More…
Recent Posts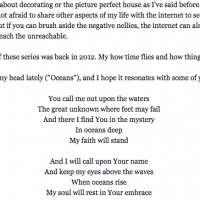 Fri, 19 Sep 2014 By Decorchick! 5 Comments
Because really, life isn't all about decorating or the picture perfect house as I've said before. There is definitely more to me than that, and I am not afraid to share other aspects of my life with the internet to see. The www can be … Read More...