I don't post a lot of recipes on here, but when I find something extraordinary, I do. :)  Remember the book I recently bought for me and my Mom for Mother's Day?  You know, the one that my Mom didn't need (but enjoyed it anyway and likes the recipes).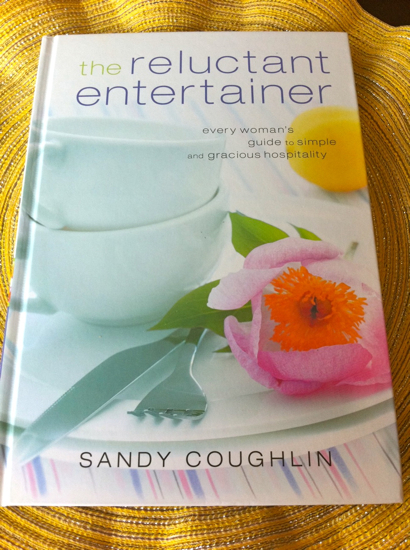 Yes, that's the one.  It is a great book and it has lots of great recipes.  And the book is so good I took it's advice and didn't even worry about the floors that needed to be vacuumed and mopped, and the furniture that needed to be dusted when we had family over for brunch this past weekend.  All I was worried about were the new recipes I was preparing and was hoping everyone would enjoy it. :)
I could talk more about this book because I find it fascinating how most of us think our homes need to be spotless or magazine-worthy in order to entertain, but maybe that will be a different post.  Today let's just focus on the yummy food.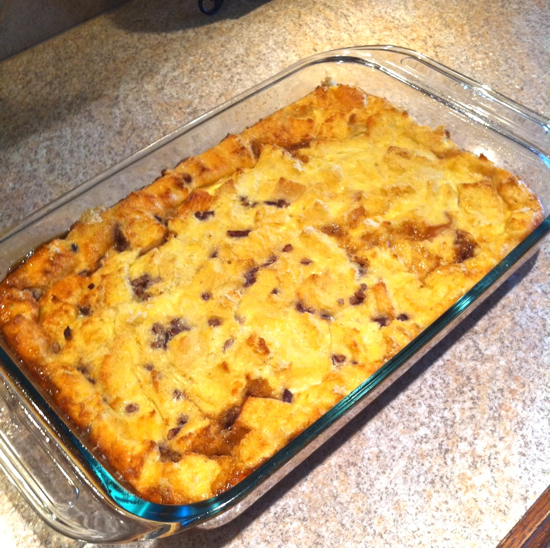 That is the Baked Pear Vanilla French Toast I made and it was SO delicious.  This is one of Sandy's recipes from Reluctant Entertainer and I loved it so much I asked her if I could post it all for you, and she said sure!
Baked Pear Vanilla French Toast
1 cup dark brown sugar
1/2 cup butter
2 T. water
3 fresh pears or 28oz. canned pears, drained (I used canned)
4 cups French bread, cut into small pieces (better to not use the crust)
1/2 cup pecans, finely chopped (I put pecans on half)
9 eggs
2 cups of milk or cream (I used 1 cup of milk, and 1 cup of heavy cream)
2 tsp. vanilla
powdered sugar or maple syrup (we used both, but it is sweet enough as is).
Melt the brown sugar and butter in a saucepan over medium heat.  Add the water and continue heating until bubbly.  Remove from heat and pour into a well-greased 9″ x 13″ baking pan, making sure it is spread evenly.  Slice the pears thinly and arrange evenly on top of the brown sugar mixture.  Sprinkle the French bread pieces over the pears, then the chopped nuts.  Beat eggs, milk, and vanilla together and pour evenly over the entire mixture.  Cover and refrigerate overnight.
Preheat oven to 350 degrees.  Bake uncovered for 40 minutes, or until it becomes puffy and the eggs are no longer runny.  Serve with powdered sugar or maple syrup. Serves 6-8.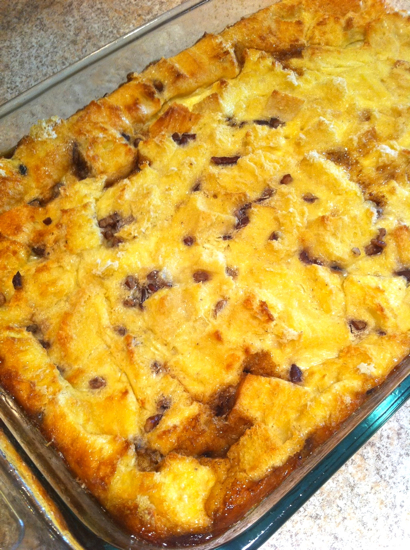 It really was yummy.  I also made another recipe from Sandy's book, but I'm not going to give out that recipe too because hey, that's why she wrote a fabulous book, but it involved bacon + eggs, and it was so delicious too.  Anything with bacon is a winner in my book. :)
Thank you for letting me share this recipe Sandy, I know everyone will love it!
I'll be sharing this post at Rhoda's summer recipe party.
xxoo,
Decorchick!