Thank you to everyone who entered to win!  There were 433 entries…WOW!!  Y'all must have really wanted some cash.  I don't blame you, I'd be all over this one too if it meant $50 extra dollars in my pocket.  Y'alls comments were really hilarious, and I'm so glad the majority of you would use it on more important things other than food. :)
Sooo, Random.Org chose commenter #36.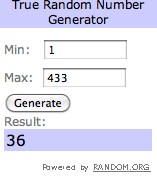 That's you, Anita, at Going a Little Coastal!   Are you excited??  Send me an email with your info and I'll get it out to you. :)
And I've gotten a bunch of new followers recently and wanted to say WELCOME, and THANK YOU!!  I can't wait to get to know you all better. :)
Hope y'all have a fabulous weekend!
xxoo,
Decorchick!