So one of those wild hairs struck me Saturday morning. Maybe because school is about to start SOON, and I've done nothing so far? Very possible. But I'm glad it did because I am pretty darn excited with how this room is turning out so far. And to keep you up to speed, I am redoing our gameroom and turning part of it into our homeschool room. And we had the white molding in there, but I went crazy and painted it this.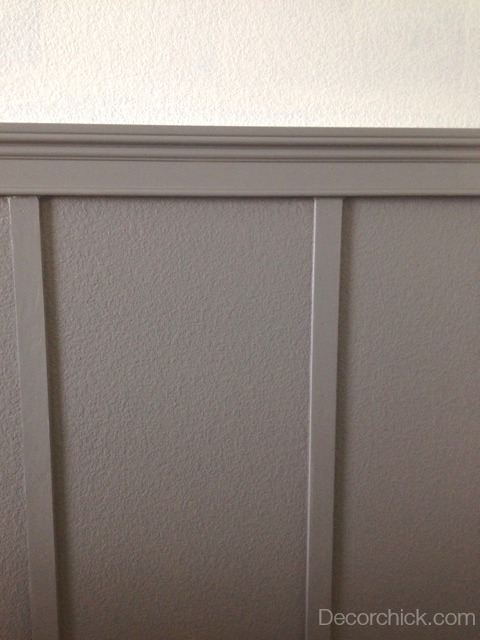 And I can't believe I haven't done this sooner. Seriously. Wait until to see some real pics. All these are just crappy iPhone pics because I was painting into the wee hours of the night for 2 days straight.
Remember our gameroom was previously that blue/grey color? Well, I never really loved it. That's probably why I never did anything else in that room. I'm convinced when I don't love something, especially the paint color, I'll just let it sit forever. And ever.
But not no more, hallelujah!
Oh yea, and obviously I painted the rest of the walls white, but these photos were taken with just 1 coat so there was still a lot of bleed through.
This room was a beast. I asked myself several times over the weekend "what was I thinking" but I'm glad I pressed on. And thankful my husband watched the kids all weekend while I was cooped upstairs for basically 2 days straight.
And I actually did live on the edge a bit…
Not my finest hour, but that was one view while I was cutting in up on the high ceilings. You know, that wall that I've always wanted to close in?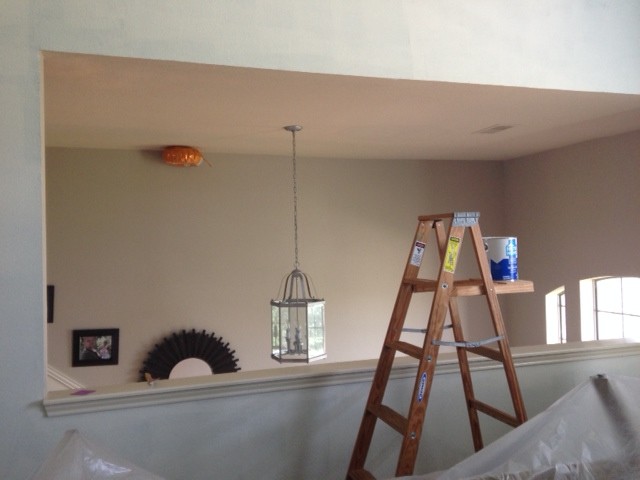 That open space still terrifies me and I have nightmares about it. I still do want to close it in. And you can't even see the ceiling in that picture, but it was HIGH. My palms were sweating. But I survived.
The paint color I used for the wainscoting is Dovetail by Sherwin Williams. I really really love it.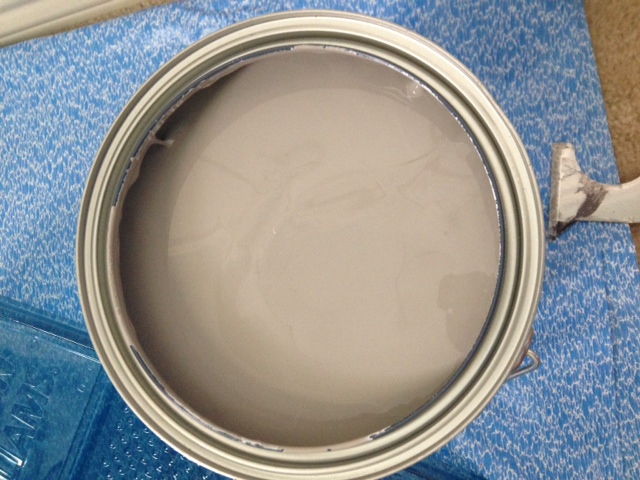 It is a new color for me, and I just chose it on a whim, without getting a sample or anything. You know, when you get that wild hair, you just run with it and hope for the best.
Luckily it worked out in our favor!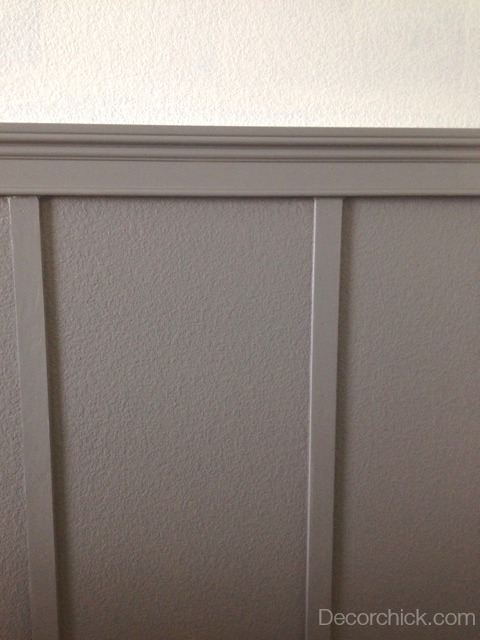 I'll share more of this room (with better photos) once I get some time and get to decorating it. That's the fun part!
And to see more dark wainscoting ideas, see this post. Lots of great ideas!
Hope you all had a great weekend!!
xxoo,
Decorchick!