Let me begin by saying I had made a little progress starting a gallery wall on our big empty staircase wall, but I just wasn't feeling it.  It needed more than just pictures, so what's the solution?  Moulding, and lots of it.
So, I had told my Dad my ideas and plans for our staircase wall, and the next thing I knew, he had emailed me this…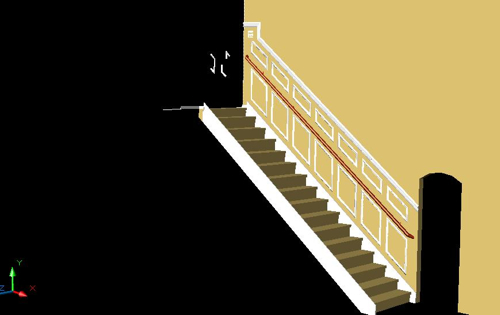 Ummm yea.  Isn't it fabulous?!  I just told him what I was envisioning and BOOM, he made it happen.  He's not only the best pantry makeover-er, he's a master designer.  That's what he does for a living by the way.  He's actually a piping designer by day, carousel designer by night, but I've come to realize he can design just about anything.  My design "techniques" and my "just eyeball it" placements don't cut it with him.
So yep, he just swooped in and took charge of my staircase design.  How dare he! :)  But I am happy to say that this project will be perfection because of it.  Every angle, every box, each space in between will be flawless.  Something I can't say about any of my other projects. They might look good, but they definitely aren't perfect.  But I am very grateful to have such a handy daddy and that he's willing to help me with my crazy ideas. :)
As far as the design in that awesome 3-D model above, I will have the wall all painted white below the chair rail, so it's going to be some nice wainscoting action happening.  We are also doing this on the opposite staircase wall as well.  One idea I had was to use MDF boards like Thrifty Decor Chick did on her staircase, but then decided it would probably be best to just continue with the picture frame boxes, because I've got a lot of that going on in the rest of the house already.  And because I wanted the moulding to come up higher on the wall so it's more of an architectural feature wall.  Aaaaand because my handrail is different and just a long bar. Whew! Anyway, I am very happy with the progress we've made so far and can't wait to show you!
Oh yea, and when you go to Home Depot with your Dad, this is what you come home with…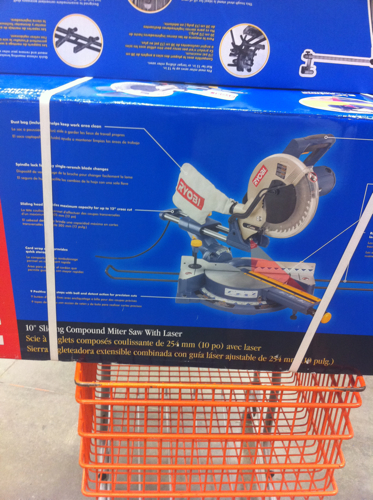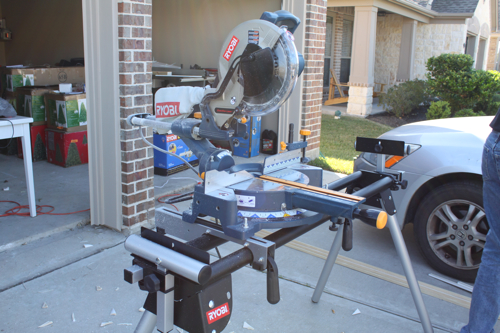 Ohhh yes!!  Don't hate me please.  But the little yellow box miter box and hand saw just wouldn't cut it for this project with all of the funky angles.  It wouldn't be possible actually with the angles I needed.  And I have hundreds of other places I intend to put moulding around the house, so it was well needed.  I am so stinkin' excited to have this baby.  The projects are endless and will be so much easier to do now.  This bad boy can also cut wood flooring, which I am dying to put in our home.  And YES, I have used the new miter saw and I LOOOOOOVE it!!
So this is the latest project I've been working on.  Can't wait till it's finished!  And man, if all this happened just with the staircase wall, I wonder what will happen when I tell my Dad my plans I have to install hardwood steps?  :)
What are y'all working on?  I'd love to hear!  Do you have a fancy miter saw too?  Don't you just feel manly, I mean empowered when you use it?
Don't forget to enter the giveaway from Red Letter Words here to win a beautiful gallery wrap canvas.
Please visit these lovely sponsors too. :)
Altar'd – How to paint furniture guide
xxoo,
Decorchick!