*THIS GIVEAWAY IS NOW CLOSED*
I was going to have another giveaway when I reached 200 followers, but y'all are too quick so this will be my 300+ Google followers giveaway!  Hooray!! :)
I really appreciate the support you all have shown me with this blog.  It's really incredible and blows me away.  So, to show my appreciation and get your Monday off to a good start, I've decided to give y'all the chance to win a $50 Visa gift card!!  Yes, that's cold hard cash folks.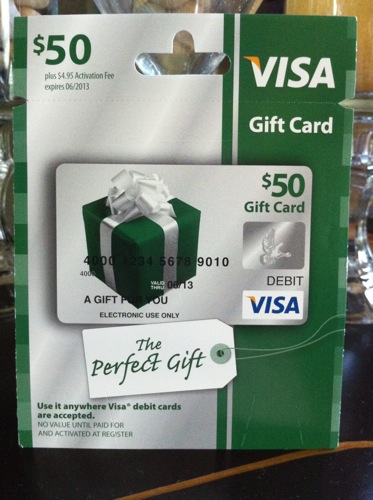 When I had asked y'all what you would like as the next giveaway, there were several great ideas.  But, I decided to be a rebel and go against them and get something that I know ANYONE could use.  Since not everyone has Hobby Lobby or Homegoods nearby, I thought this would be a great idea so you can use it anywhere!
I do have one mandatory requirement though.  If you win, please promise me you will use it on something for your home or crafts, etc., and not something lame like milk, bread, or cheese okay?  :)
I will give you all 3 chances to enter:
1. Leave a comment letting me know how excited you are about this giveaway.
2. Become a follower through Google or RSS if you aren't already, and leave a comment letting me know.  If you follow already, just leave a comment that you do.
3. Blog, tweet, or post about this on Facebook and leave a comment letting me know.
Don't forget to follow me on Twitter and Facebook also.  I'd love to follow you back!
I will run this giveaway through Saturday morning, July 31st and will announce the winner then.  I will use Random.org to choose the winner.
Good luck friends!!
One more thing…Don't forget to check out my fabulous sponsors Wired Whimsy, Lisa Leonard Designs, and The Vintage Pearl. They will knock your socks off! :)
xxoo,
Decorchick!