Hope you all had a great weekend everyone. I wanted to update you all on my weight loss journey! I wrote a post at the beginning of January telling y'all I was starting an 8-week weight loss challenge [1], like an accountability group type of thing. I wasn't too excited at first (because it takes me a while to really want to lose), but after the first week I was. Motivation kicked in and I never looked back.
UPDATE: Click here to see how I did in the 2nd weight loss challenge and how I lost 75 pounds [2].
So how did I do? Well here's a side by side comparison. The before picture was taken just 5 days into the program, and the after was taken when the 8 weeks was up.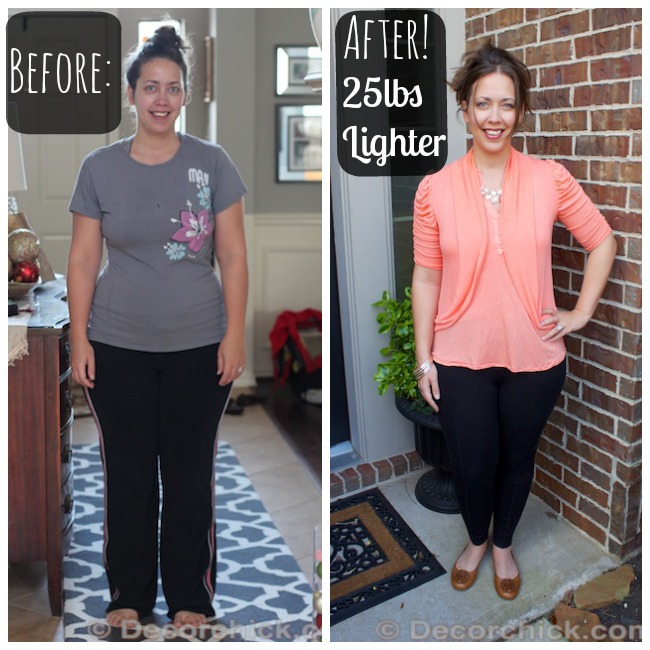 [3]
And oh mercy that has to be THE worst before picture ever taken on planet Earth. I really didn't intend for it to be that bad, that's just how I looked at the moment I told my husband I needed a before picture. And a little war paint on the face does wonders huh?! I swear I'm not as ugly as it appears. Haha.
So anyway, yes, lost 25 pounds in those 8 weeks! Technically it was 24.6lbs but who's counting. Did I win the money pot? Well I thought I was going to there at the end but the other girl came in with a 5 pound loss right there in the last week (which really surprised me btw), so she won. I came in second place for the most percentage of weight lost. I was thrilled with my loss though! The money would have been cool but wasn't really my goal from the beginning. It just sweetened the deal a bit. Having my fat pants be too big for me now is much more satisfying. :)
I still have 20-25 more pounds to go (30 if I'm feeling ambitious) to get back to feeling really good about myself again and true pre-pregnancy size. But when I calculate how much I have lost since the 2nd baby was born, it's a whopping 56 pounds!!!  So yes, I'll just tell you all that I gained somewhere between 70-75 pounds the 2nd go round. I really stopped looking at the numbers there at the end with each doctor's visit. Tipping the scale over the 200 pound mark was quite depressing. It happened with my first too so I can't be too surprised.
Why am I telling you all this when talking about weight is NOT a fun thing to do? It's because there is hope. If you are carrying baby weight still around or just extra weight in general, there is hope. If I can stop eating cheesecake and bags of cookies and jars of Nutella, then you can too. I PROMISE.
This was me in September 2012, a few months after having the baby and still wearing maternity pants (ugh!!).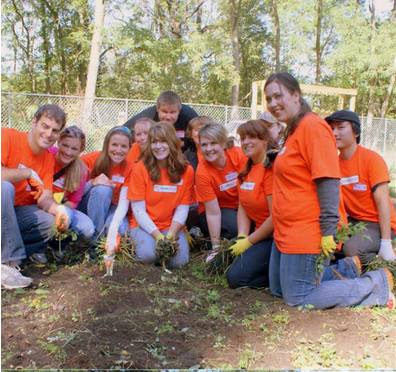 [4]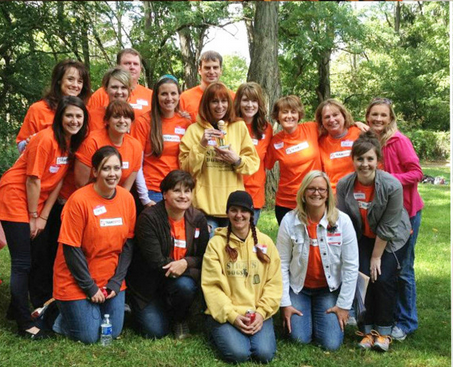 [5]
Images stolen via Not Just a Housewife [6]
Gosh that really makes me gag.
And then me now, as of March 5, 2013.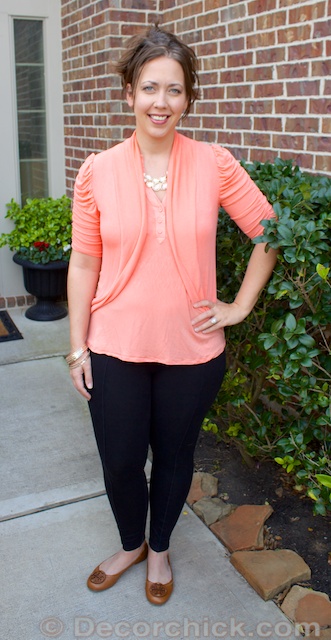 [7]
Not that I think I look so fabulous or something, but I am proud for finally starting to lose, and proud that I am now healthier and can cross my legs again and sit indian style comfortably. Those are really big deals y'all! And obviously I am feeling better about myself since I put on real clothes and makeup that day. I really am trying to step it up in that department so I don't look so frumpy each day. It's a challenge, but I'm doing better. Oh and those coral tops are from Marshall's, and the black leggings from Ann Taylor Loft.
Now for the exercise part which I told you in my January post [1] that I despised…I actually have not worked out much per se, but I have done things sporadically like Zumba and walking. BUT, I finally did commit to a baby boot camp class and have been to 5 classes now, and go 2 or 3 times a week. I really really like it. I was unsure at first, but now I do. I'd love to be one of those people who LOVE to go exercise, but I'm not there yet. Maybe one day. I am always glad after class that I did it and do like it when I'm sore the next day. Being sore from working out just makes you feel skinnier right?
I still track every single thing that goes into my mouth on My Fitness Pal. You must must MUST use this app to help you lose weight and count calories. If you don't have a smart phone you can use your PC too. I stuck strictly to my 1200 caloric intake (and my milk supply has been great btw), and only had 1 cheat day in the 8 week period, and at The Melting Pot…yum! I will say though that the first week or two of the challenge, I was grumpy and bit everyone's head off. It was probably from me coming off of sugar. The only sugar I eat now is either through fruit or tiny bits of honey. I don't even crave sweets like I used to. You know what I crave now? Vegetables! Seriously. I'm on a big squash and okra kick right now.  I mentioned before that I am pretty neurotic at these types of things and really get focused, so to give you an idea on how strict I was/am, I did things like not lick the knife after I make my daughter's PB&J's, eat her leftovers on her plate, and stuff like that. It all adds up.
And while I do love me a good casserole and have some awesome recipes, I haven't made one in 2 months. Why? Well, even though I know I could eat them and still come in under my calorie goal for the day and it wasn't considered junk food, I just didn't because of all of the cheese. And I don't do fat free or processed stuff really. I knew that if I ate stuff like that for my dinners, that the weight wouldn't come off. I wouldn't have gained more than likely, but in my head I just had it set that I'd be better off without it. So instead I would go for the meats and vegetables. And same for pasta. I only made spaghetti maybe twice during those 2 months for the family, and I just left the pasta out for me. I set aside a portion of the meat sauce and just ate that (and likely with a tostada shell). I ate/eat a lot of tacos/tostadas. I could eat tacos every day. And for lunches, I still drink my protein shakes and usually carrots on the side.
My food journals still look the same pretty much every day. Something like this. And if it wasn't a banana for breakfast it was oatmeal with 1/2 cup fruit, or bacon and eggs.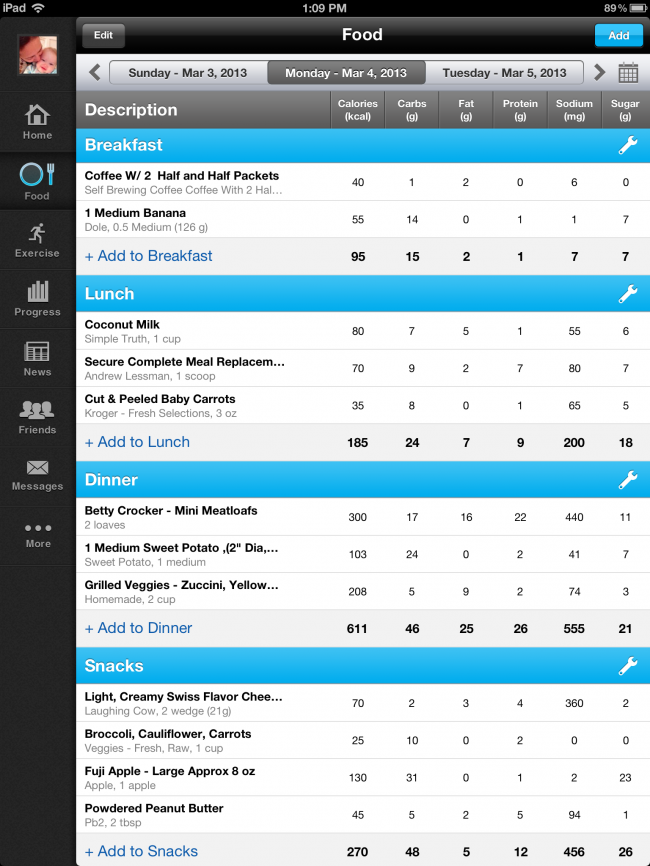 [8]
See, I'm boring. I did sign up to do the challenge for the next 8 weeks too and we are into the 2nd week now. I feel like I have control of myself so that's a good feeling. I just don't buy the bad stuff or the sweets anymore so my whole family is suffering with me. Haha. Not really, they still find a way to get their treats. My husband has lost a lot of weight too!
Sorry I don't want this post to get any more wordy than it already is. But my few tips to take away from the past 8 weeks are this:
Join My Fitness Pal and start tracking everything you eat. You'll be amazed how quickly that slice of cheese adds up. (oh, and I pretty much quit eating cheese except for my Laughing Cow which I eat sometimes. The calories from real cheese just aren't worth it to me and I'd rather have something else like PB in it's place)
Find a group or make a group with some ladies to hold you accountable
Don't eat after 9pm (that was tough for me at first but now it's easy peasy)
Eat 2 servings of fruit, and 3 servings of veggies per day (1/2 cup each serving)
If you will be eating out, try and choose Chick Fil A, Subway, or Mexican restaurants. Those are the only 3 I think I ate at. And I would get a grilled chicken sandwich, grilled nuggets, and a fruit cup at C-F-A, and at Subway I'd get Turkey on flatbread with mustard (no cheese), and then they'd load it up with ALL veggies. And lots of spinach. I'd get their apples instead of chips as well. Then at mexican restaurants, I'd order chicken/beef fajitas with grilled vegetables. I would order corn tortillas instead of flour and only eat one tortilla, then the rest meat. I know other places have good healthy options but these are what worked for me.
Start weaning yourself off of sugar. Try little things like when you make oatmeal use water, not milk and that will save you 120 calories. Simple things like finding alternatives for the usual will save you lots of calories. Normally I'd put a pat of butter in my oatmeal, but I stopped doing that completely too. Sure it tastes good, but it tastes good plain jane with fruit and honey too!
Drink LOTS of water. I drink about 80 oz each day I think. That's the average for me.
Go all or nothing and be hardcore about losing weight.
Exercise. Do what you can. I know my body responds way better when I do work out so that's what's keeping me going with it.
Gosh I could probably keep talking but I am waaaaay over my word count limit here. Yikers. The moral of this post: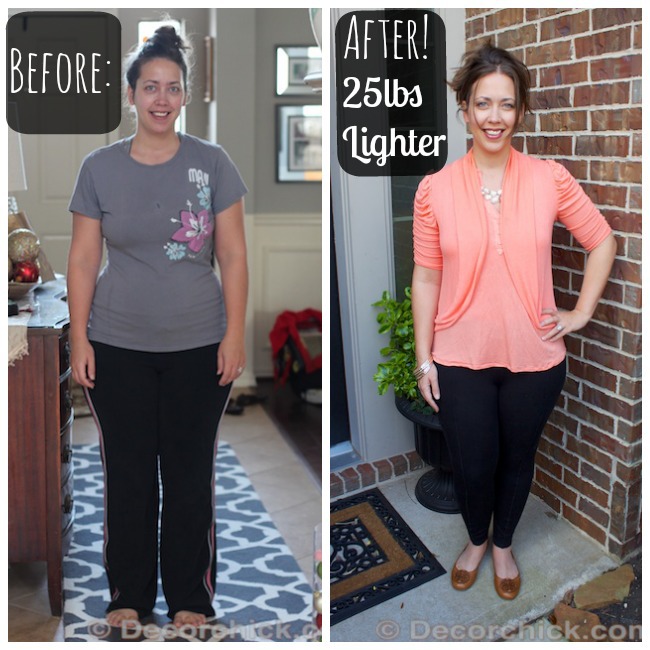 [9]
Is that it is possible. Don't give up. If you have 100 or 200 pounds to lose, it doesn't matter. You can do it. I don't have a fast metabolism or anything to speed up this losing process. Just a little determination.
I'll keep you posted on how the next 8 weeks go!
PS-I know I should have worn the same outfit for my after pic as my before pic, but I totally did not think to do that at the time. Plus this outfit is more cute. Hate me. I have to say though that grey shirt is loose on me now and definitely not fitted like it is in the before pic. :) And special thanks to my bud Myra [10] for kicking my rear in gear in January and having me join. It's been fun actually!
Are you struggling to get some pounds off? I'm not an expert or anything but I have done this a few times and know what works for me at least. Let's talk! What have you been doing?
UPDATE: Click here to see how I did in the 2nd weight loss challenge and how I lost 75 pounds [2].
xxoo,
Decorchick!
Let's Connect!

[11]
[12]
[13]
[14]

[15]
[16]

[17]

[18]
[19]