Hi everyone, it's Sunday again so that means it's time for the weekly roundup and time for me to pass around a few blog awards! :)
Thank you to the following blogs for featuring me this past week!  So exciting!
Woot woot!!
Now for the awards…
I received the Versatile Blogger Award from T-Bird at Nestled in Rosenberg.  Thank you T-Bird I love you!!  T-Bird is my Sister-in-Law people!  We live right by each other and she's such a blessing, and has a great blog!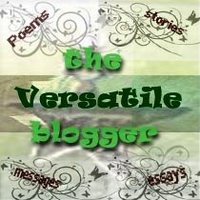 Before I can officially accept this award I have to list 7 things about me that you all may not know.
1. I am a makeup junkie (specifically Bare Minerals).
2. I think Cream of Mushroom soup makes everything taste better.
3. I like the way skunk smells.  Totally serious.
4. I also like the way perm smells.  What is wrong with me??
5. I was a paralegal for 8 years right out of high school.  Then I was able to quit and stay at home!
6. I LOVE playing tennis.  I played in jr. high and high school.  I hope to get back out on the court one day.
7. I am terrified of roaches.  I know I've said this before in a post, but I just had to make it known again.  TERRIFIED!
So there you have it!  Seven fun facts you may or may not have known about me. :)
Now I get to pass this award on to some other fabulous blogs.  If you haven't been to their site go and check them out!
Impatiently Praying for Patience
And another award I received was the Beautiful Blogger Award from Alisa at The Sweet Life.
Thanks so much Alisa!  What an honor I really appreciate it and love your blog!!
I am going to pass this award on to Nancy at Nancy's Tidbits.  I love reading her blog and the great ideas she has, and she is just a kind-hearted person.  :)
So there you have it ladies!  Congratulations on your awards and now you get to pass them on to other fellow bloggers!
xxoo,
Decorchick!