Hey guys!! I'm so happy to be back home from SNAP Conference, although I had the BEST time!!  I can't wait to share my recap with you all soon.  But today I'm going to show you all a little sign I made for our laundry room that I love!  And I made it with the Silhouette Cameo of course! :)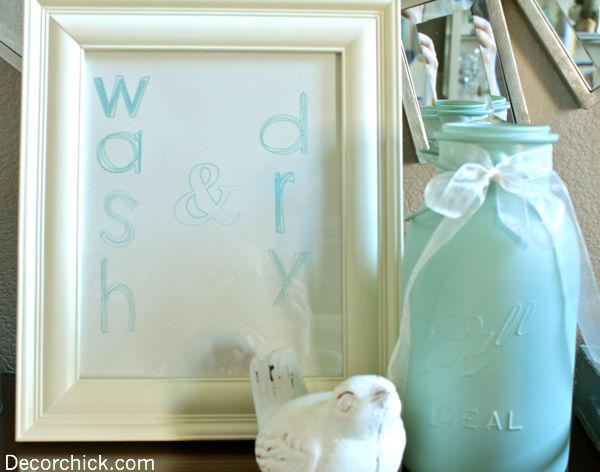 Now you may notice this isn't our laundry room, and there's good reason for that.  And that's because there is no lighting in there at the moment so I can't photograph anything.  More on that soon. Ugh!
But back to the sign.  All I did was use the handy dandy sketch glitter pens, and it was SO incredibly easy and fun. All you do is take out the blade in your machine, then pop in the pen and that's it.
I really don't know why I have been scared to try them for so long.  It was the easiest thing ever.
Then you just create your image (and I downloaded all of the letters from the online store).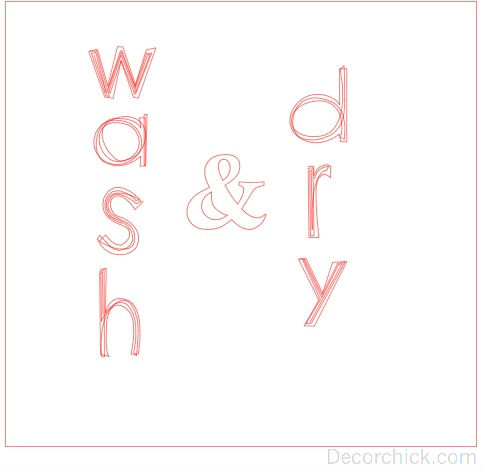 And then hit cut and watch the pen do it's magic.  It just draws the image on your paper/cardstock instead of actually "cutting." These will be SO awesome to make homemade cards.  And hey, Mother's Day is coming up!
I love the pretty aqua color and it's going to look fab in our laundry room.  I may even spray paint the frame too eventually.
Now how would you like to hear about the latest Silhouette promo where you can get a fabulous deal on the Cameo machine AND the sketch pens??
Here's the scoop:
You can buy 1 Silhouette CAMEO, 1 $25 download card, 1 Silhouette Metallic Sketch Pen pack, and 1 Silhouette Glitter Sketch Pen pack for $269.99  (everything that's included is pictured above)
This is an MSRP of $344.97 (This is almost $75 of savings!)
If you already have a CAMEO you can get the sketch pen packs for just $6.99!
The promo will run April 24-30th
You have to use this special link to buy the bundle package, and you need to enter the code DECORCHICK at checkout.
Hopefully you can treat yourself to a little Mother's Day gift! You'll love it! :)
Have you used the sketch pens before?  I can't wait to use them again!
xxoo,
Decorchick!