I've received a lot of emails asking for the Tobacco Road formula I used here and here, so I thought I'd post it for everyone to see. :)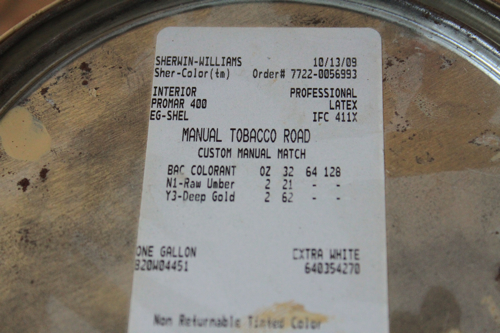 I don't know if it's a perfect match to Nester's formula, but I think it's pretty close.  I tried having it matched at Lowe's several different times but it just wasn't right.  It was beige. So anyway, my Sherwin Williams had it in their computer system, but I tweaked it a bit and added a tad more gold and raw umber, so that's why it's a custom color match.   This really is my all time favorite color.  I could just kiss it!!
So have you used Tobacco Road before?  Have you even heard of Tobacco Road?  It's a discontinued Duron color and it's hard to find.  I really was hunting for it. For days.  But now I just made it easier for you by posting my formula, so yay for y'all!  You can just print out this picture and take it to your Sherwin Williams and have them make it :)
*Edited to add: I forgot to mention that I did take Nester's picture of her TR can to Lowe's, but they told me that wasn't a formula?  They said those numbers aren't the numbers they use to mix the paint color.  So that is why I don't know if my SW formula is like Nester's and she's the queen of TR! :)
xxoo,
Decorchick!