Ever have one of those projects that goes great in your head, but turns out to be a doozy?  Yea, this was one of them for me. Luckily though, I am pleased with the final result. :)
I went to the thrift store last week and spotted this lovely thing.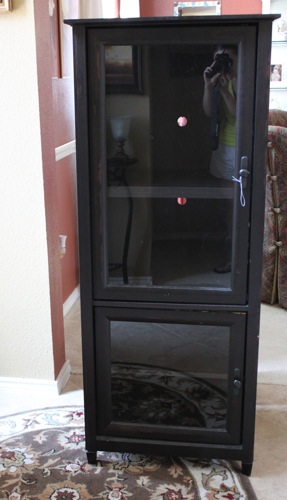 It was $35 and in perfect condition.  I know $35 isn't exactly cheap at the thrift store, but it's a solid piece of furniture and looked great.  It had only been there an hour before I got there, so I knew it was meant to be. :)
I knew exactly where I would put it when I got home.  It would replace this little table and the picture that is way too large for this area.  But I knew that picture was just temporary.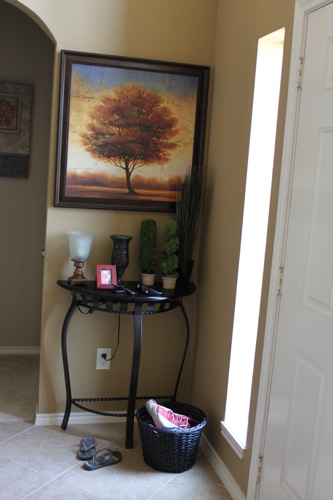 Yea, big I know.  I've been moving this picture everywhere around the house and this was its final landing spot, until now.
Then I removed the cabinet doors.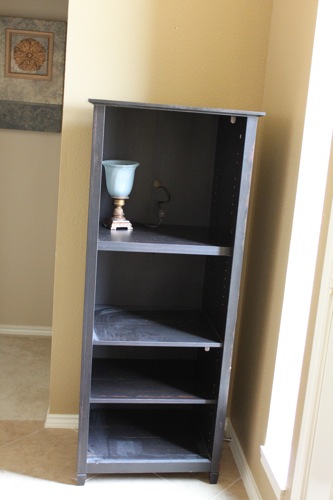 Then there were a million little holes to fill in for the different shelf height adjustments, so I used some wood filler on them.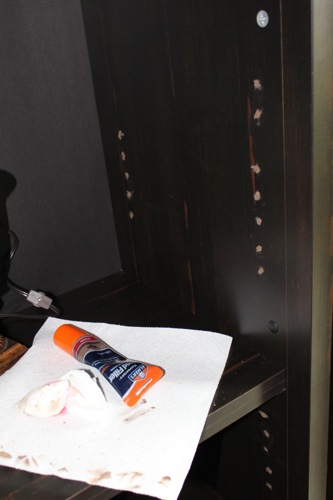 And since I didn't really want to paint this piece, I just went over the holes with some black acrylic paint.  The holes still looked bad.
So out to the garage it goes, courtesy of my hubby, and I spray paint it black.  I used a flat black finish because that's what I had plenty of cans of.
Here it is sprayed down.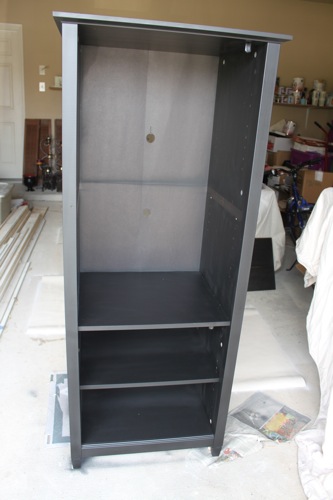 Well, most of it I sprayed.  I didn't bother spraying the parts that would never be seen, because that's just how lazy I am.
But the problem after I sprayed it was that the holes were STILL showing!  Ack!  By this point I was pretty peeved I just wasted time painting, when I didn't even intend on it in the first place.
Now is where the torture fun began for me.  I decided to use leftover beadboard wallpaper to cover the sides and back of the shelf. I LOVE beadboard whether it be real or fake.  And this of course was fake.  :)
I measured the sizes I needed and cut away.  Then I sprayed them with Heirloom White.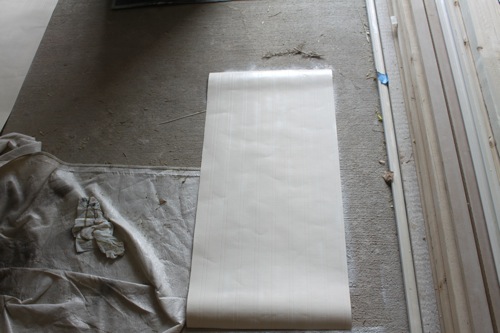 I did this to all of the pieces then went to install.  That is when I figured out all of my pieces were the wrong size because I was cutting the wrong way.  Good times, good times.
Soooo, I made one last attempt to get it right, and I finally did.  After the beadboard was dry, I used double sided tape to hang it up with.  Now, are all of my lines straight and perfect?  Oh goodness no!  I should take the word "perfect" out of my vocabulary when it comes to projects. :)
Here she is all prettied up and accessorized.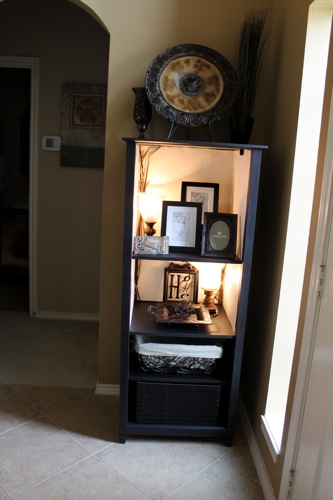 Better right?  I do like the all black now, so I'm glad I messed it up.  :)  I put in 2 different baskets that take up the 2 bottom shelves, so that was my reasoning for not painting the back half of those shelves.  Clever, I know.
Here's a close up of the inside top shelf.
Looooooove beadboard wallpaper!!  Oh, and that is not my family.  That is Hobby Lobby's family in the frames still.  Two of the frames were $5 each, and the other was $3 from the clearance section.  I have the frame in the back sitting up on 2 old thrift store books to give it height.
And to hide my very uneven wallpapering lines, I decided to take some leftover sticks from the garage, cut them to fit, and tie a little bundle with jute.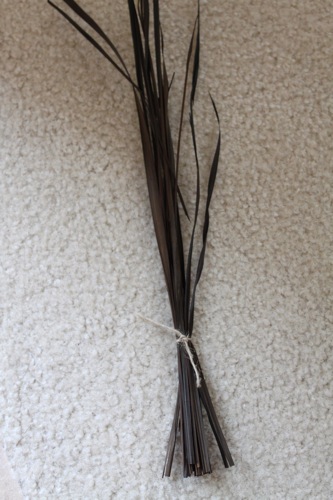 I made 3 of these little bundles and just set them in the bad corners.  :)
Here's one more of the finished project.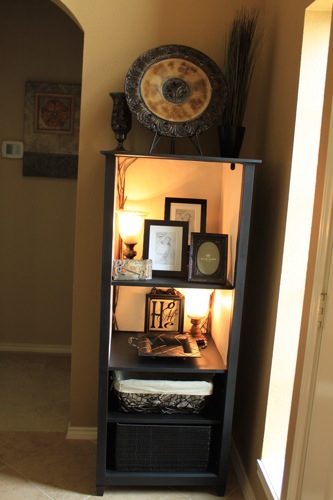 I do love her now!  I absolutely love anything that can act as storage AND a place to display pretty accessories and precious pictures…even if it is Hobby Lobby's family.
Hope you like it!  :)
xxoo,
Decorchick!