I wanted to do a separate post just about the picture moulding, because it's kind of technical so it deserves to be talked about on its own. :)
When you are trying to do wainscoting up a staircase, you are going to have odd angles and cuts.  But this new little gadget my Dad introduced me to is so cool.  You just set it on your angle, say for instance our staircase banister, and it tells you exactly what angle it's sitting at.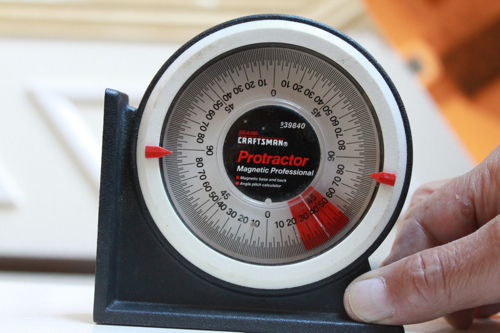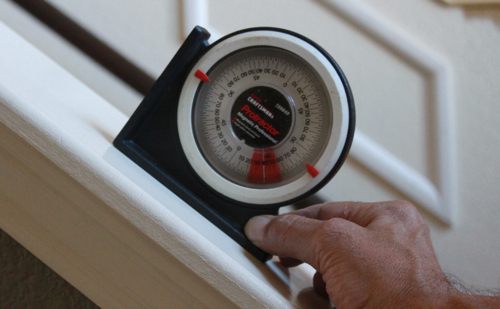 Pretty neat right?  Oh, and those are my Dad's hands.  I don't have man-hands and hairy wrists.
The angle of my staircase is 37 degrees, so the cuts were all made to compliment that.
For the moulding, I chose to use the foam stuff again.  Just a simple design.  One reason being because it was on sale at Lowe's and half the price of the other pieces.  And I needed a LOT of pieces.  The pieces I bought were 7ft in length and cost $2.38 for each piece.  I ended up buying 27 pieces.  So that is $64.26 just for the moulding for the stair boxes.  All of the other moulding to choose from was anywhere from $4.50 to $6 for 1 7ft piece, so I really saved a bundle.
First thing we did was cut all of the pieces for all 21 boxes.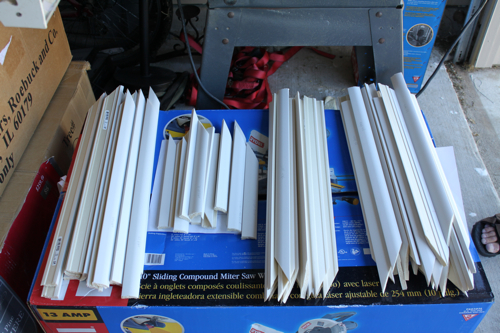 We wrote on each piece with a pencil if it was for the left or right wall, and if it was a horizontal piece or vertical piece.
And I promise I did get to partake in a little of the cutting process.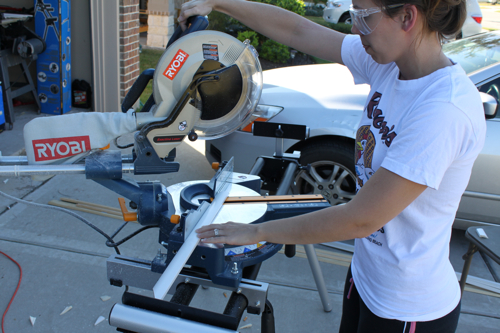 Seeee!
Then my Dad just whipped up this template thing so we could glue each piece together at the right angle, and on a flat surface.  I know, sounds confusing.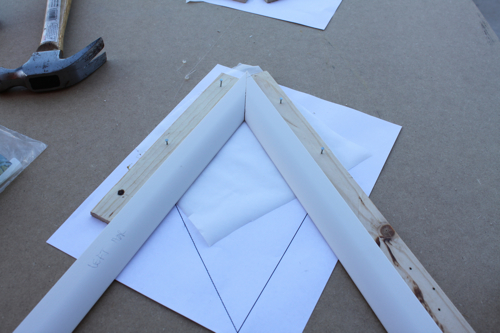 We glued 2 pieces at a time with hot glue, and let them cool.
Some pieces cooling…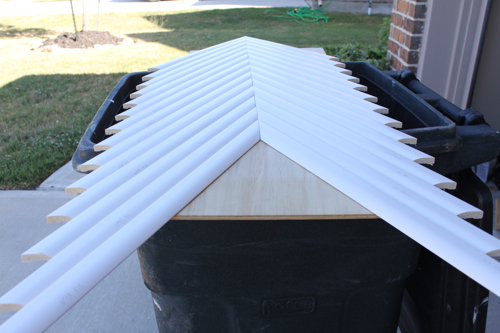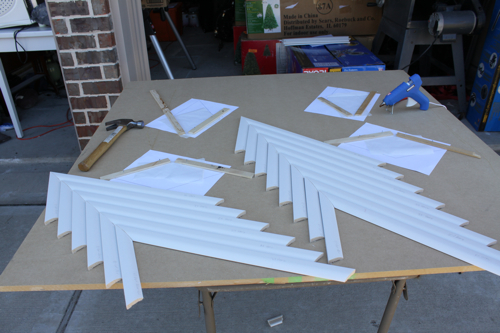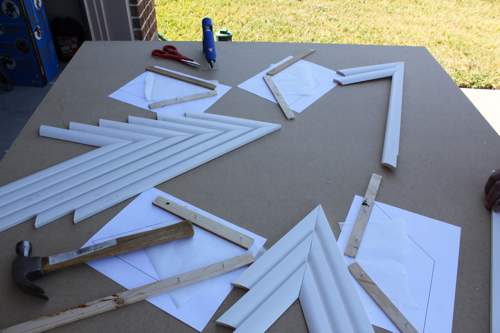 And then we would glue a box together.
And eventually got all of these.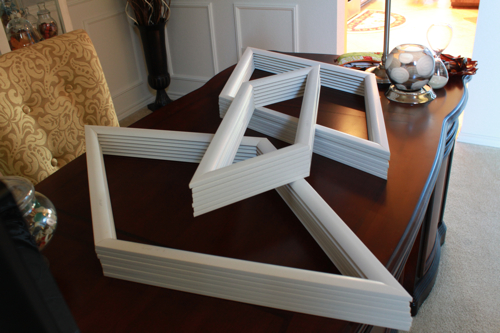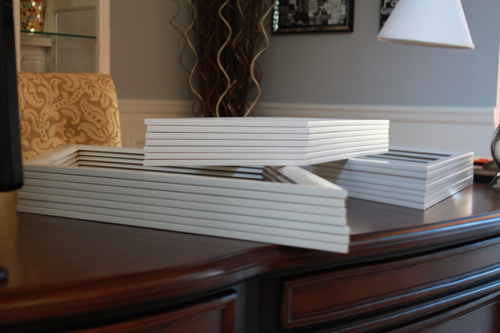 And then we temporarily placed them on the wall using some double sided tape so we could get the placement right.
Once we did that, we ran into a little problem with the left side of the stair wall…it was higher than the right side because of the banister, so the boxes looked kind of small on that side.
It's hard to tell in that picture, but they weren't tall enough.
So what did hero do?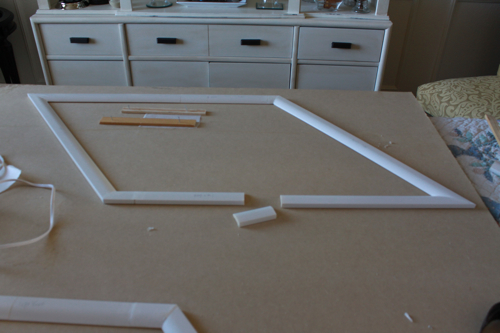 He took all of the frames that were to go on the left wall and cut them on each side, then added an "extender" piece of molding.  So now the frames on that side are balanced with the wall.  Gosh are you still reading?  I know this is all pretty technical and I'm sorry.  But just letting you know that if you run into problems, they probably can be fixed!
And silly ole me, I fought him about the idea of gluing all the pieces together and making the boxes first.  I was intending to just nail up each individual piece as I went.  So who do you think was smart here?  Yes, hero was of course.
I hope this post didn't bore you to tears.  Zzzzzzzzzzz.  This is good stuff to know though if you intend on trying this out! :)
If you have any questions about anything or just want to tell me not to bore you anymore, go right ahead and leave it in the comments. :)  And if it's something technical and scientific, I'll let my Dad answer those questions. :)
I'll show you all next week the end result!
Don't forget to enter the giveaway from The Rusted Chain here for a chance to win a gift certificate!
Please visit these lovely sponsors too. :)
Altar'd – How to paint furniture guide
xxoo,
Decorchick!