It's time to show how the entry way looks now after the new paint and with everything back up on the walls, so come on in!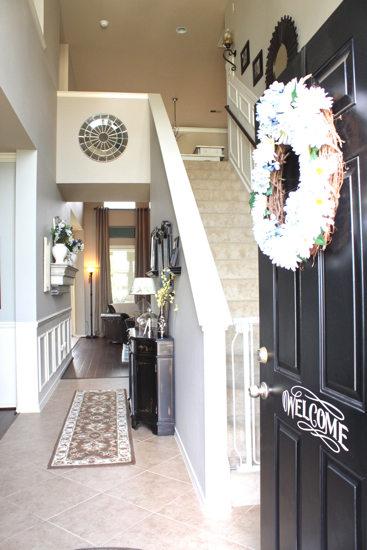 [1]
All of the accessories are pretty much the same, but the only new addition is that round mirror hanging on that little wall above. It's my new favorite thing. When my husband first saw it hung up, he acted like he was throwing darts at it.  Men. No comment on that one because I think it's pretty great. :)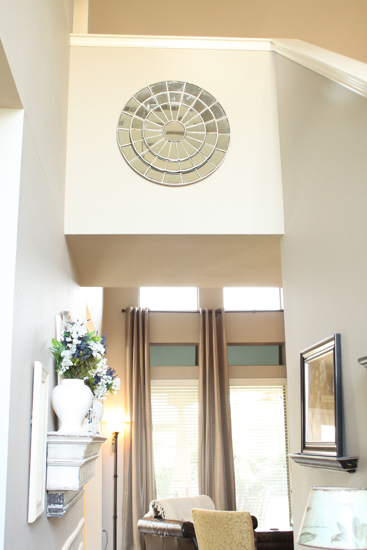 [2]
Fingerprints and all. :)
The stairs.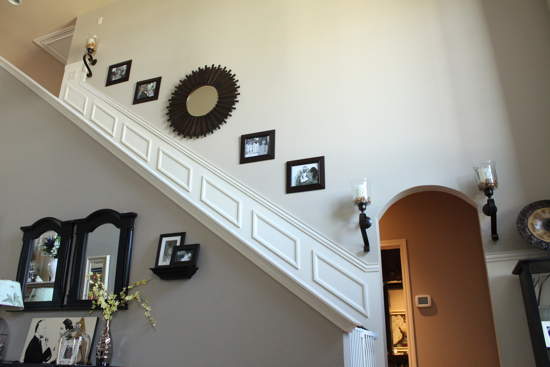 [3]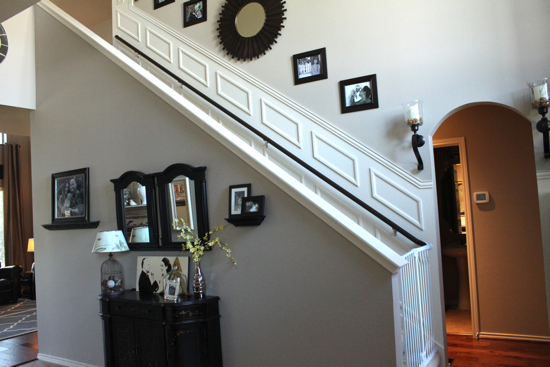 [4]
That little hallway to the right also got the new flooring.  We kept the tile in the extended entry because it's perfectly good tile and would have been quite an expense to rip it all up.  Plus I don't have to worry about people coming in the front door with wet feet. :) We may rip it up one day, but we aren't in any hurry.
Here's the spring entry table.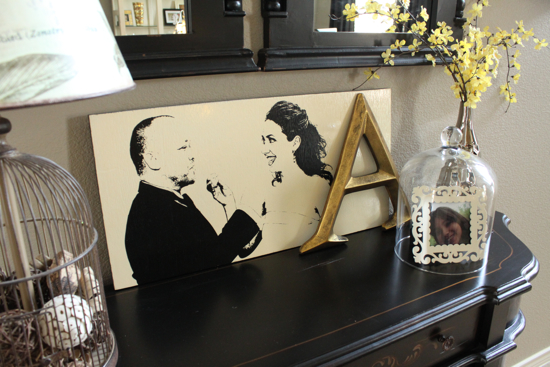 [5]
It has our piece from Modern Bird Studios [6] on it now, and that glass dome I ordered from Willow House [7].  Love it!
And some more…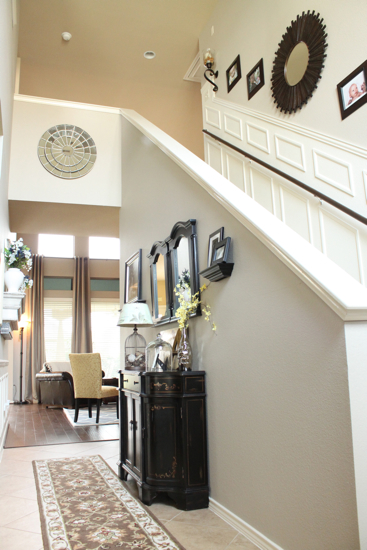 [8]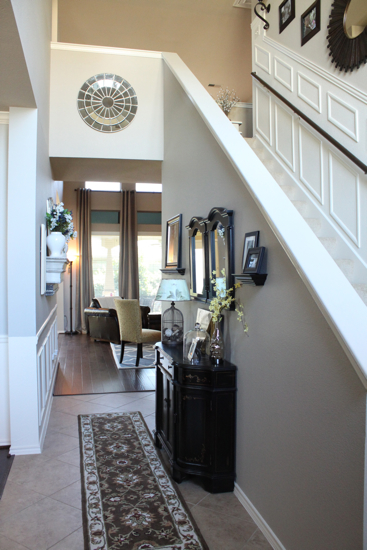 [9]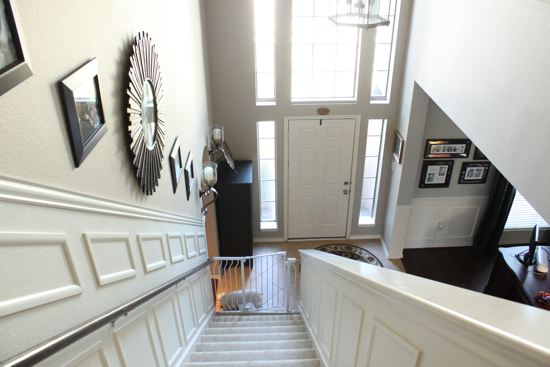 [10]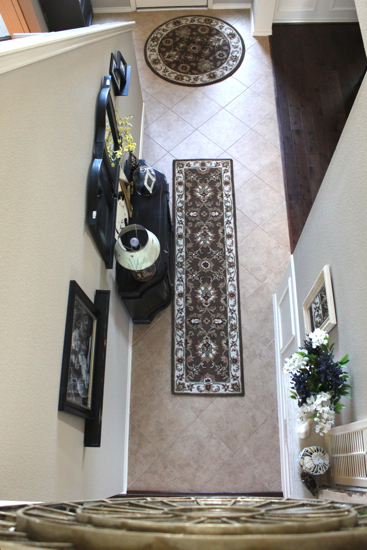 [11]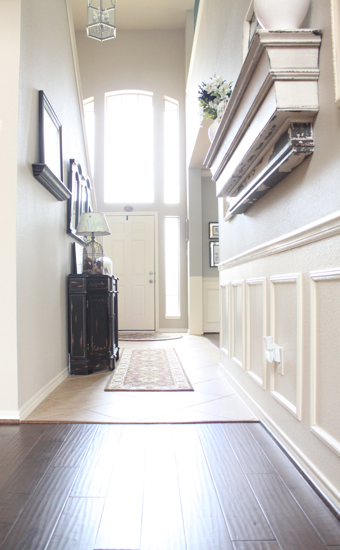 [12]
And you know this post wouldn't be complete without a before picture, so here's the best one I could find.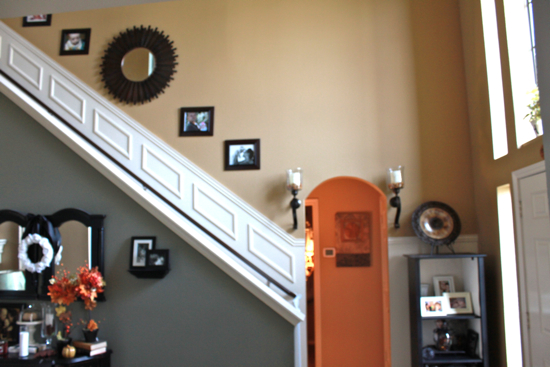 [13]
And after.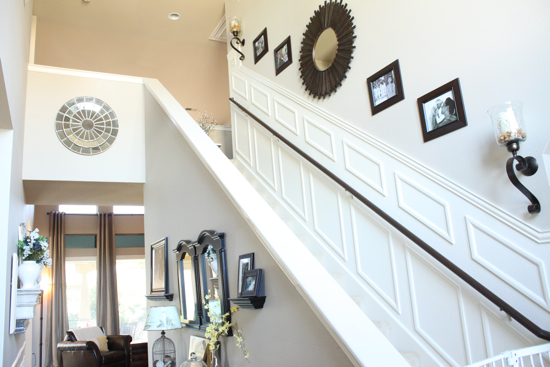 [14]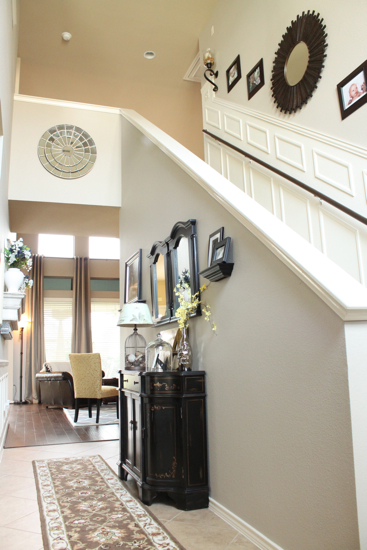 [15]
Can I get an amen for light neutral walls please?  Amen!
And yes, I'd like to get different rugs eventually too that are a little more updated for the entry, but that isn't on my top to-do list right now because these don't look bad or anything.  It just could be a little more enhanced. :)
You like the new look?  I can't get over the difference when I look back at old pictures.  It feels like a brand new house again, but just feels right now.
I'll add this post to the "Our Home [16]" tab as well, and I am also working on a Paint Colors tab so those are easier to find too.
Source List:
Paint Color: Balanced Beige by Sherwin Williams (Color matched and used Behr's paint and primer in one (Flat Finish). More details about the paint in this post [17].
Round Mirror in Entry: Homegoods
Big Sunburst Mirror on Staircase wall: Pier 1, last year on clearance
Glass Dome on Entry Table: Willow House [18]
Birdcage Lamp: Cracker Barrel about a year ago
Staircase Wainscoting: See this post for details [19] and this post for the how-to [20].
Painted Front Door and Welcome Sign: See this post for details [21].
Sharing this post at Centsational Girl's Paint Party [22] and Thrifty Decor Chick's Before and After Party [23].
xxoo,
Decorchick!
[24]