This post takes a lot of courage y'all.  It should be quite humorous for you, embarrassing for me.  Just remember that everyone starts from somewhere and has to make do with what they have, and people's decorating styles change okay? :)
Here is how our dining room looked for about a year after we moved into this beautiful beige home.  I had good reason to not decorate anything immediately though.  We found out I was pregnant 3 days after we moved in, and I was sick as a dog for 3 months.  Seriously I was in bed all.day.long. And this was the only picture I could find of a real "before" and it was from my baby shower.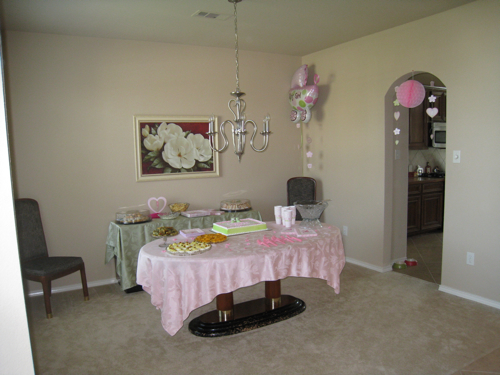 Ehhh.
Here is my lame attempt at some decorating. (sorry, a lot of these are cell phone quality pics)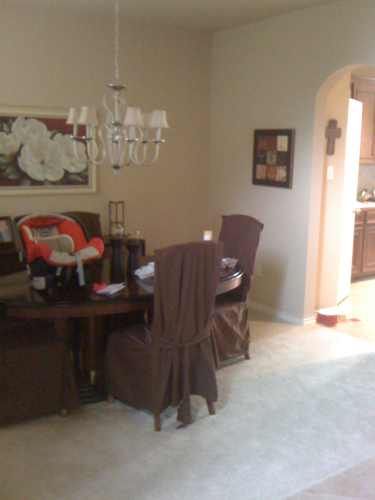 Then another painting disaster.  I'm famous for those.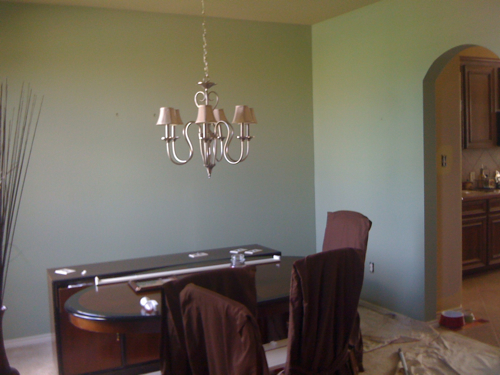 This color was mint green on the walls.  Not the color I was going for. Have you read about my other painting disaster in the kitchen?  It was actually my very first post.  I love reading people's first posts to see where they came from and how they started blogging. :)
So after my husband got mad at me (he had every reason to be), for hiring someone to paint the mint green and me not testing it out first, he painted the dining room this rusty red color.  And you can still see the bright yellow in the kitchen in this pic too. Nice.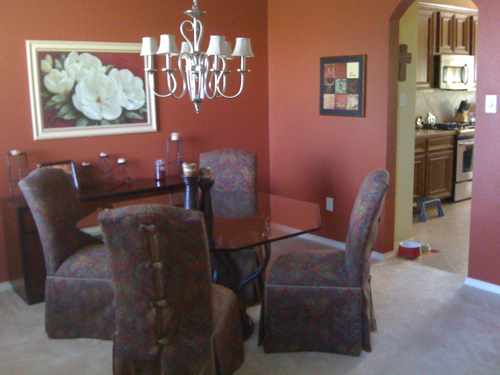 We got this table and chairs off of Craigslist.  It was a total deal considering these are custom made parsons chairs from a nice furniture store in town.  But now I feel like I have to decorate around these chairs.  Oy!
Then, oh then, I went through my "faux" phase.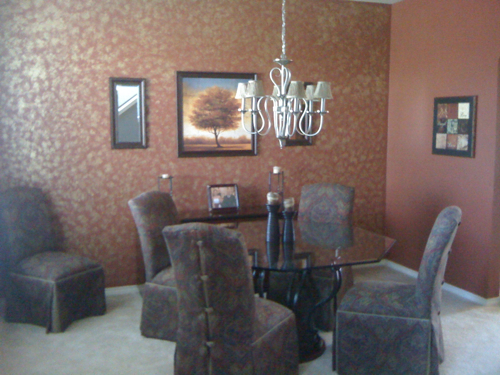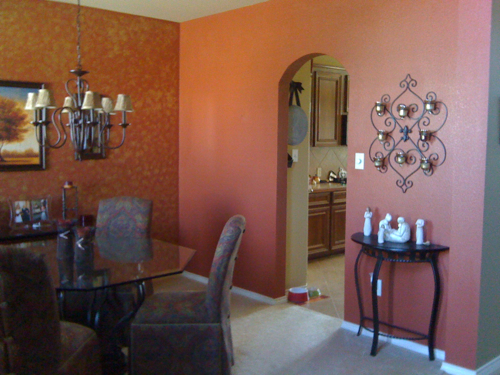 Ummmm, clearly there is not much else to say about that.  I am aware it was wrong.  And ugly.  Don't hate.  Thank you.
So, let's see.  Oh yea, then I repainted over the faux.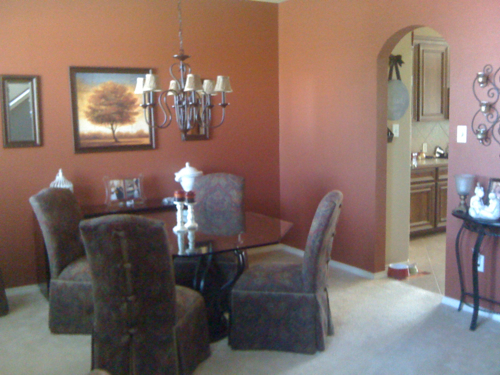 Wanted to start lightening things up and started by adding a chair rail and some white accessories.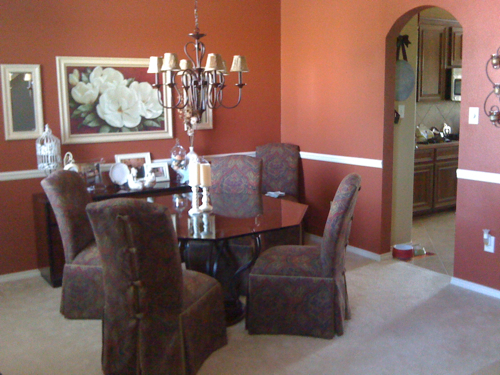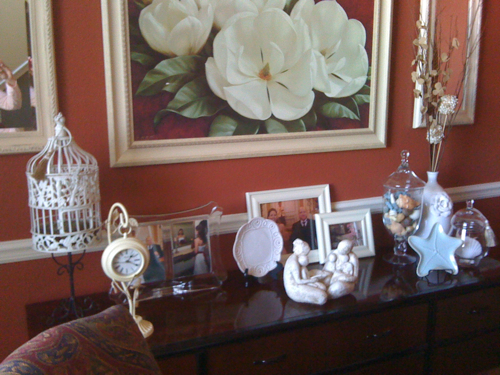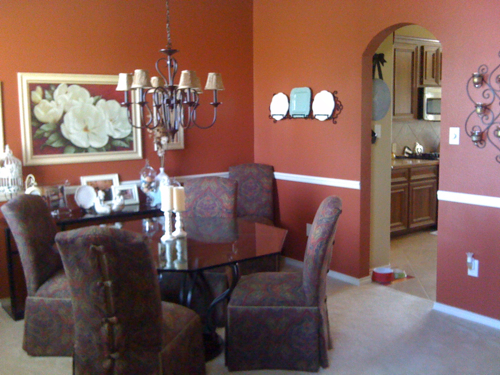 Then I found the hutch at Goodwill.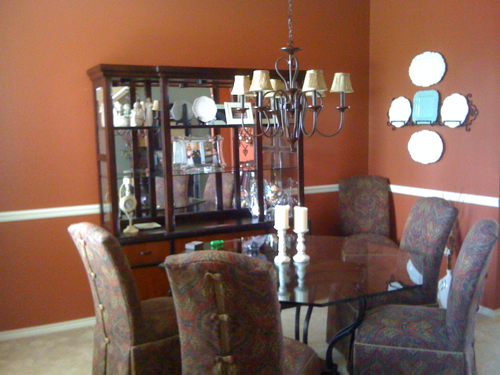 That didn't work so I painted the hutch and buffet table we already had white.  You can read about that here.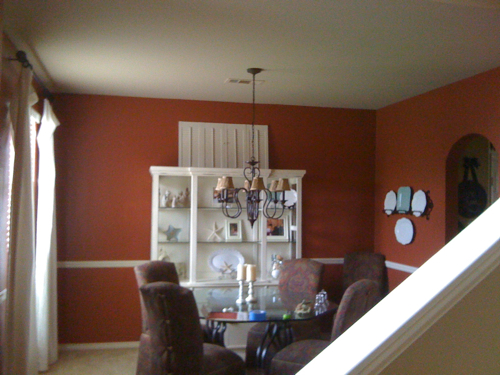 And this is how the dining room looks today after we added crown molding and changed up accessories.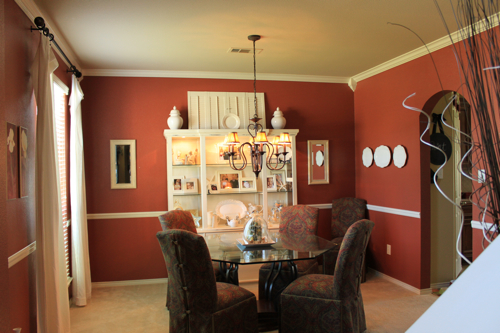 This poor little room.  It has come a long way though don't you agree?  But I want to take it even further.  I have dreams. :)
Isn't it weird how I have all of these pictures of my mishaps?  Some of them were taken a long time ago, and who takes pictures of ugly paint on the walls?  Oh yea, me.  I guess God knew I would be willing to make a fool out of myself one day, on a blog that I didn't think I'd ever have.  He's a humorous one! :)
Now, excuse me while I go into hiding for a few days.
xxoo,
Decorchick!