I love molding (moulding?).  I want it everywhere in our house.  Why don't builders make it a standard feature instead of an upgrade?  I think the housing market would be much better if so.  :)
I first added it to a big entry wall which also adjoins the family room.  Here is the wall before, and this is pretty much right after we moved in, so it's still builder beige and very little decorating done.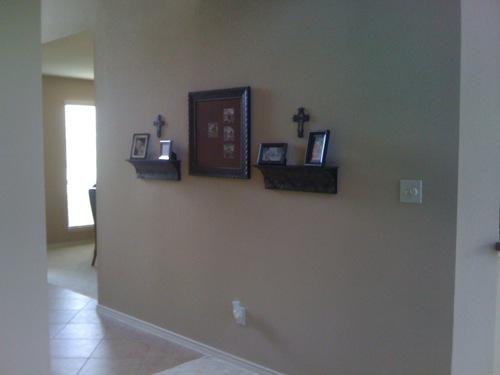 Here is what it looks like now.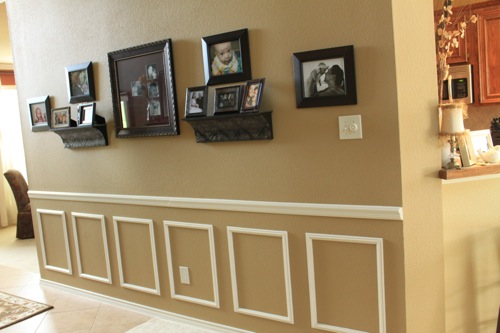 Soooo much better!  I still want to redo this picture wall one day, but I don't know when I will get to that.  The paint color in here is Sherwin Williams "Baguette" which I also LOVE.  See Tobacco Road to the right under the bar?  LOVE!
This was a DIY project that mostly my Dad did for me.  But at least it was my idea so I can take credit right? :)  I did do all of the painting and boring stuff.  I bought all of the materials at Lowe's and used the foam chair rail stuff.   It's very cheap at about $7 for an 8ft piece, and I needed 2 pieces for this wall.  They come already white, but I painted it the color of our trim (SW Navajo White).  The boxes on the wall I totally cheated on and bought them already made.  They are the foam stuff too.  But I had a gift card to Lowe's so I didn't mind using it on this if it meant less mitering.  The pre-made boxes are about $12-$15 depending on the size you get.  But you can by an 8ft piece of the skinny foam stuff for about $5, so you would save yourself lots of money if you make the boxes yourself.
I don't have a tutorial on this, but basically just get a miter box and saw that sell for about $8 at Lowe's.  Cut whatever angles you need, then just nail it up!  We used a nail gun which is oh so handy, but you could use an old fashioned hammer and finishing nails also.  Then caulk all of the gaps, fill in the holes, and add another coat of paint and your done.  I have actually done another room in our house, so I can say I have experience now.  It's actually pretty easy. :)  And for the boxes on the wall, there is a math science to the spacing, but don't ask me what it is because I don't do math.  Luckily my Dad is a genius and does know math.
And if you end up having crooked walls like us, this is what it will look like from the side.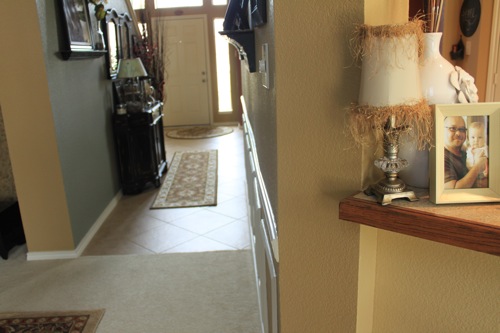 Arghhh!  For whatever reason our walls are not totally flat and some of the studs stick out slightly.  You would never know it unless you are trying to do a project like this or trying to hang up shelves that need to be totally flat.  My Dad did his best to "build" up where it was crooked with compound, but you can still see it only if you are staring down the wall at an angle.  So if you happen to come over here, just don't stare down this wall sideways mmmkay?  :)  It really doesn't bother me at all, but I still think it bothers my dad.  Ha!
Now, I totally could have not showed you the crooked wall from the side, but I just want to keep it real here and let you know any problems that could come up like this, if you were to try doing this yourself. :)
Here are a few more after shots, just so you can get your mind off of our crooked wall.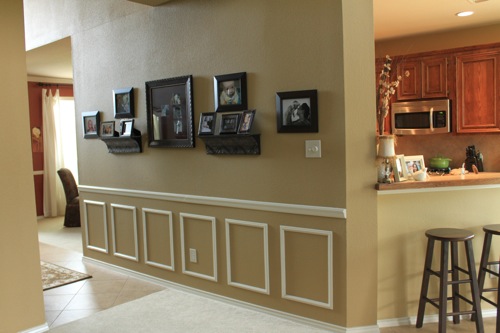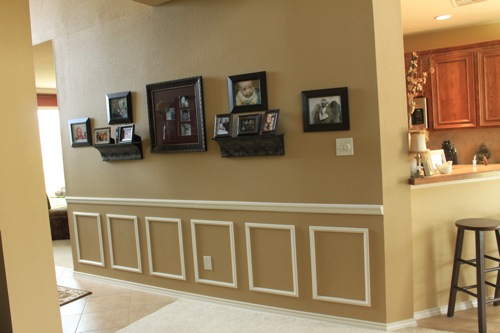 I heart molding!
*UPDATE – Please click here to see what the wall looks like now with fake wainscoting*
xxoo,
Decorchick!