My stepson (and my stepdaughter's) rooms need some serious TLC.  We haven't really done anything to their rooms.  Lot's of hand-me-down and mixed matched things in their rooms.  But it's time to fix that and make their rooms a nice little retreat.
Here is his room as it is today.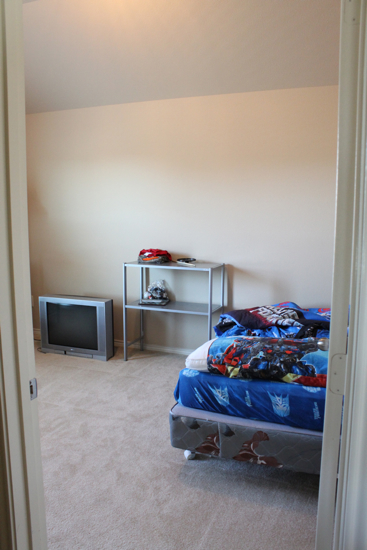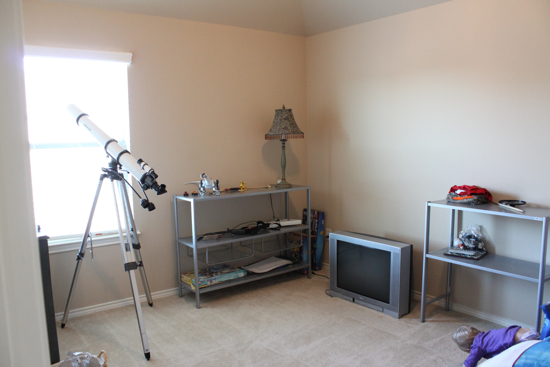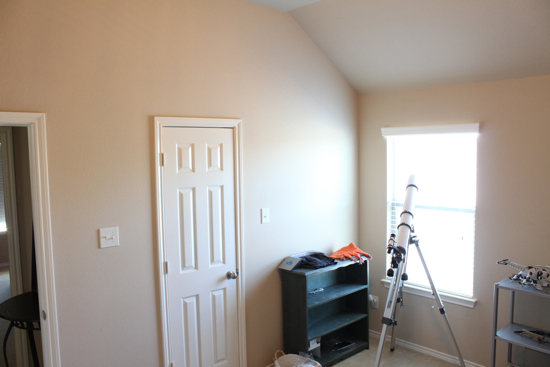 And I am sorry–it was so hard to get a decent shot of the entire room. It's kind of impossible.  Really need a wide angled lens!
But lots of things will be happening in here.  Besides the obvious like new fun paint, some storage pieces (think Expedit), new bedding and hopefully some small inexpensive tables and whatnot, first up, I'm going to do the one biggest wall behind his bed as a paneled wall.  It will add a lot of architectural interest and detail.  Plus the boy likes molding which I think is super cool. :)
I was inspired by the paneled wall Rambling Renovators did in their master bedroom.  If you haven't seen it, you must go check it out. Gorgeous!!  And of course you all know I love Jenny's paneled headboard which I highlighted the other day.
I drew up a really fancy sketch of my master plan.
I'm such the artist, right? :)
I am so excited to do this project though.  See, I already got my MDF cut into strips last night.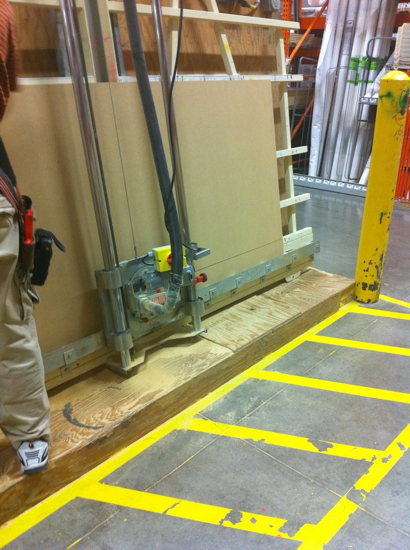 Each sheet was $20 (are these even called sheets? If not, why do I call them sheets?).  So for $40, this should add lots of drama to his room!  I'll be working on this today so wish me luck!  I'll keep you posted. :)
I have a few other things in mind for his room too that I will talk about as the room progresses.  But he does want some chalkboard paint in there. :)
Paneled any walls lately? :)
And thanks for all the love on the beadboard bar everyone!  Y'all are so sweet and we are so happy with it! :)
Big thanks to my sponsors–I love you all!
xxoo,
Decorchick!