A certain little girl is turning 2 this weekend! Oh my.  We are having a little party here at the house, but I'm not going crazy on decorations or anything (or food), so don't be expecting some elaborate birthday party post.  Although it was pretty, last year's party was just a little too nutty for me.  I found myself checking to make sure all snacks and bowls were filled at all times, making sure the table still looked pretty, and didn't really get to enjoy the party or visit with anyone. Before I knew it the party was over!
So since I am keeping things simple this year (for reals), I decided to Emma-fy our mantel and let her steal the entryway spotlight for a week, in honor of these glorious 2 years of life. :)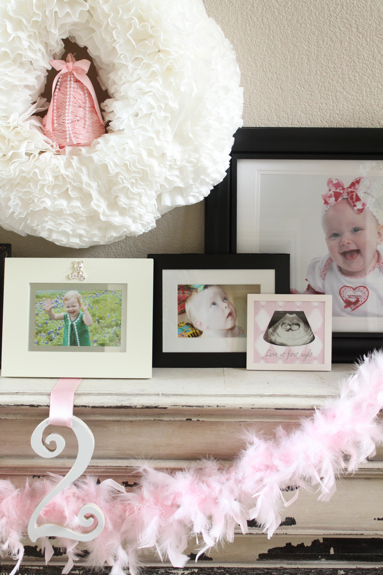 All I did was grab a bunch of frames we had around the house of her and put them up on the mantel. Kind of like an Emma shrine. :)  I had everything already except for the #2 which I bought at Hobby Lobby for $2 and painted it white.  I like how whimsical it is. :)
You'll notice the coffee filter wreath made its return again for this special display (does that make you happy Elz? ;).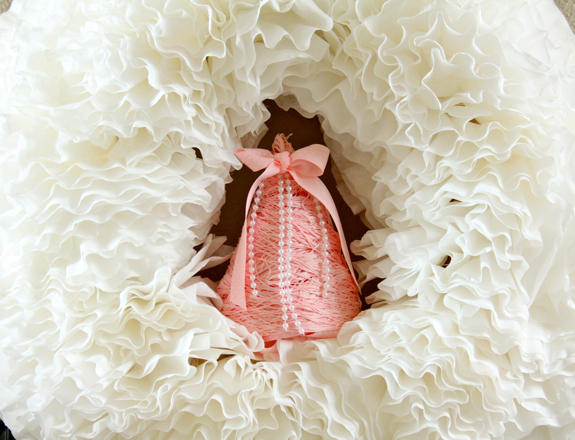 And do you remember that pink princess hat?  I made that last year for her birthday and it's been in her room since, and it sat perfectly into the wreath's little hole!  I just love that hat. I wish she could still wear it. *Sniffles*  But check out the hat post if you want to make one of your own–very easy.
And a few more birthday mantel-mania pics.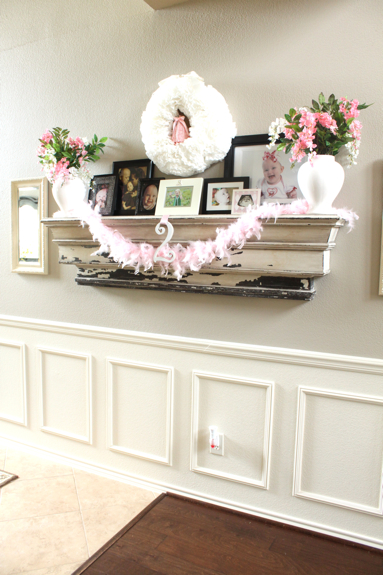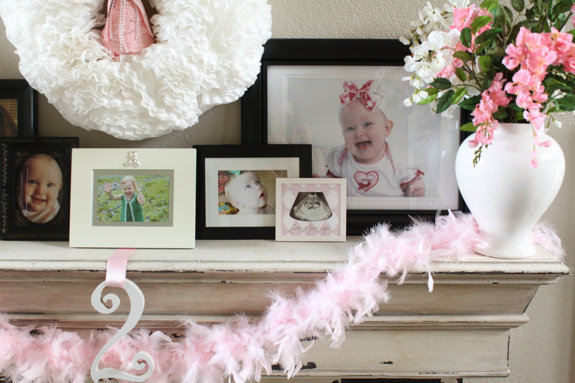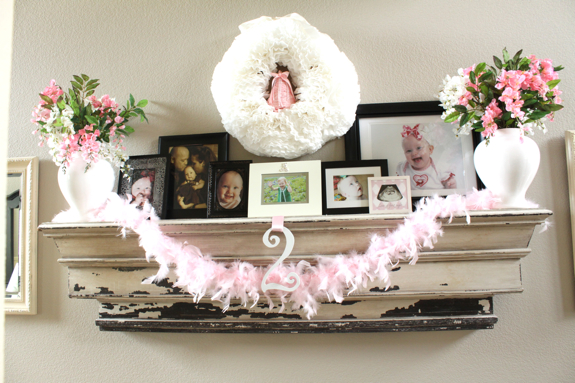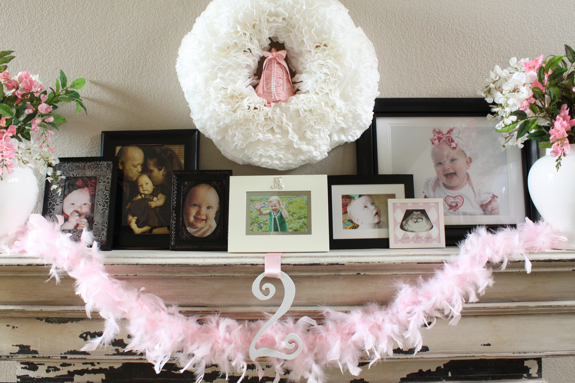 I think I'm going to make this a yearly tradition. How fun will it be to have a picture of Emma in front of the birthday mantel each year?  I wonder if she will love our fake mantel as much as I do when she's older. Haha.
I know I'm biased, but isn't she adorable?  She just gets cuter and cuter each day.  And no terrible two's here…it's going to be terrific two's as my friend Lori says. :)
Sharing this post at Sarah's Before and After Party.
xxoo,
Decorchick!