A little over a week ago was my baby shower! I've been wanting to share a few pics and am just now getting around to it, but it was so sweet and fun and it made me realize that yes, I'm really having a baby. And that people love me. <Insert awwwwws here>
It was hosted by my mom, sister, and sister in law and they did an awesome job.  The theme was "sweet pea" and it was so cute.  So there was lots of green going on.  I didn't get as many pictures I would have liked to, and didn't even get pictures of the real food like the sandwiches and stuff or of all the decorations!  But this was the dessert table and my sister made the sweet pea cake and cake balls. Yummy!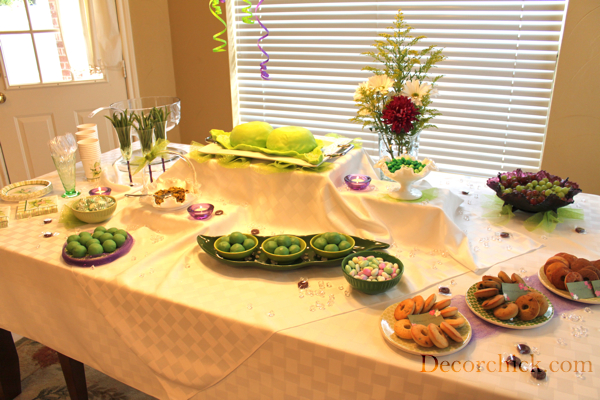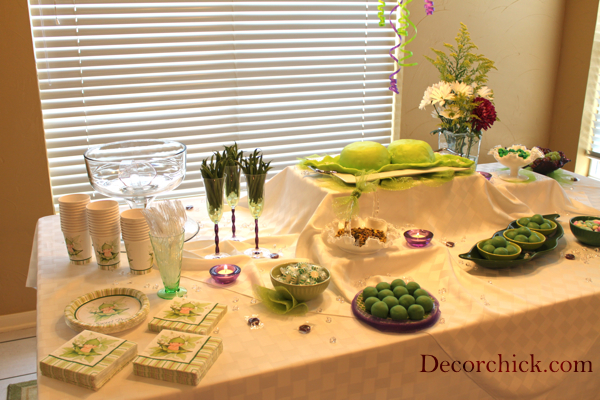 It was all really precious.
And here's my sister in law, my mom, big mama (that's me), and my sister.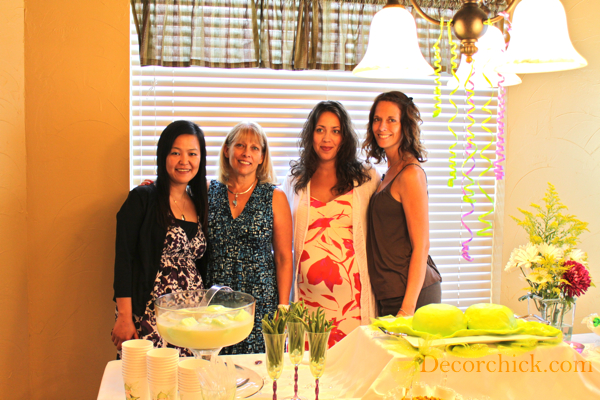 Thanks for throwing the shower y'all!!
What's a baby shower without gifts right?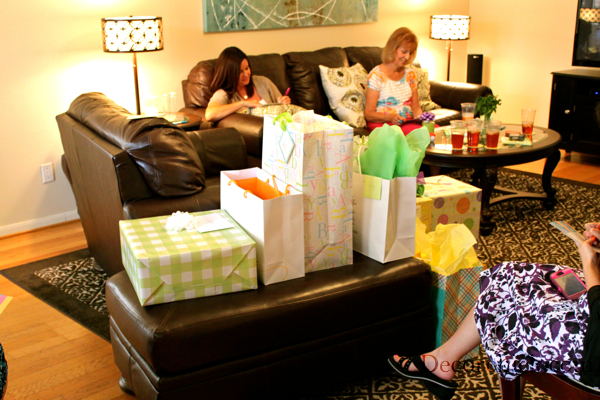 I received lots of great gifts that I definitely will be using soon, and one of my favorites is my new diaper bag!!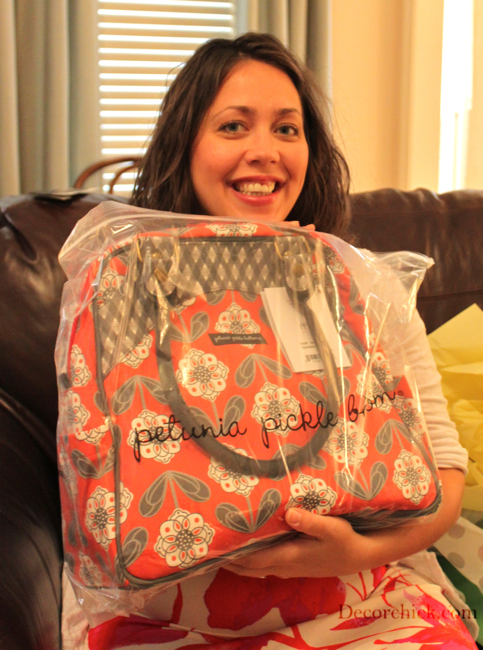 It's not just any diaper bag, it's a Petunia Pickle Bottom diaper bag!!!  Yes, I think that is fancy.  But diaper bags are just hard to look cute, and well, I wanted something cute. :) Heck, I'm going to use this even after I'm done using it as a diaper bag! One of the best parts is that it very easily converts to a backpack (has built in straps) so that will be VERY handy.  Can't wait to use it, thanks Mom! You can check it out online here if you want, but would highly, highly recommend.
And now for a few vanity shots that my sister took of me and my large, puffy,9 month pregnant self.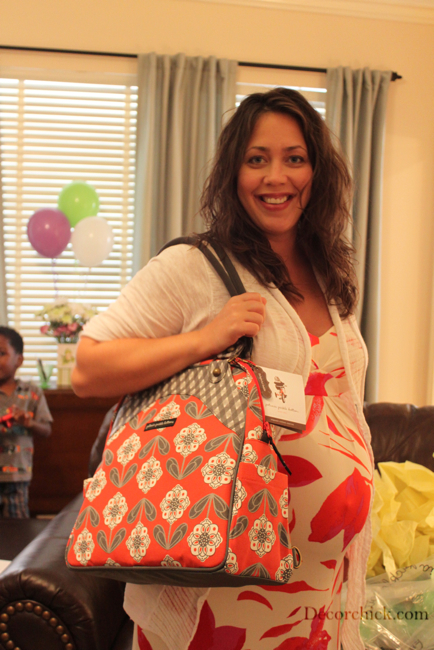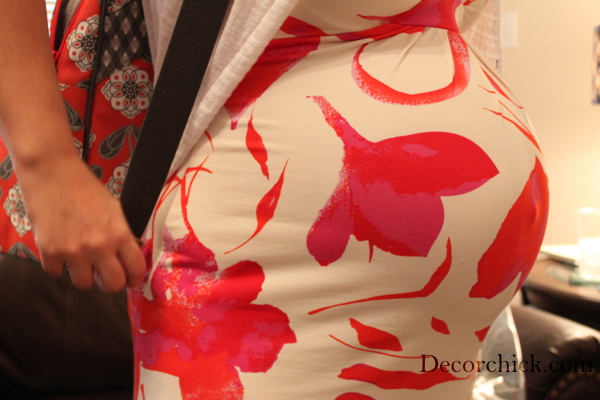 See, I'm wearing the diaper bag as a backpack in that pic. :) Oh, and do you like how I'm still squeezing into a non-maternity dress? Yea, I'm cool, and it makes me feel skinnier so there.
Then my sister took me outside to get the real professional shots. ;)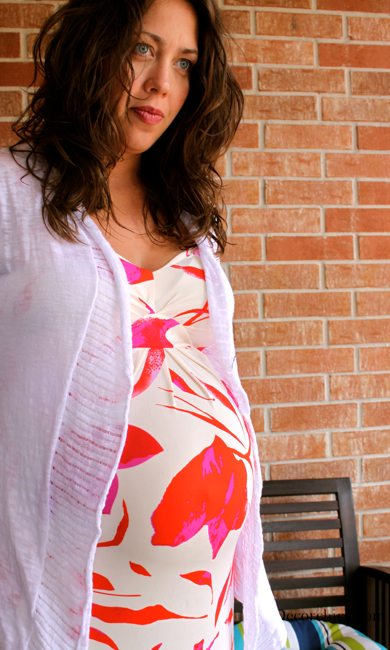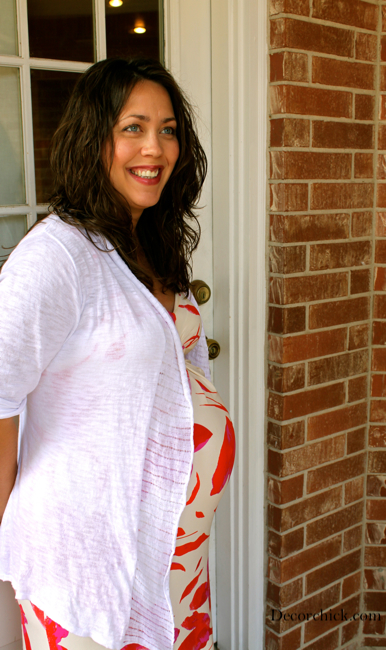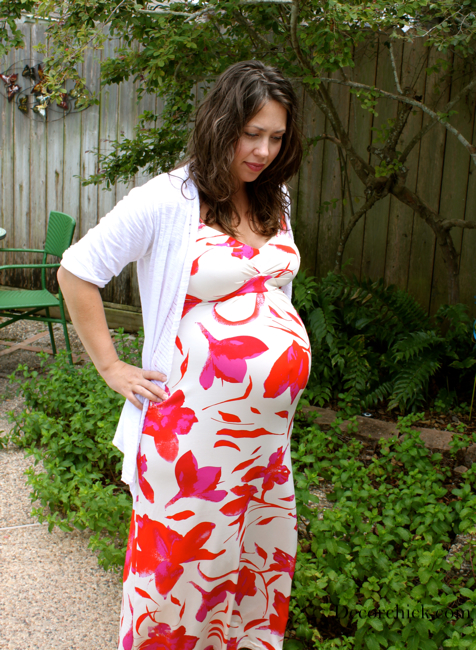 So yea, I'm ready to not be living so large if you know what I mean. Almost time to get on my running shoes.  Oh that's right, I hate running.
Anywho, I loved my baby shower and can't wait to meet our little sweet pea!  Thanks again to my family and friends for a great day!
xxoo,
Decorchick!
__________________________________________________________________
Also find me on Facebook, Twitter, Pinterest, Google+, RSS and Instagram