I hope you all have had a fabulous holiday break and hope the new year is off to a good one! I am very excited to get back into my routine around here. And today, I am thrilled to tell you all about Young Living Essential Oils. This is a nasty time of year with everyone sick. Like, everyone! But, there is a way to combat it and stay healthy while putting pure ingredients into your body–not synthetic OTC medicine.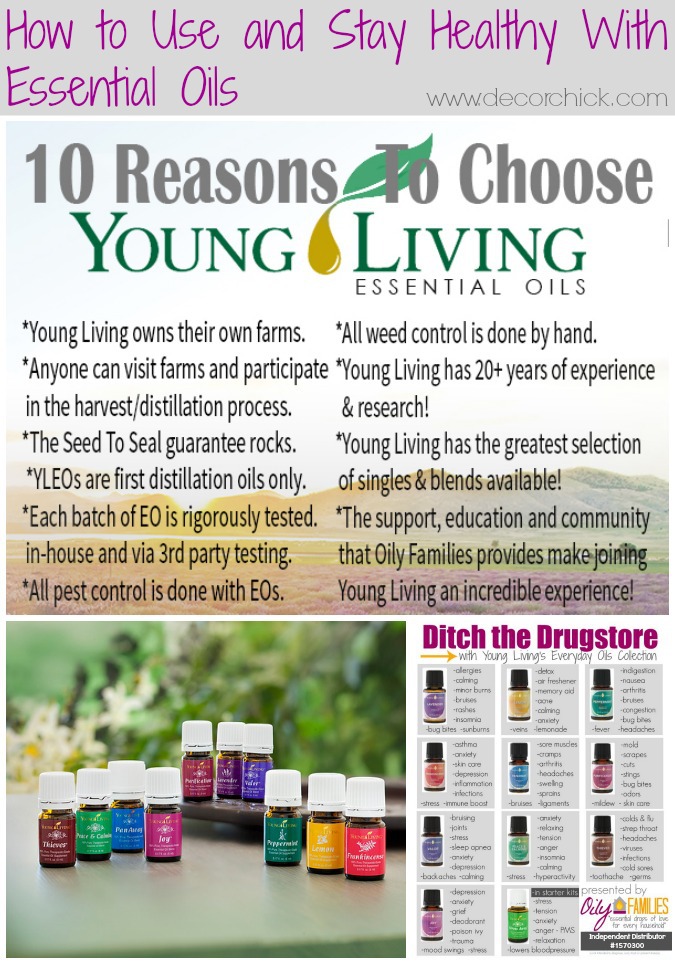 Now let me back up a bit. I haven't written about essential oils really until now (I did have them in my favorite things post for 2013 though). I wanted to give them a fair chance before I gave my opinion and testimony.
And I've been using them almost 2 months now. I immediately dove right in the first day they came, and I was instantly in love. For real. The diffuser is my favorite.
I already had a little experience with oils before, but not Young Living ones. I had bought some no-name brand at the store before but I have to tell you, not all oils are the same. Not all oils are pure. And not all essential oil companies out there are the same. I did my research before joining Young Living and it was the company I agreed with, and felt good about. And my friends' opinions and experiences that are already in with Young Living I value as well.
Most of you know I do tend to live a healthy lifestyle by eating right and exercising. So natural remedies like using oils to treat and prevent things was intriguing to me.
What testimonials I can tell you from using them so far is this:
I have not taken any Tylenol, Ibuprofen, or any other OTC medicine since I became an oiler. :) Why? Because the oils really work!
Peppermint oil rubbed on me and my husband's temples instantly takes away a headache. It's really great.
I have not used ANY perfume or my Scentsy burner since I received my oils. That is a really big deal for me because I love perfume and smell-good things. But the diffuser smells so wonderful and the aroma fills up the entire house. And the oils smell so good when applied topically that you don't need perfume!
My husband's heartburn and belching is immediately taken away after I make him take a drop or 2 of Peppermint. (yes, peppermint is really amazing)
My hormones have been better and seem to be more steady and even. Because yes, I can get crazy. (I am using all of the oils in the premium kit + Progessence Plus Serum (ordered separately) which is great for hormonal balance).
The kids LOVE the oils. I put them on them daily as well. (yes they are safe for kids and babies)
Ellie, my 18month old was sick last week. She rarely gets sick. I did not give her any OTC medicine, treated her with oils, and she was good to go on the 3rd day! The first 2 days she was running fever but I let her body do what it's supposed to do to fight off any kind of infection that was trying to happen. I admit it was kind of hard not giving her any motrin for fever, because that's what I would have done before. But I just believed and prayed that these oils would work.
I had an earache one morning and felt like I was starting to come down with something. My ears felt clogged. Rubbed the right oils around the ears and the drainage went away.
Besides the minor earache I have not been sick in a while praise the Lord! But even the slightest feeling of "I may be coming down with something" or "my throat feels scratchy," I've nipped it in the bud with Thieves. That stuff knocks my socks off.
I've been treating my husband for a cold and he is getting better…without OTC medicine!
Relaxation and better sleep have happened as well. I love to run the diffuser in our bedroom at night and I look forward to it every evening.
Now when I talk about treating my kids and husband with oils, that does not mean I am anti doctors or OTC medicine. But I do want to try and treat naturally first with God's medicine, if possible. If that doesn't work then we will of course re-evaluate things and seek professional help if necessary. Consistency is key with using oils and you have to do it more frequent than you are probably used to.
Young Living oils can be applied topically, taken internally because of their 100% therapeutic grade, diffused, and through inhalation. We do all of them.
I'd love to do some separate posts on some of my favorite oils sometime since this post is already getting lengthy. Oils make you more chatty too. ;)
Do people think oilers are cooky? Probably so. I probably would have even thought so a few years ago. But I have to tell you. They really work. Myself and thousands of others can't make up these testimonials. There still will be skeptics, mostly men and your husbands, but just wait. That will turn around I bet like it did with mine!
I really am excited about these oils (as I'm sure you can tell) because they have blessed my family so much, in such a short amount of time. And You know what the best thing is though when you decide to order is? Is that I will add you in our private Facebook support group so you will KNOW how to use your kit and oils. There is so much information in there and people post questions all day long and you can pretty much find anything you've ever wanted to know about them. You will have access to all of these graphics and handouts too for easy referencing-it's great!! It's a fabulous support group and I am thrilled to be a part of it. I admit that I would be lost if I didn't have a group to turn to!
These are the oils that come in the premium starter kit, and some of their many uses.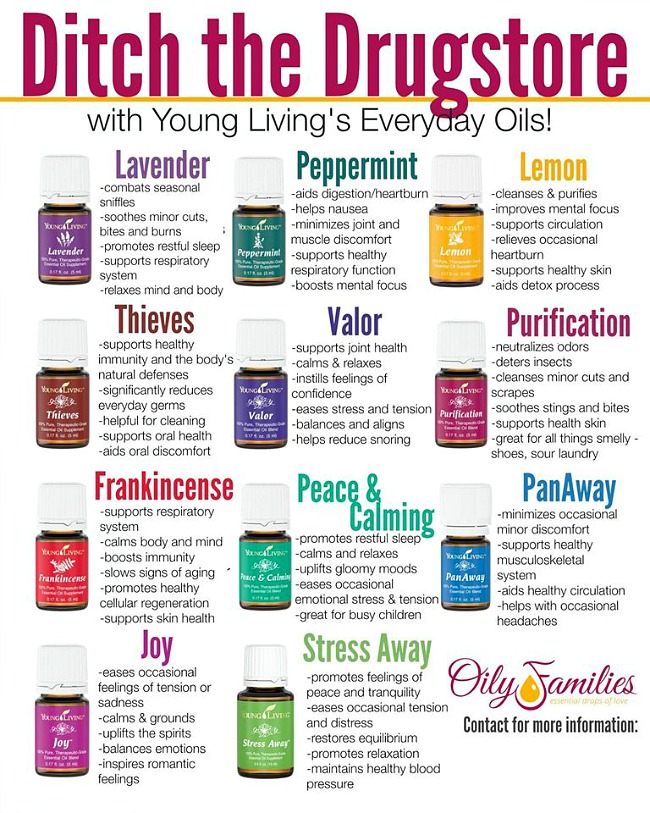 And I truly love them all. Thieves has SO many benefits (too many to list in this post), Valor smells incredible, and Peace & Calming is so relaxing and also smells heavenly. I could go on and on…
Here is everything you receive in your new premium starter kit!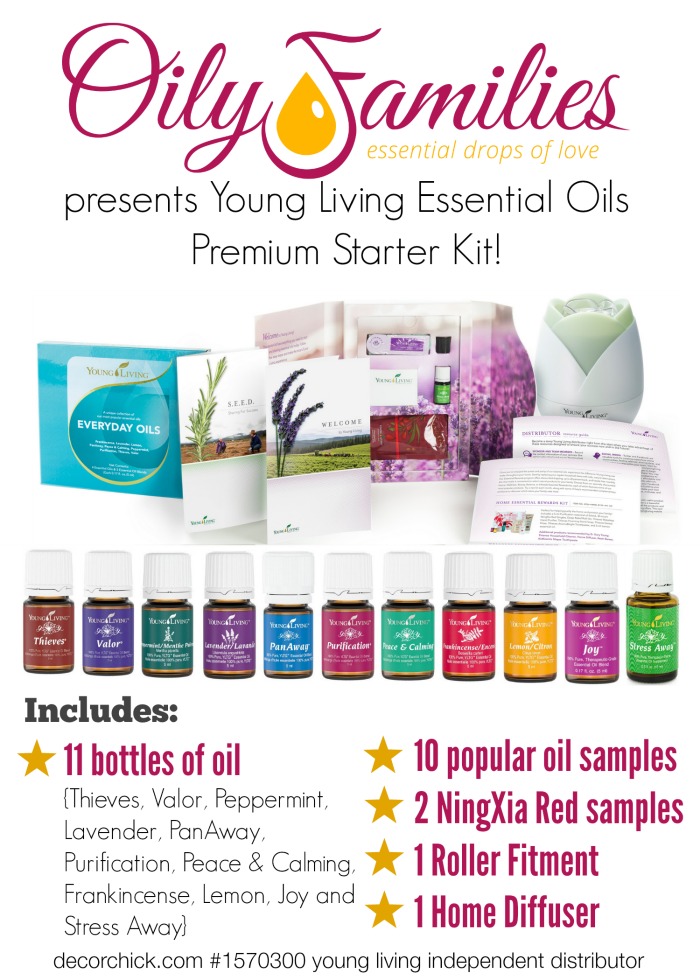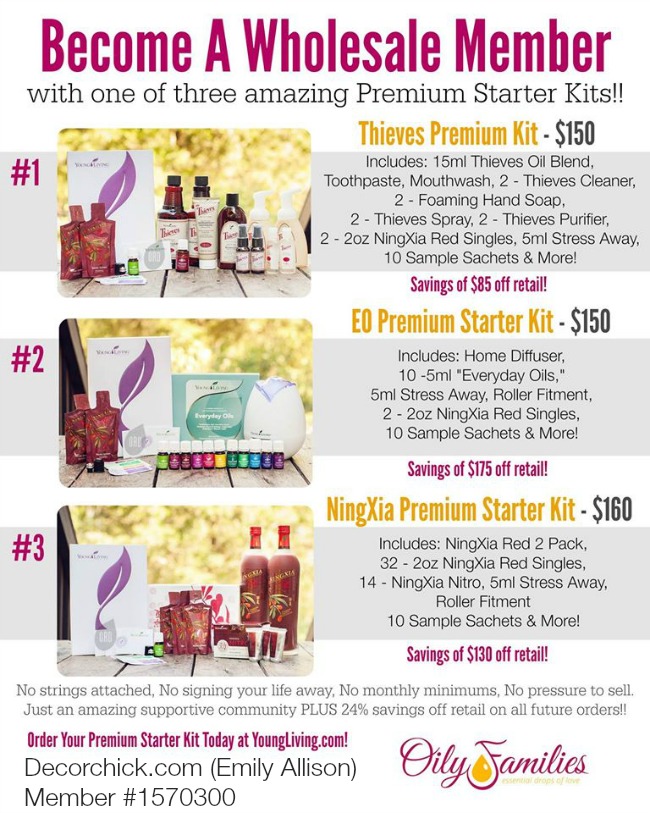 It's definitely the best value to get the Premium kit because you get all of those oils plus the diffuser and other samples, unless you choose one of the other premium starter kits which are also great!
So are you ready to take the oily journey yet? I have more information and FAQ's on my essential oils page, or you can just dive right in and order from this link (everything should be selected and filled out, just select your kit).
Don't be scared, and try not to be a skeptic. I believe in them, and I hope that my few testimonials thus far will encourage you to take charge of your health now! I don't think you'd ever look back. I never leave the house without my oils :)
Please let me know if you have any questions about anything and I'll be happy to answer.
xxoo,
Decorchick!