Hi everyone, thank you so much for the sweet comments on the patio!  We sure are enjoying the outdoor space now. It's like a whole other room to decorate! :)
Today I thought I would share with you all a few new things I've added to our living room.  Not huge changes or anything, but I thought they were worth mentioning. :)
So here's the living room before my new additions…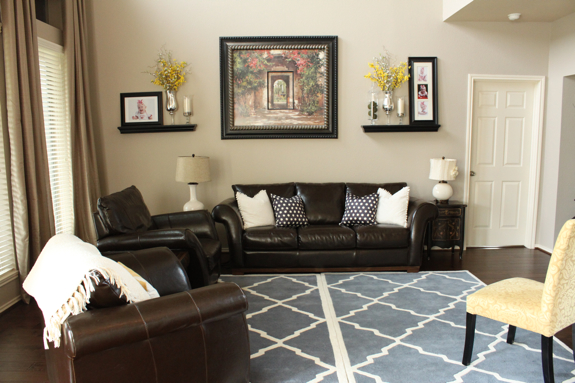 See that lamp on the right?   Well it broke.  Well, the little knob that you turn to turn the lamp on and off broke a while back.  So I went back to Hobby Lobby and they let me exchange it.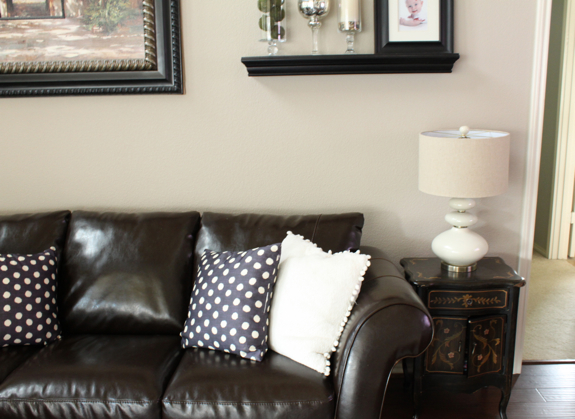 I love the new curvy lamp much more, and it goes better with the other lamp in here.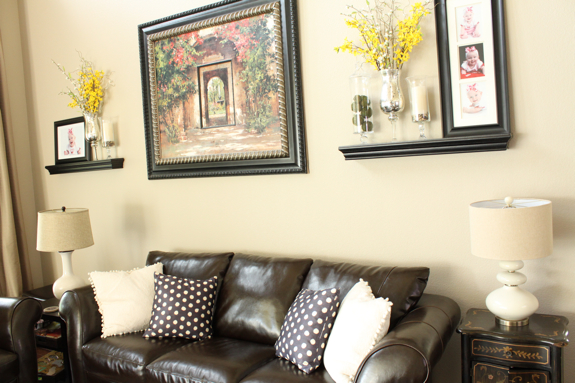 I probably should paint the other lamp finial white though after seeing this picture. :)
Then I also picked up this cutie for $25 at Homegoods a month or two ago.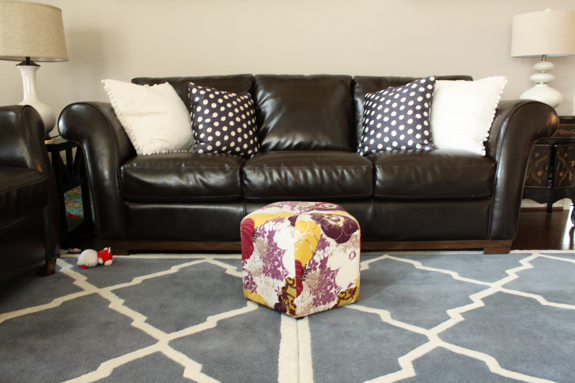 I love it, and some of you may hate it but that's ok.  It's just a fun little retro foot stool to use until we get a new ottoman.  It's very convenient to just move this around wherever you are sitting too so you have something to prop up your footsies on.  Heck, maybe I'll just buy a bunch a little ottomans and poufs and throw them around in the living room instead of having a traditional coffee table or big ottoman. Hmmm…
And lastly, here's my favorite new addition right now (probably because it's the most recent).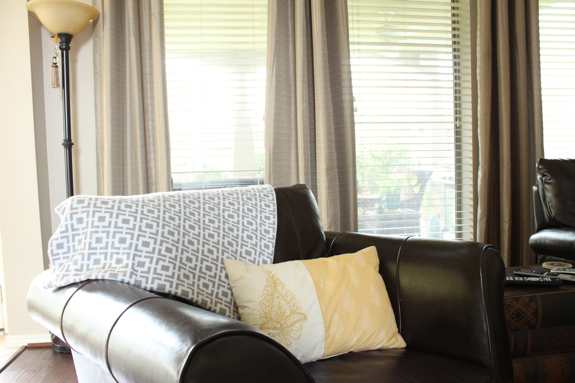 The throw blanket, not the pillow. Still looking out for a new pillow for the chair. But I LOOOOOVE this new blanket. And it was a splurge from Z Gallerie because it was $60.  But it was so worth it. Seriously.  It's a light cotton knit and extremely soft. And perfect for summer!  It is their Grid Throw if you are interested.  It also comes in orange and I loved it too.  I'm a big believer in having a good quality throw now, especially since my others have been cheapies.
And here's a shot where you can see all 3 of them together.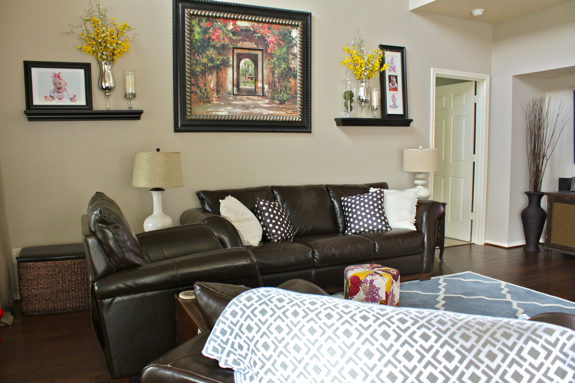 I love fun stuff!
And before anyone starts hatin' about that picture being too high, I think I'm going to fix that soon.  Promise. :)
Are y'all working on any new additions?  Fill me in!  Why can't I just leave a room alone and actually finish the other things I have going on??  Goodness.
xxoo,
Decorchick!