Well, I'm sure you all saw this one coming.  I had said I wasn't going to repaint the kitchen until I stained our cabinets darker, but yea, my paint addiction kicked in at the end of last week and I just went for it.
And as silly as it may sound, painting over Tobacco Road was a little sentimental for me.  Why?  Well because that's really what started this whole blogging thing.  When I discovered this paint color by googling, that's when I discovered this whole world of blogging and ladies who do all of these crazy DIY projects and then I was hooked.  I've been reading blogs ever since.  No, not the gossip sites I used to read daily. Just blogs now. And Drudge Report. :)
You can read more about Tobacco Road and how this all started in my very first post, but don't make fun of me ok?  It's so funny reading older posts and looking at horrible pictures I put up for the world to see. Hopefully I won't be saying the same thing a year from now about this post. :)
*sniff sniff*
Ok, I'm over it now.  We've had Tobacco Road in the kitchen for about 1 1/2 years now.  I think that's a record!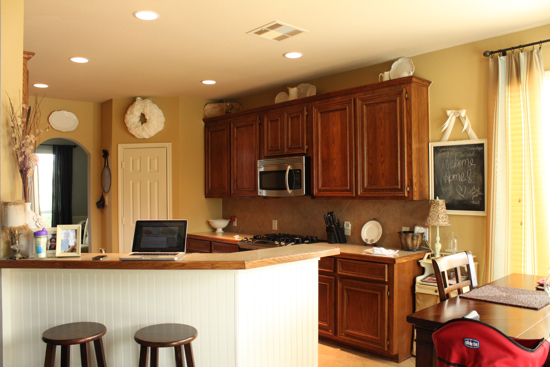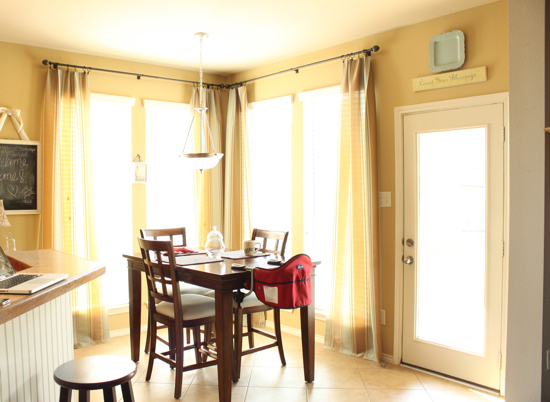 And I still do love this color.  I really do.  I just didn't love it in our house anymore with all of the recent changes to the other rooms.  And I wanted to change up things, like always, and freshen up this space and lighten it up.
One thing in particular that annoyed me was this.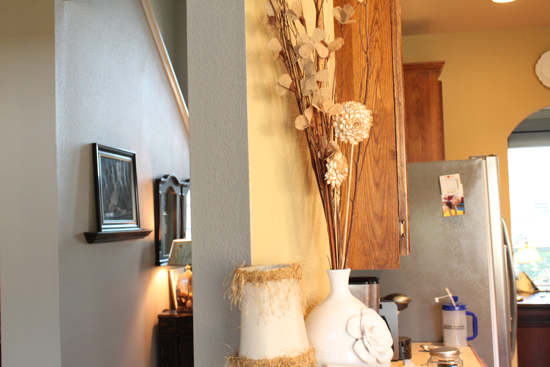 I'm talking about the different shades on the column.  Lately I'm just really into a more cohesive feel and really want the rooms to flow better and not be so choppy with multiple colors.  It was fine before because we had camel walls everywhere else.  But now with the new greige paint everywhere, it was just like BAM, here's the yellow/golden kitchen that sticks out.  Know what I mean?
So I kept it simple and went with the same greige I have used everywhere else (Balanced Beige).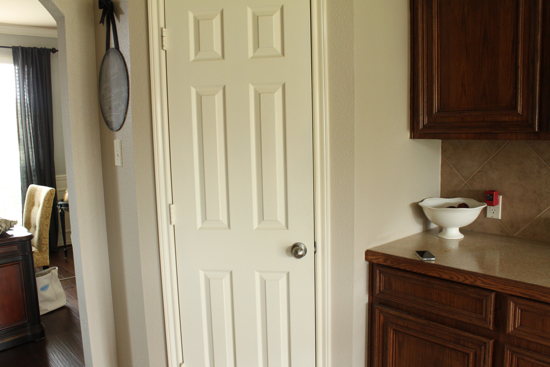 And of course a new paint job doesn't come without other tweaks to the room. :)  I hope to show you soon!  But I'm loving the new change so much.  Feels so much cleaner and flows way better with the rest of the house.
Poor hubby…he came home after I was already painting and then he decides to declare his undying love for Tobacco Road.  Um, why didn't you do that ever before honey?  Maybe next time when I tell him I am going to paint, instead of just saying "okay" and not asking what it is that I am painting, maybe the next time he will.  He said he trusts my new vision though.  Haha.
And now…to stain or not to stain the cabinets?  I like the cabinet color a lot more now with the new paint.  But I still think it could take it to the next level if I stained them darker.  That's just a lot of work. What say you?
xxoo,
Decorchick!