Oh goodness, again this is heart-wrenching for me since there were almost 3,000 entries!!  But thank you to ALL of you for entering and wishing me a happy blogiversary! Ya'll are the best!
So, the winner is…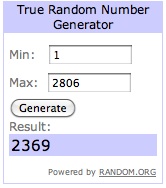 #2369 so that is GriffinGirl!  Congratulations! Please email me so I can get you set up with the team at Silhouette.  :)
Again, sorry for everyone that didn't win. :(  I feel so bad!  If you'd like to order a machine though, you can still use the code DECORCHICK to get the machine and bundle package for $219.  And all heat transfer is also 25% off.  That is good through tomorrow (May 25).
Thanks again for all of your participation and new follows and showing lots of love during this giveaway!  Y'all celebrate like rockstars. :)
And don't forget there are still 6 other great giveaways that are still going on from Blogiversary week.  See this post for a list of them all.
xxoo,
Decorchick!