Whoop whoop! SO excited I get to have another Silhouette Portrait giveaway, and with y'alls favorite software, the Designer Edition! There are also a few other great Silhouette promos that you sure don't want to miss and I'll get to those in a bit so keep reading.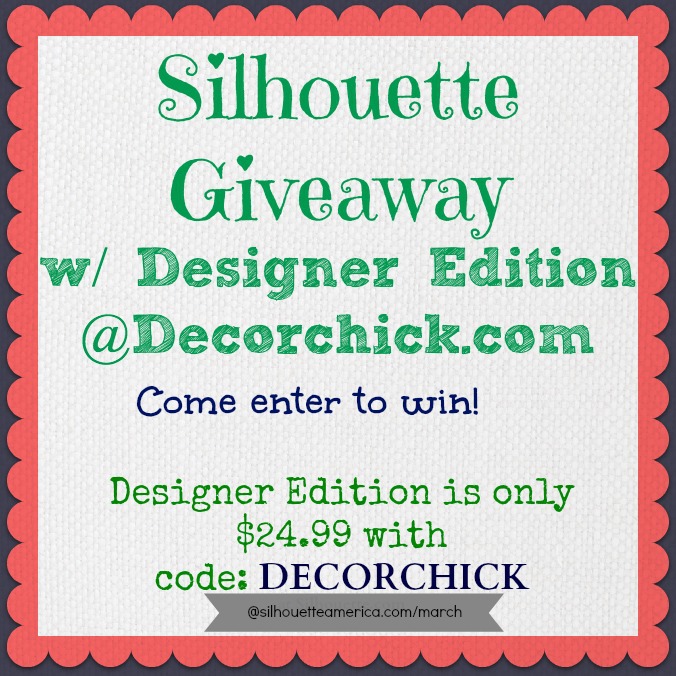 What's so great about the designer edition? Here's the extras it offers: Silhouette Studio® Designer Edition contains all the same functionality as Silhouette Studio® plus the following designer features:
Ability to open, manipulate, and cut .svg files
Rhinestone tools to convert designs into rhinestone templates and create your own rhinestone designs
Sketch tools to convert designs into several styles of sketchable art
Creative knife tools to allow you to clip designs using different patterns
Enhanced eraser set to modify designs with more precision
Built-in ruler and guide lines for precise alignment and drawing
I don't think I've even fully tapped into all of its awesomeness yet, but I did make a cute little shirt for my baby. :) I found a cute little phrase for Easter in the Silhouette online store and printed it out on some pink smooth heat transfer paper.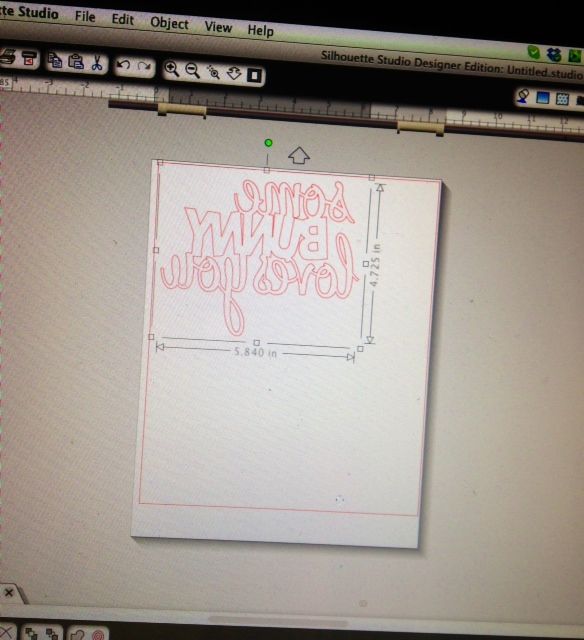 Remember when you're printing on heat transfer that you always need to mirror your image on the screen before you print. Otherwise your image will be backwards. Not good. Then I just put it on a plain white onesie I got from Hobby Lobby for a few bucks.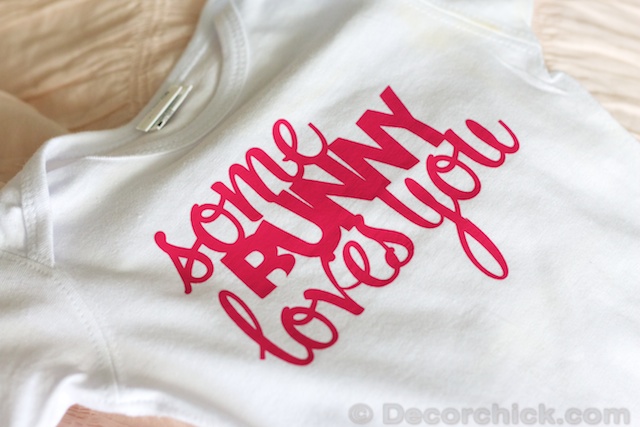 Yes my B messed up when I was peeling up the negative paper. Argh. And working with this heat transfer isn't the easiest. I have to REALLY iron it on there. And even then some of the letters peeled up after Ellie wore this for a while. :( But she's still a little doll isn't she?!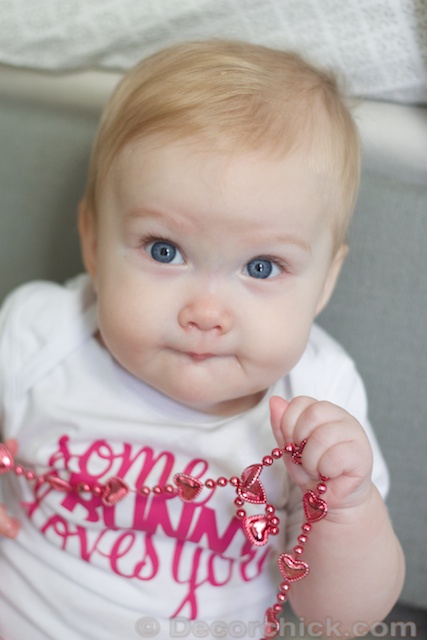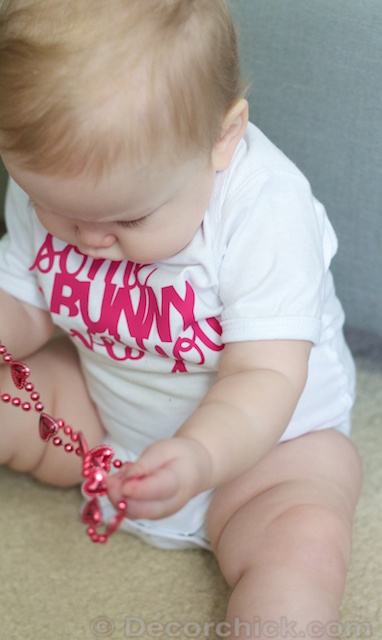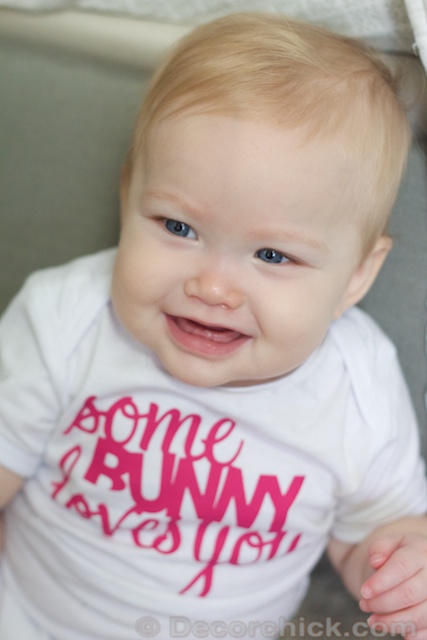 Oh my how she looks like her daddy in that picture! This is how our little session ended.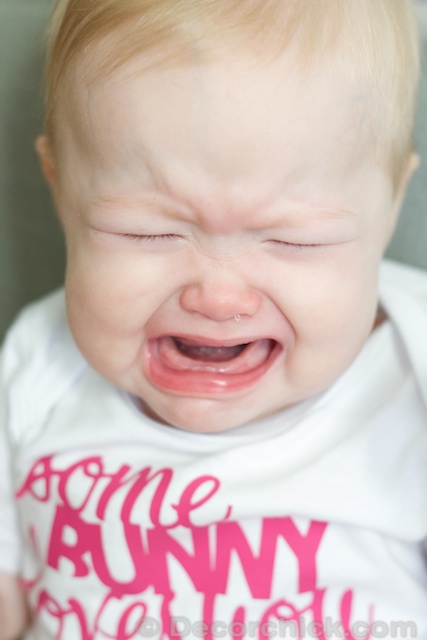 I'm so mean taking a picture of her crying huh? It was so funny though. It sure doesn't look like that little bunny loves you does it. Do you see her two little teeth though?? :) So y'all know I love my Silhouette machines, and I know you love them too so there's not much else to say right? Other than if you are ready to take the leap and buy a Silhouette machine of your own now, it's the perfect time to take advantage of this month's discount and use the code DECORCHICK at checkout! Or if you already have a machine you can buy the Designer Edition software for it for half off right now until March 10 for $24.99 with the same code. Here are the other deals going on in the image below.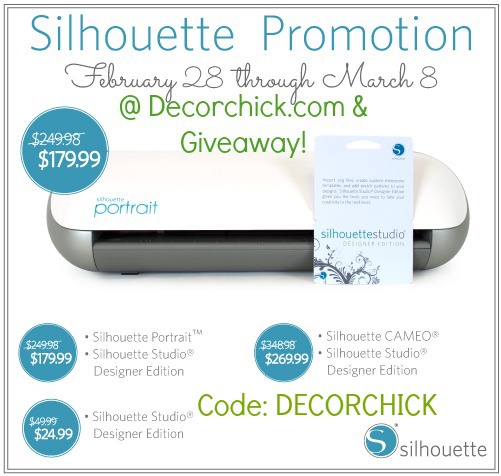 It's big savings right now if you want the Portrait machine OR the Cameo! And both come with the designer edition: (1)    1 Silhouette Portrait™ and the Silhouette Studio® Designer Edition Software for $179.99 (2)    1 Silhouette CAMEO® and the Silhouette Studio® Designer Edition Software for $269.99 (3)    The Silhouette Studio® Designer Edition Software for $24.99 So either $179.99 or $269.99, or just $24.99 for the designer edition. You can purchase with this special link, and use the code DECORCHICK at checkout. These promotions will run until March 8. PS- There is another AMAZING giveaway going on now too…our Pot of Gold Giveaway where there is a $600 Visa Gift Card up for grabs. Be sure and enter there too because it could help you buy your new machine!! :) 
Now for the Silhouette giveaway…
One winner will win a Silhouette Portrait machine w/Designer Edition (a $250.00 value)! To enter, just follow the instructions on the Rafflecopter form below. Good luck! a Rafflecopter giveaway