I just have to share this with y'all. And I'm sure I'm late to the game, but for those of you who don't know about this will be forever grateful!  :)
So what am I talking about?  Shellac? What's that?  It's a new type of manicure!  I never would have thought I'd be posting about my nails on my blog and I'm sure you didn't either, but I promise it's worth it.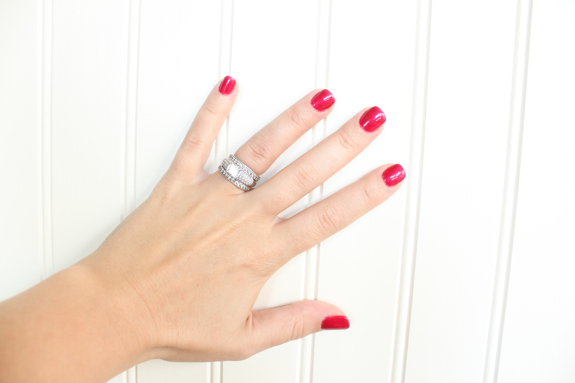 Umm, have you ever tried to take a flattering picture of your hand?  It's hard. They kept looking fat so I gave up after the 100th photo.  And my wedding finger looks all puffy from my ring but it doesn't look like that in person I swear!
Let's just focus on the nails. Don't they look pretty?!  That's my new Shellac manicure that I had done on Monday, and I'm in looooove with it.  My friend (hi Wendie!) told me about them so I went to the nail salon to see what it's all about.
About Shellac manis:
They last 2-3 weeks. For real.
ZERO dry time.  Seriously, it was amazing.
They stay glossy and shiny for weeks!
No nail damage
They are a little more expensive than regular manis. I think mine was $35 or $37?  I swear those people always change their prices!!
They have several polish colors to choose from now, and you can do it in a french manicure. (But I heard those don't last quite as long for some reason?  I still need to try that out.)
You can remove the polish at home with these foil wraps with acetone in them, but I think I'll just go back to the nail place and get another manicure and have them do it.
Applied at the salon–base coat of some gel stuff, polish color, and a top coat
Coats are cured under a special UV lamp just a few minutes at a time.
Now, I am NOT one of those people who always keeps up with my nails and toes, and haircuts and hair color and stuff like that. I'm quite awful at it.  But I do like to indulge myself with a pedicure now and then, but wouldn't even bother with getting a manicure because they would look like poo just the day or 2 after.  But now, I'm happy to say I think my nails will always be done!!
Oh, you can get a shellac pedicure too!
When I say my nails were dry instantly, I'm not kidding.  And what's weird is that the rest of the manicure when they massage your arms and hands with lotion was AFTER my polish was on!  No marks, smudges or anything. I was freaking out.
I got my manicure on Monday and snapped these photos Thursday afternoon, so you could see what they look like after 4 days. I am seriously amazed. Normally my manicure would look terrible, chippy, and dull by now.  And none of my photos were edited or enhanced in any way.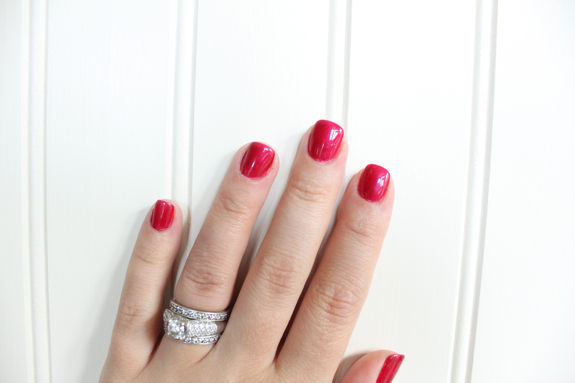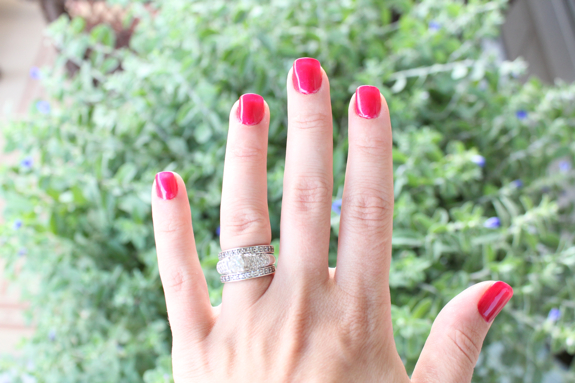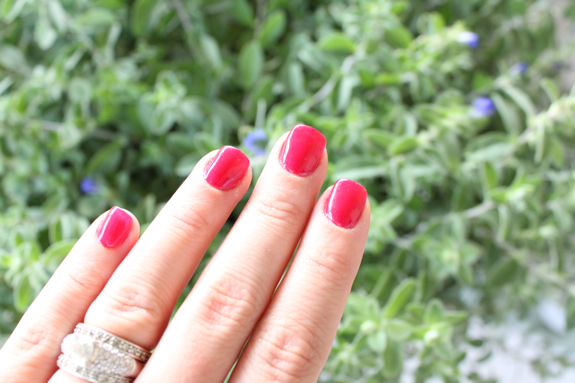 Pretty cool eh?  And still SO shiny!!
I can't wait to see what they look like in another week.  If they still look this good (but I'm sure some natural nail growth at cuticles will happen), that will be the best $35 or $37 I've ever spent.
Have any of you tried this phenomenon yet?  If not, go and treat yourself to a shelllac manicure this weekend because you deserve it!! :)
P.S.–just make sure your nail place does it right and knows what they are doing.  Here is the founding company's site if you want to read more about shellac.  And no, I'm not affiliated at all with them. Just like to spread the love when I find something good! :)
P.S.S.–The Shellac manicures ARE different than gel manicures. I don't really know the difference, but supposedly the shellac is better, and better for you. :)
P.S.S.S.–Enter the WUSLU giveaway here if you haven't already. Ends Saturday!
xxoo,
Decorchick!