This Giveaway is now closed and winner announced at bottom.
Hi friends! I know how much you all love your Scentsy products, as do I, so I know you'll love today's post and giveaway! I was asked to participate in a Scentsy ScenTrend challenge and make a custom signature scent.  So that means I was "scent" lots of goodies. Hardy har har. ;)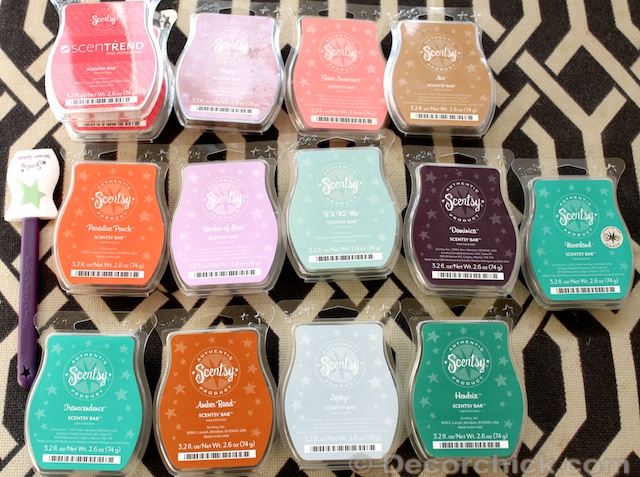 And this warmer…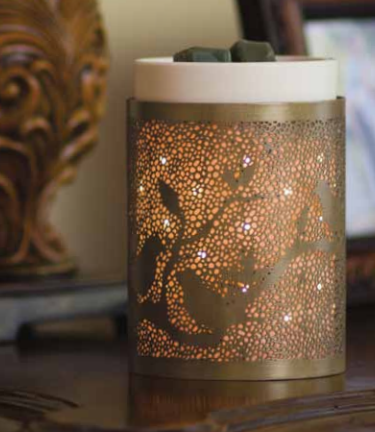 I love love LOVE this warmer. It's one from the Silhouette Collection, and this is the chickadee wrap. It's interchangeable too which is awesome for the holidays. Look how much it glows at night…
Pretty pretty!
Anyway, with all of those scents, I was asked to mix them up and create my own scent. This year, Scentsy Fragrance's in-house fragrance experts teamed up with prominent international fragrance houses to name the inaugural ScenTrend – the trendiest fragrance of 2012 – Pink Pepper. As we head into the fall months we swap out the spring and summer clothing, décor and fragrance for those richer, warmer hues and fragrances of fall. Because Pink Pepper is sweet and spicy, with warm, bold notes, it inspires a sense of renewed energy and coziness – perfect for transitioning into fall!
Pink Pepper is idea for mixing and can be used with any Scentsy fragrance to create your own unique scent. So I had a fun time mixing different ones. I tried lots of different combos, and while I liked them all, I was IN LOVE with this combo:
1 cube Sheer Innocence, 1 cube Pixie, 1 cube Pink Pepper, and 1/2 cube of Ace.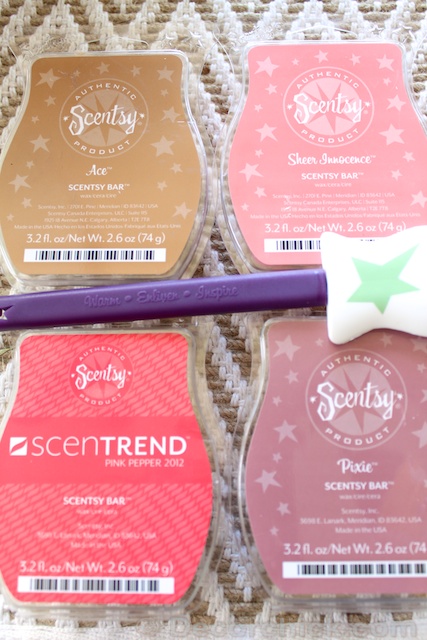 I know that might sound like a lot going on, but I happen to love the scent it created! It was a little spicy, a little floral, a little sweet, and a little woodsy. So what do you call something with a combination of those scents? I came up with the names Sheer Decadence and Ace In The Hole.  :)
Now, would you like to win the fragrances I used for my signature scent and your own Chickadee Scentsy warmer?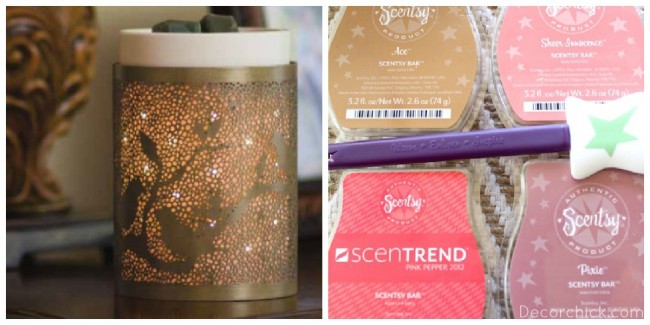 Of course you would!
To enter the giveaway to win a Scentsy warmer and my custom fragrance (total of 4), do the following:
Leave a comment on this post and vote for the name

Sheer Decadence

or

Ace in the Hole

 as my signature scent;
Bonus Entry: Share this giveaway on Facebook including a link back to this post and leave a comment that you did;
Bonus Entry: Share this giveaway on Pinterest and leave a comment that you did.
And that's it! Please leave separate comments for each thing you do. Giveaway will be open until Tuesday, November 13 and winner will be announced via Random.org.
Update: The winner is number 148 and that is April in CT now CA. Congats! An email has been sent. :) 
Good luck everyone!
xxoo,
Decorchick!
Let's Connect!