Y'all may have noticed from some recent makeovers that I have been trying to slowly weed out my traditional red and gold decor, and have been adding some modern touches, yes?  I still do love the colors and have decorated with them ever since I moved out and got my first apartment.  But, I'm ready for a change. Shocking, I know. :)
I've discovered how much I love grey recently and what a great neutral it is.  And I want neutral walls so I can change out the other accessories more frequently. And, I want something lighter and brighter.  But how do you achieve getting the warm feel by using grey?  By choosing a greige!  I still think of grey not being cold but some do, but I think an overall greige would be best suited for us for this particular redo.
I asked my friend Brittany from Pretty Handy Girl if she could do some quick photoshop magic for me so I could see what our living room would look like in a greige, or a light taupey grey. I asked her to use something similar to Sherwin Williams' Balanced Beige and Anew Grey. The color she used is also similar to Benjamin Moore's Hot Springs Stone which she has used in her home as well.  FYI-the BM Hot Springs Stone and SW Balanced Beige are almost identical on the swatch.
Here is the living room as it is now with SW Baguette on the walls.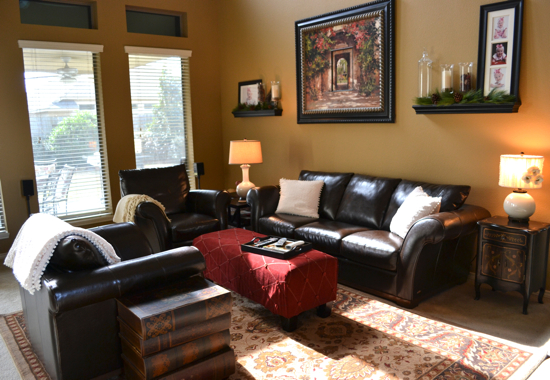 And after with Brittany's handy work.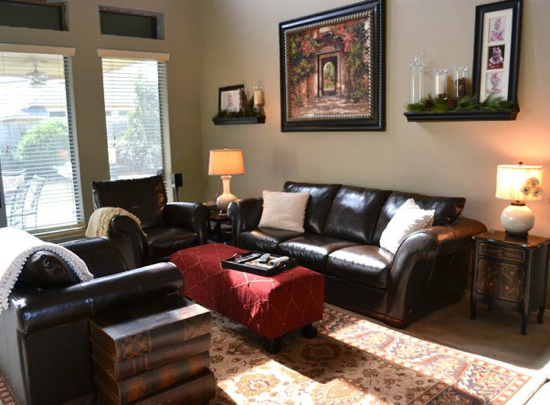 Now, I know it's dramatic.  You just have to envision with me a slipcovered ottoman, some fun pillows for color, curtains, wainscoting, and hopefully a new rug if I sell mine. Can you see it?  And keep in mind this is just photoshop–not an exact color match by any means.  I will probably keep it pretty neutral in here and maybe even monochromatic with lots of white.  It's what I'm diggin' right now.
I think it's really great to see a visual though of what your room could look like if you are thinking of making big changes.  Get in touch with Brittany for a quote if you'd like to see some photoshop magic in your own home.  I think it's well worth it! And thanks again Brittany for your help!!
I've been putting swatches all over our walls the past few days. Specifically..
SW Balanced Beige
SW Tony Taupe
SW Anew Grey
BM Hot Spring Stones (color matched at Sherwin Williams)
BM Valley Forge Tan (color matched at Sherwin Williams)
BM Silver Fox (color matched at Sherwin Williams)
BM Revere Pewter (color matched at Sherwin Williams)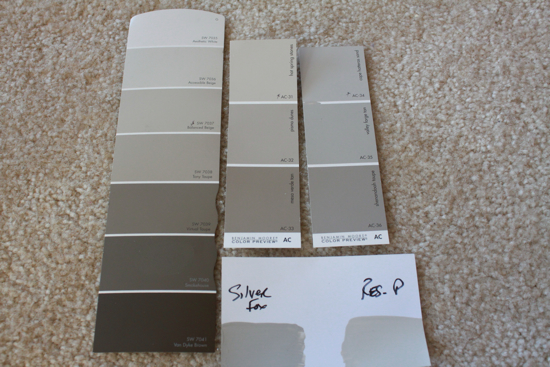 These were all grey colors that have brown undertones.  Well, they are supposed to.  Grey, even greige, is so hard!!  Several of them took on a blue tint which still baffles me.  But we get so much light in here so I guess that's why.
Here are most of the areas I've swiped around the house and they can all look different in certain areas.  I even used a pen on the wall to write the names of the colors so I wouldn't mix them up. It looks pretty artistic in here!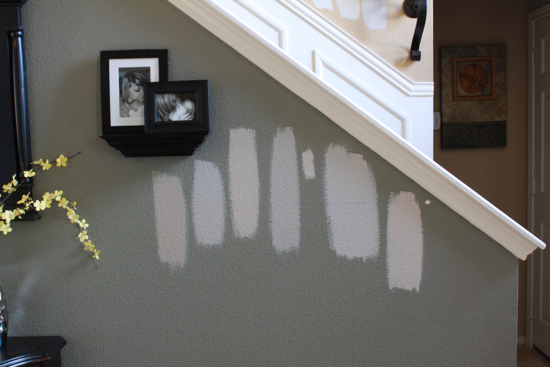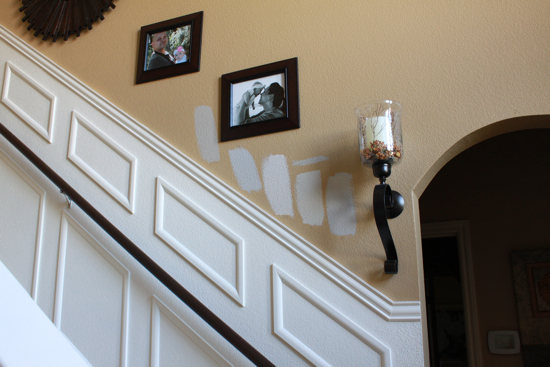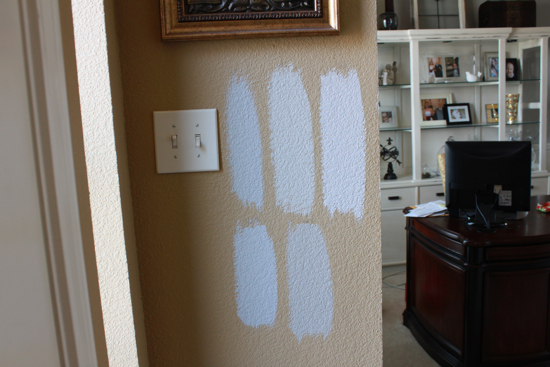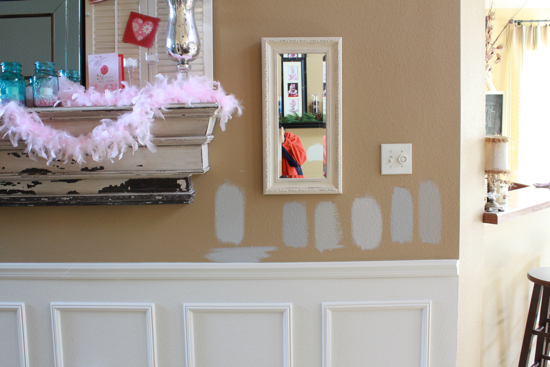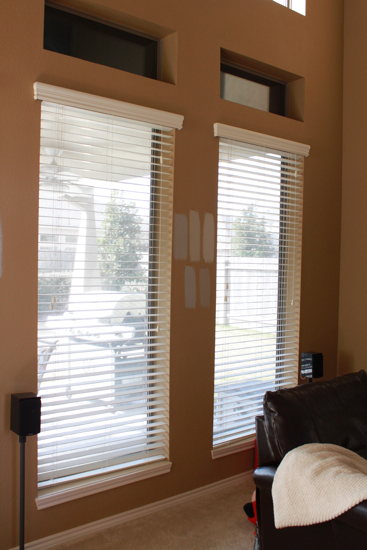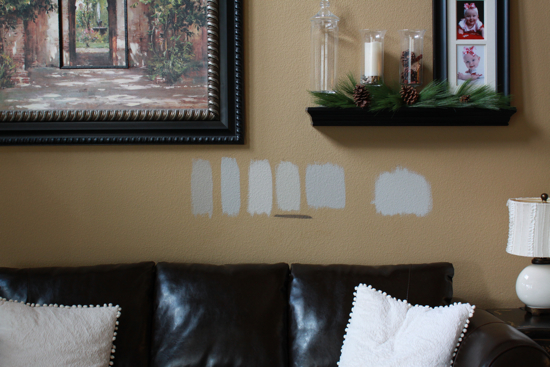 Isn't it crazy how blue some of those look??  But I think the winner is SW Balanced Beige which is the 3rd one from the right with the brown underline below it in the above pic.  It stays the most consistent throughout the day, doesn't turn blue, and is still a warm enough grey.
So basically, the whole downstairs area and staircase, with the exception of the office and the kitchen are getting repainted. Yippee!!  I'm ready for some change. Some people get a new hair style when they want a change, and me, I just paint. :)
What do you think? You think I'm crazy don't you?  Do you have any last minute favorite greige's to alert me of before the house gets painted?  If so let me know! :)
xxoo,
Decorchick!