I wanted to give a quick tutorial on how I made these rosettes for the lamps in our master bedroom redo. I'm sure I am not the first person to do it this way, but all of the tutorials I saw included tying a knot and using a pencil, and/or some sort of sewing was involved. So, I just went off pictures on other blogs and duplicated the best I could, in the easiest way of course.  :)
I used lace fabric for this because that's the look I wanted in the room, but all sorts of material/canvas will work.   I've made some using jersey knit also, and that fabric rolls up really easily, but the rosette is more "tightly" together, if that makes sense.
So, here is how I made these little lovelies.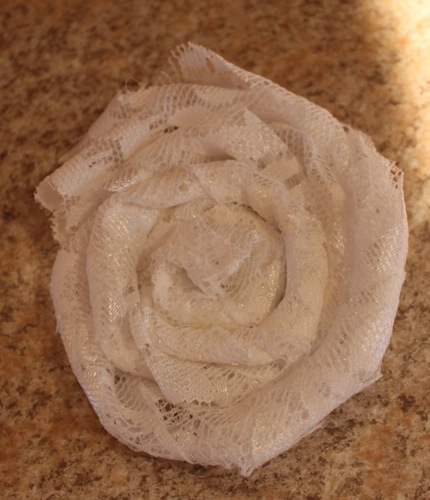 First, just cut long strips of fabric (just the length of it when you buy it by the yard), and about 1- 1 1/2 inches wide.  Mine all kind of varied.  I didn't measure or anything, just eyeballed it, and it doesn't have to be perfect.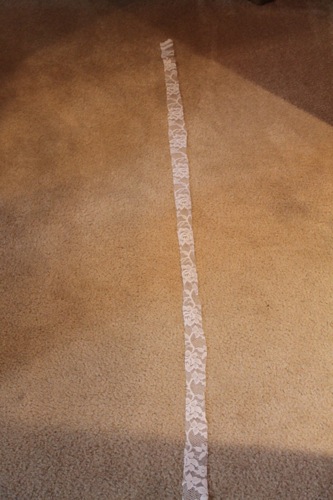 Then take that piece and fold it in half.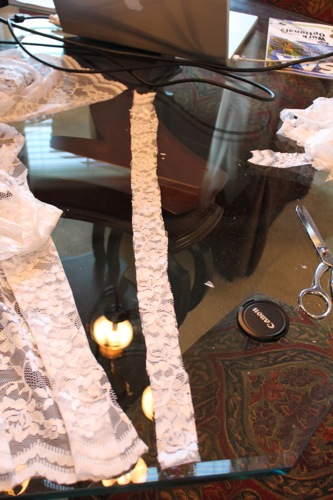 Then grab both ends and just twist it up.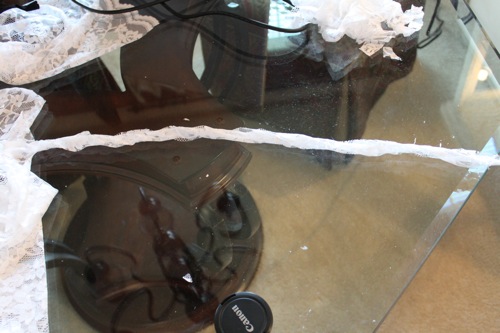 Ya with me?
Then take one end and just roll and twist it up a little so you get the center of the rosette established, and secure it with a dab of hot glue.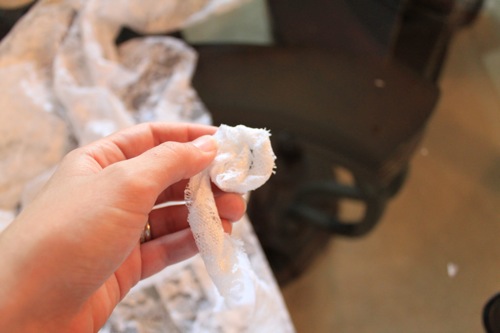 Then just continue wrapping it around forming your little flower.  You will have to twist the fabric as you do this.  Secure it with hot glue as you are wrapping.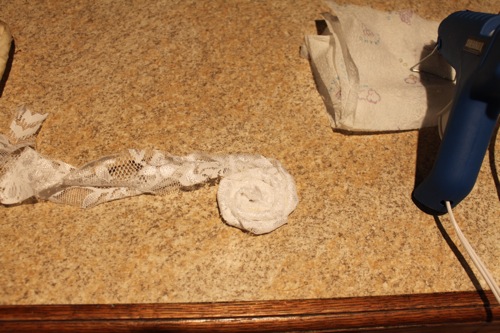 I made some big and small ones so it would make a nice design on a lamp.  To make smaller ones, just cut the length and half and do the same steps as above.
When you get done you'll have a pretty plate of rosettes. :)
So here are the new crystal lamps I bought for the bedroom, before I added the flowers.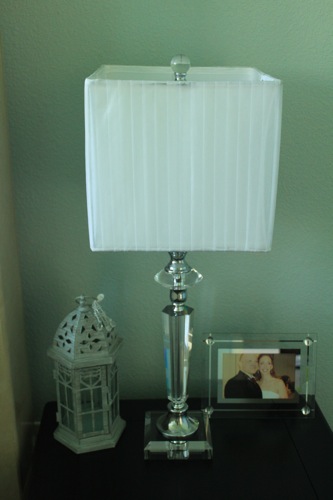 And after with a little oomph!!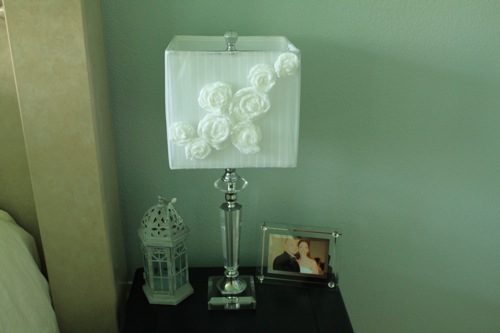 Really dressed the lamp up and I love it!  Even my husband was impressed.  :)  I used Elmer's spray adhesive to attach the flowers on the shade.  Love spray adhesive!  It does't ruin the shades in case I want to change something in the future.  A couple have fallen off, but I just reattach.  No biggie.  And I did the same design on my husband's lamp, just made it go in the opposite direction.  Clever, I know. ;)
And God said, "let there be light…"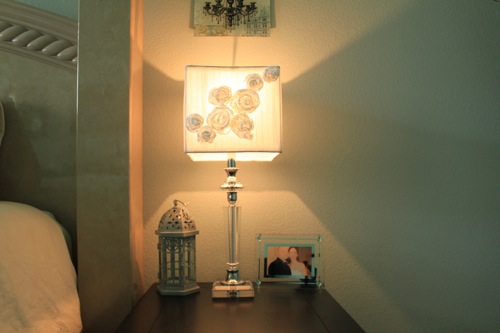 Tah-dah!  Do you hear angels singing?  :)
And that's it folks!  Easy.as.pie.  Now you can go find something to put cute little rosettes on.  The possibilities are endless!
*Please click here to see the parties I will be linking to.*
xxoo,
Decorchick!