I found all of these things last week at the thrift store and resale shop, but just haven't had time to post about them yet.  Oy!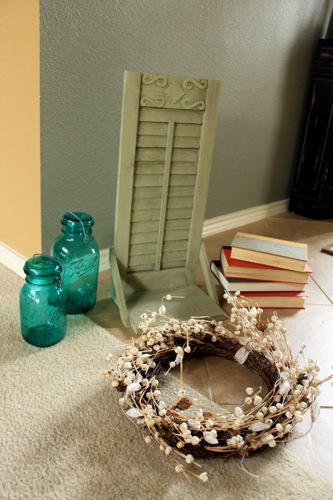 Isn't that little shutter shelf cute?  It was $1.  Score!  Everything in that picture was $9 all together.  I love that wreath too and it will look cute when I tie it up with some ribbon. :)  Oh, and you all know what I'll be doing with those books! :)  If you don't know, you can click here to see that post.
Have you ever used mason jars as vases?  I really like them as one of their purposes in life.  I used them at Emma's birthday party and really liked them with the pink.
Anywho, I know that I said I wasn't going to do anything yesterday, but, I did venture out to the resale shop.  Then I about wet my britches when I saw this…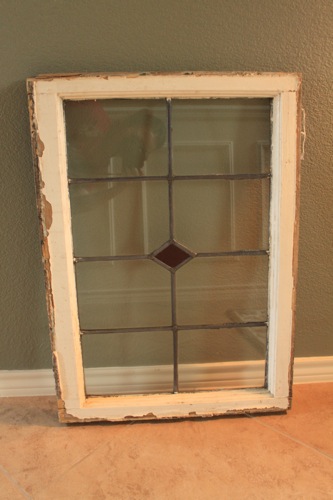 Ohhhhh yes.  This lovely old, chippy paint, and stained glass window came home with me!  And it is going to stay exactly like it is because it has TONS of character.  I love chippy paint!  Oh, and it wasn't exactly cheap at $40, but I have been hunting for one for a while now.  Apparently old windows like this are pretty pricey at antique stores?
Here are some more photos of this lovely find…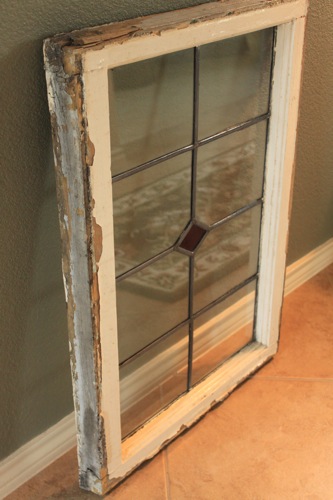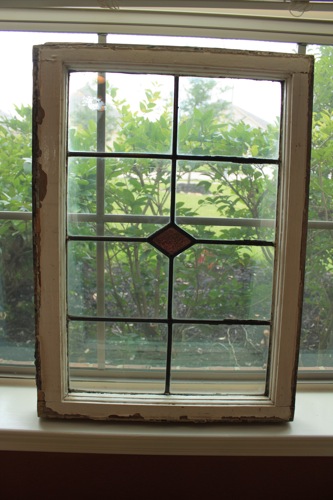 Now, I *think* I know where this is going in the house, just have to do some rearranging. :)
Have you found any good finds recently or used old windows as decoration?
Hope you all are having a great week so far!
*Please click here to see the link parties I will be linking to, and you can join the fun too!*
xxoo,
Decorchick!