Happy Monday everyone! I decided to throw you all into a tailspin today and post a yummy recipe instead of a boring ole DIY project. ;) Call me lazy, (or call me smart), but I had my mom make this cake for me so I could post it. She had made it for Christmas a few years back and it was really good so I wanted to share it with all of you since it's perfect for this time of year. It's called Marbled Pumpkin-Chocolate Bundt cake, and this recipe came from Woman's Day.
It's not too sweet-it's just perfect.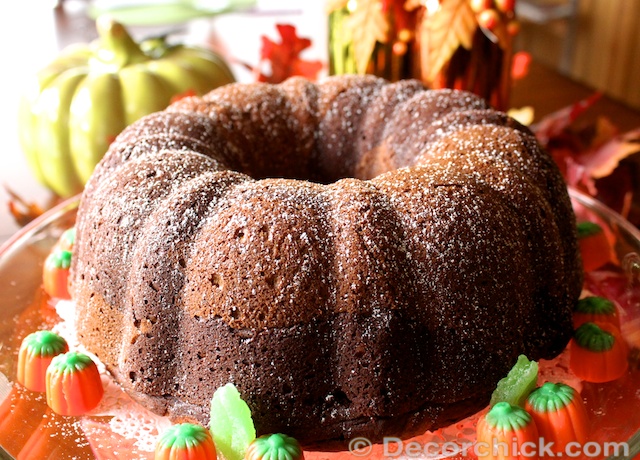 And it has pretty marbleization.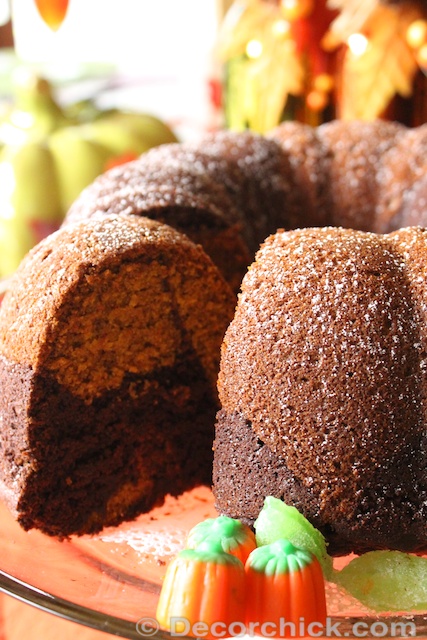 We decorated the cake plate with those pumpkin candies, and my mom made the green leaves by rolling out green gum drops, and used a piecrust leaf cutter she had from Williams Sonoma.
Here's the recipe, and you can print it out easily too.

Marbled Pumpkin-Chocolate Bundt Cake
Ingredients
2⅔ cup(s) all-purpose flour
2 teaspoon(s) baking powder
2 teaspoon(s) baking soda
1 teaspoon salt
2 stick(s) (1 cup) butter, softened
1¾ cup(s) granulated sugar
4 large eggs, at room temperature
2⅓ cup(s) canned 100% pure pumpkin
6 ounce(s) semisweet baking chocolate, melted as pkg directs and cooled
2 teaspoon(s) vanilla extract
2 teaspoon(s) pumpkin pie spice
Garnish: confectioners' sugar
Instructions
Heat oven to 350°F. Coat a 10-in.-diameter (12-cup) bundt pan with nonstick spray.
Mix flour, baking powder, baking soda and salt in a medium bowl. Beat butter and sugar in a large bowl with mixer on high speed 3 minutes or until pale and fluffy. On medium speed, beat in eggs, 1 at a time. On low speed, beat in pumpkin (mixture will look curdled), then flour mixture until just blended.
Pour 1⁄2 the batter into another bowl. Stir melted chocolate, then vanilla into 1 bowl, pie spice into the other. Alternating batters, drop large spoonfuls into bundt pan. Run a knife through batters to marbleize. Smooth the top.
Bake 1 hour or until a wooden pick inserted in center of cake comes out clean. Cool in pan on a wire rack 15 minutes (cake may settle a bit). Invert cake on rack. Turn cake right side up and cool completely.
To serve: Place on a large cake plate; surround with pumpkins and leaves. Sprinkle with confectioners' sugar.
Aren't pumpkin recipes the best? They are even better if they include chocolate too. If you try this cake let me know! By the way, I do actually cook and bake myself too and like to think I inherited my mom's skills :)
What's your favorite pumpkin recipe?
xxoo,
Decorchick!
________________________________________________________________________
Also find me on Facebook, Twitter, Pinterest, Google+, RSS and Instagram