Wow, so much going on right now!  Today I am 37 weeks pregnant…crazy right?   And it's like I've kicked into high gear during these last 3 weeks before the baby is born.  It's exhilarating at times, then complete exhaustion.
I don't think I've mentioned here that my daughter's birthday is 10 days after my current due date, have I?  Um well yea it is, so I've been trying to plan her party well in advance so I'm not trying to put together something at the last minute, and with a newborn in tow. And this party might even be a little over the top because well, I want her to have a great birthday and not feel short-changed with a new baby in the house (yes, mommy guilt). I'm planning a Yo Gabba Gabba party (her FAVORITE) and it's going to be good! I can't wait and am so excited to see her little face light up.
Her cake is going to look something like this…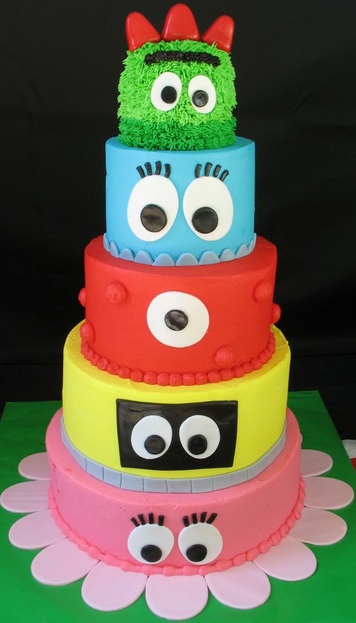 Well I hope it does anyway.  Hers will only be 3 tiers, but I found a local bakery to make one just like it and can't wait to see it! And if you click that link above, now THAT was the ultimate Gabba party.  Mine won't be that extravagant but it sure did look awesome so check it out.  We have other surprises in store at the party too and I'll be sure and show you all once we have the party!
Oh yea, and I'm nesting.  Well I'm trying to.  But these things keep preventing me at times.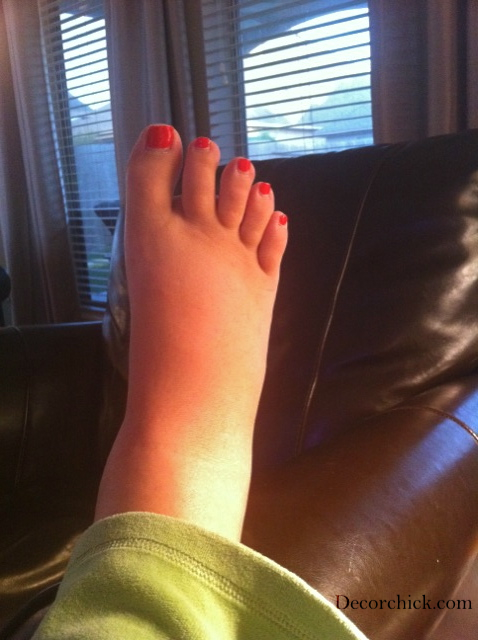 I'm huge, swollen, and puffy.  And I live in Texas so of course that means it's very hot.  And my feet and ankles have looked much worse on other days so that picture looks pretty good unfortunately. And I drink TONS of water all day long.  It's just part of the way I carry babies I guess because this happened with Emma too.
Also, I'm finally starting to work on the nursery, hooray!
It's starting with paint which I just got yesterday.  I'm going to do my best to get er done, but again, just depends on my feet and how long I can squat down to cut in and everything.  That's gonna be difficult. I may have to call on my hubby to help with this one. But I'm painting it a light grey for a neutral base.  Then I think I might as well wait a few more weeks to see if we have a boy or a girl, then the real decorating can start. :) I really don't have to be in a huge hurry to get the nursery done because the baby won't even sleep in there for the first several months.  But I'm impatient so you know what's going to happen with that!
So besides all of that, I was trying to figure out how I could get the kitchen cabinets painted before the baby arrives, but alas, I didn't find a way. Haha.  And there's about 20 other projects I want to do around the house including starting on Emma's big girl room, so I've been doing stuff with that too!  More on that next week.
OH, and my baby shower is this weekend!  Can't wait.  I also need to pack a hospital bag, write a brief birth plan, get out Emma's newborn stuff from the garage, clean the garage, and the list goes on and on.
We DID finally decide on names if we have a boy or a girl, and I won't tell them here yet, but they both begin with E, if anyone wants to play a guessing game. :)
And I don't drink alcoholic beverages really, but I've been craving Sangria for about 3 weeks now. Like, badly.  And I've never even had Sangria. Weird.
And happy birthday to my beautiful mama today!
So in a random Friday nutshell, that's what I've been up to.  Now I think I'm going to go to sleep.  Oh yea, that's right, I don't sleep because I'm 37 weeks prego and it's nearly impossible!
xxoo,
Decorchick!