Welcome!
I'm so glad you're here! I'm Emily, a homemaker and home decor/DIY blogger. I love decorating, DIY projects, any kind of molding and strong coffee. I hope you enjoy browsing around here, and I hope you'll feel empowered to create all things beautiful in your own home after you visit my site. Read More…
Recent Posts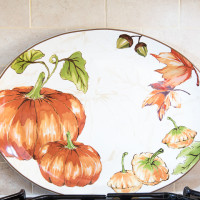 Tue, 08 Sep 2015 By Decorchick! 16 Comments
Hello friends! I've been busy sprucing up our kitchen and adding some Fall touches since hello, it's September now!! And a *slight* cool front is coming to Texas this weekend so it's totally appropriate to bring out the pumpkins. … Read More...