Have you heard of Operation Homefront?  It's a great organization that helps military families with several different needs.

They offer many services and programs like these: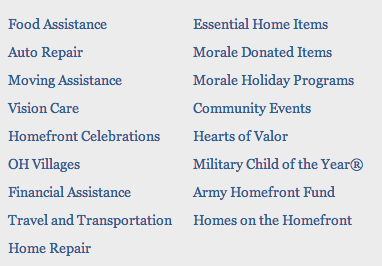 I learned about Operation Homefront recently through the Celebration of Service program I have been participating in with The Home Depot Foundation.  More on that coming soon with my last Celebration of Service project that I did over the weekend. But anyway, The Home Depot Foundation has partnered up with Operation Homefront this year for Celebration of Service, so that's how I am involved. :)
Here's a little bit about Operation Homefront from their website:
A 501(c)(3) nonprofit organization, Operation Homefront was formed in February 2002. It was developed to support the families of deployed service members immediately following 9/11. Operation Homefront is headquartered in San Antonio, Texas, and has evolved into a major nonprofit. The organization currently provides services to military families across the nation with 23 locations serving 41 states. The national office handles cases in states that do not have their own local offices. The majority of our clients are the lowest-paid service members, the E-1 through E-6 enlisted ranks. 
The target population is American military personnel and/or their families who have unmet needs due to financial hardship, death, injury, or physical or mental detriment as a result of service in Iraq or Afghanistan. These may include active duty, Reserve, National Guard and veteran service members.
So if you, or anyone you know might need some military assistance, this would be a great organization to refer them too.   I saw firsthand how great the Homes on the Homefront program was, and I know the others are just as great too.
To learn more you can visit Operation Homefront and The Home Depot Foundation website, follow The Home Depot Foundation on Twitter, and like them on Facebook.
Stay tuned for my last Celebration of Service project. :)
xxoo,
Decorchick!
Let's Connect!




Disclosure: The Home Depot partnered with bloggers such as me for their Celebration of Service Blog Network. As part of this program, I received compensation for my time. They did not tell me what to purchase or what to say about any product mentioned in these posts. The Home Depot believes that consumers and bloggers are free to form their own opinions and share them in their own words. The Home Depot's policies align with WOMMA Ethics Code, FTC guidelines and social media engagement recommendations.