This post makes me somewhat sad and my heart is aching because there is only one winner. :(  I SO wish all of you could win a machine.  I couldn't believe the response from the giveaway, and it's pretty apparent this is the item of the year. :)  I know that 1 person will at least be happy tonight, but for the other thousands…ack!
BUT, at least the promo code is still good only through tonight to buy that great Silhouette bundle package for just $199!  Use the code DECORCHICK at checkout and your cart will be deducted and the extra items will be added.  You can purchase here. :)
Ok….the winner is……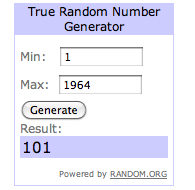 And that is Lorinda!!  Oh.my.gosh are you excited???    I have your email address to contact you, but I want to see if you are reading this post first. Hehe.  Don't worry, I'll email you soon!
Thanks for entering everyone, please don't be mad at me.  If I was rich I'd buy you all a Silhouette.  I swear I would!
xxoo,
Decorchick!