I know this is a decorating blog, but this is a special post and calls for celebration.  So I hope you will celebrate with me!  My brother-in-law Greg just opened his own chiropractic office, Green Chiropractic.  His office is located in Houston, TX (at 43rd and Ella to be exact), and yesterday was the grand opening!  After several years of school and sacrificing many things to make this dream a reality, Greg, my sister, and their 2 boys can finally see the light at the end of the tunnel now.  It's a great accomplishment and we are all very proud of him.
How could you not want to get an adjustment from this handsome face?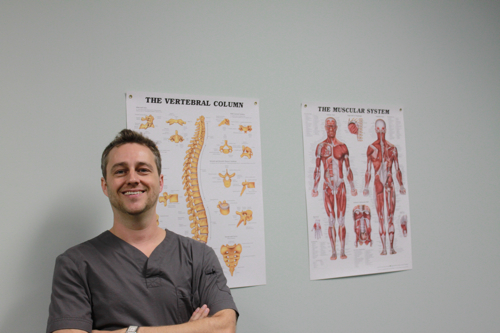 Yes, that's Dr. Green!
I will show you a few pictures of his office since it's so pretty. :)  He and my sister did a great job designing everything.
This is the front of the office.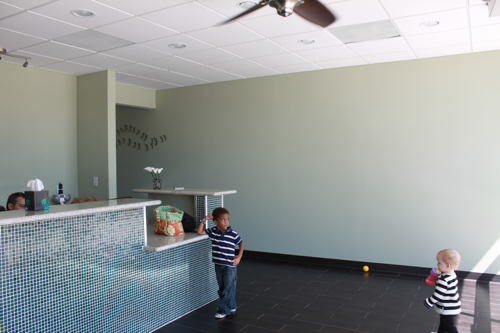 That paint color is Sherwin Williams Softened Green.  So pretty.  They still have decorating to do (which hopefully I will help out with), and they need to figure out what to do with all these kids hanging around! ;)
I really love the glass tiles my sister picked out for the front counter and all of the back splashes throughout the office.  She bought them from Overstock.com.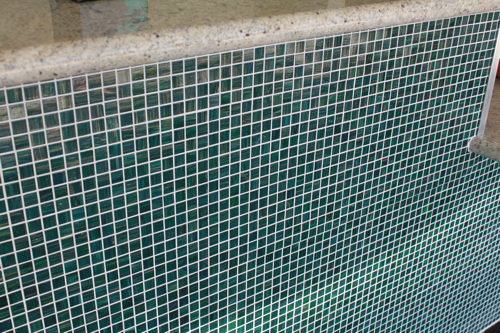 I love the granite too!  I WILL have granite one day!! :)
Here is one of the treatment rooms.  It is painted in Sherwin Williams Rainwashed.  Remember I did our master bedroom redo in that color?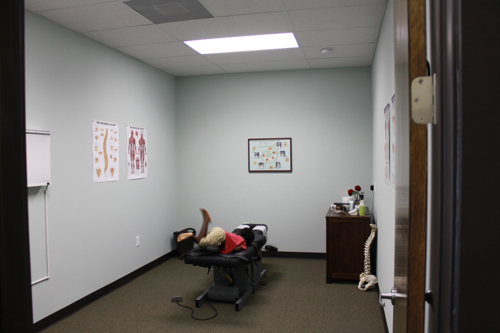 It looks so different in the office, probably because of the fluorescent lighting.  But I LOVE it in there.  It's much more gray in his office and I'm on a big gray kick right now. :)  But all of the colors throughout the entire office are very soothing.
Here is the bathroom and the kitchen area, and these rooms are painted in Sherwin Williams Sea Salt.  Another beautiful color.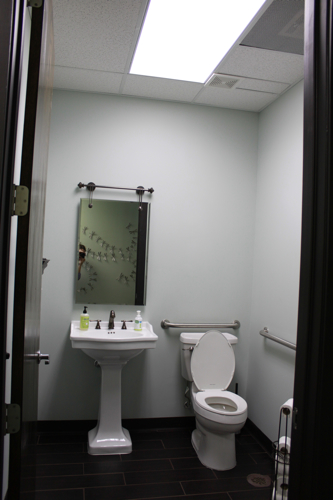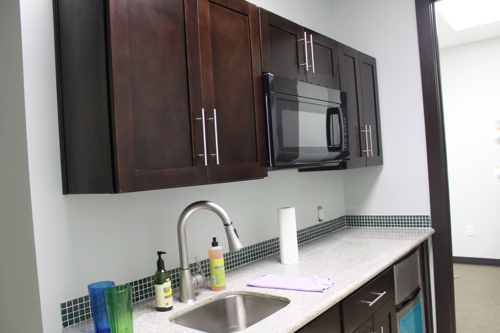 Sorry, I know I could have at least put the toilet seat down in that first picture.
And look how happy these 2 little customers are!  See, even his shirt says he's "Mr. Happy!"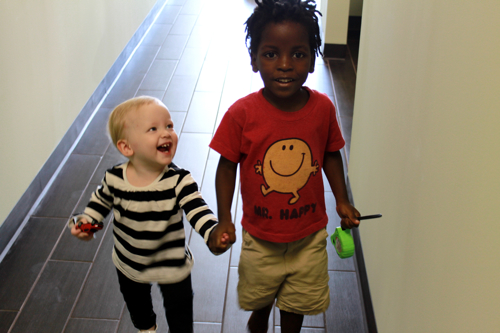 They must be feelin' good!
So if you are in the Houston area, now you can feel good too and go see a great chiropractor!  He is extremely knowledgeable in nutrition as well. You don't have to be injured to see a chiropractor either.  I always get adjusted when I see Dr. Green(that's weird saying that) and feel like a million bucks. Sometimes a good crackin' is all you need. :)  If you go, tell him DC sent you. :)
For office hours and other information you can visit Green Chiropractic's website.   You can also become a "liker" on his Facebook page, and even keep up with the doc himself on Twitter!
Thank you for celebrating this big event!  Have you been to a chiropractor before?  Did it help?  P.S. – I promise I will get back to decorating soon. :)
Don't forget to enter the giveaway from Donahue Wellness-Shaklee, HERE.  Ten winners will be chosen!
Thank you to all of my sponsors:
Altar'd – How to paint furniture guide
xxoo,
Decorchick!