On Monday I was able to go finish up my Christmas shopping while my mom kept the little girl.  And man oh man was it nice!  I forgot what it's like to shop without a baby, because you can actually browse around, and not just do a quick skim.  :)
I kind of felt like Mary Poppins frolicking around with an umbrella.  And I may or may not have floated in Williams-Sonoma just to browse. :)  I did find 2 gifts in there, and as I was checking out, I decided to try the lotion they had at the counter on.  OH.MY.GOSH.  I kept saying "wow, this smells REALLY good!!" to the cashier and she probably thought I was nuts.  I even asked "does this come in hand soap too??" and she was like "ummm, duh."  Yea, it's been a while since I've been there. :)
And here enters the best smelling stuff in the world.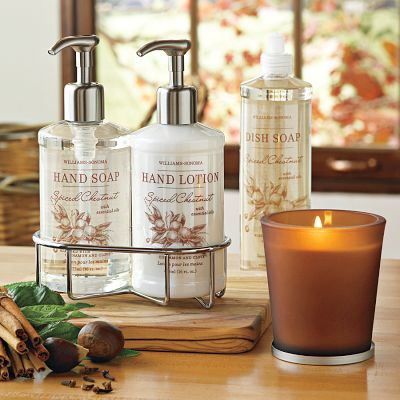 I'm not kidding y'all.  The Spiced Chestnut smells AMAZING!!  I want to smother myself in it and I really wish there was a bath soap and perfume.  I've even been using the hand lotion as a body lotion. Even my husband loves it.  Like, really loves it.  He said he'd wear it as a cologne too!  I only bought the lotion and the hand soap and they were $12.95 a piece, and 16 oz each. That's really a good price!   I am DYING to try their room spray, candles, and the reed diffusers.  I'm serious, just talking about this scent makes me salivate!
Ok, and a close second favorite is this other scent they have.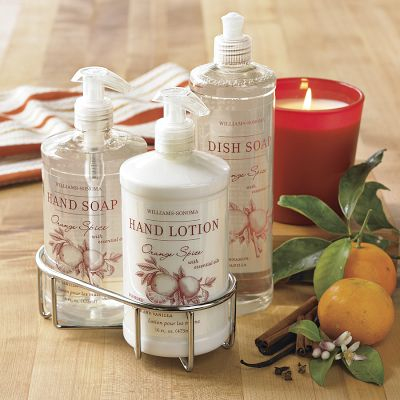 The Orange Spice.  It smells amazing too and I really want to buy everything in this scent as well.  Both scents even come in a dish soap.  Can you imagine the beautiful aromas as you are washing dishes? Ahhhh!
I just had to share with y'all my latest find and newest love.  If you still need a gift for somebody, these would be AMAZING gifts.
On my shopping trip, I even strolled into the bookstore!  I haven't done that in ages and it was glorious!
Do you love Williams-Sonoma too?  I forgot how fun that store is.  Do you love shopping without your kiddos? :)
You can enter the giveaway from Willow House here if you haven't already.
xxoo,
Decorchick!