Hey everyone!  I must say, I am pretty darn happy with how these stockings came out.  Oh wait, you didn't know I was making stockings did you? :)
When my Grandma was in town last week, I had her help me make the first one so I would know what to do on the other 4 I needed to make.  Keep in mind, I just learned over the summer how to sew.  I am still very much an amateur, but I do feel like I am a master threader and bobbin filler-upper now. :)
So we went to Hobby Lobby and I already knew exactly what fabric I wanted the stockings to be.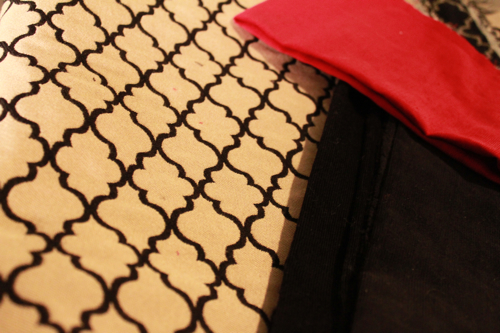 I have loved that trellis/quatrefoil fabric for forever and finally got some.  Then I just bought a little bit of black and red corduroy for the cuff part of the stocking.
And now I present you with our 2010 Christmas stockings made by yours truly.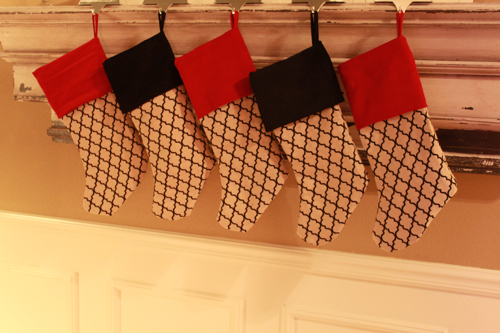 I don't know what it is about sewing, but I feel really domesticated when I do sew. You know, like a real wifey? :)
So after my Grandma left to go back to Alabama, I made the other 4 all by myself.  But it did take a few phone calls and about 3 skype video chats to her because I'd get confused.  I know, I bet you are impressed she even knows how to skype huh?  Oh, and she said she wouldn't claim that first stocking as her work because the insides aren't lined or anything.  She's so silly.  Doesn't she understand I like to cut corners, and as long as it looks good on the outside that's perfection to me?
Here's the inside.
Looks perfect to me! :)
And here are a few more pics just for fun.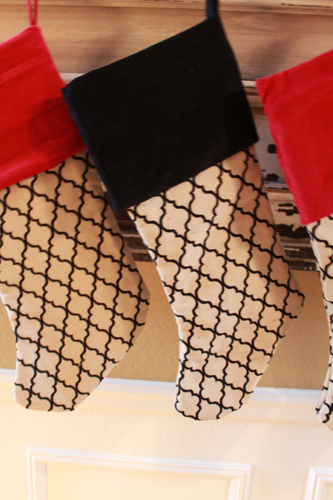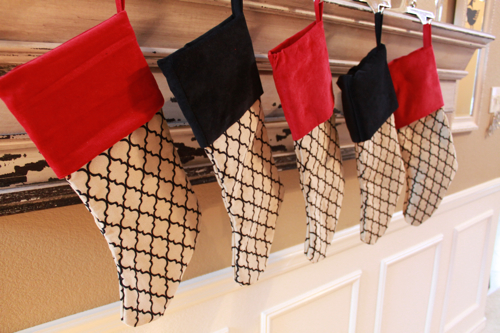 Do you love them?  I LUUUUUUUV them. :)  I will post a tutorial soon.  But sewing tutorials are not my forte ok? The stocking part itself is incredibly easy, and I knocked those out in no time.  I only had problems with the cuff part, which then led to many calls to granny.  :)  I would like to embroider our names on them, but if I don't get to that this year it's ok.  The boys are black and the girls are red!
****************************************************************************************************************************
THIS GIVEAWAY IS NOW CLOSED
Now for that little giveaway I mentioned in my title.  This is the time of year everyone has warm fuzzies right?  Well they have struck me, and I'd like to do a little sumthin' sumthin' for all of you. I've been feeling overwhelmed with gratitude lately.  Life is fantastic, God is good, and it's the season for giving and not receiving.
This blog would be nothing without all of you.  You are what keeps me going to get things done around our home.  You motivate me to post when I don't feel like posting.  Gosh, and all of the sweet comments you all leave.  Really, it keeps me going and y'all are such an encouragement.  This really has become a dream job and I am so very thankful to have the support you all give.
So with that said, I am giving away this…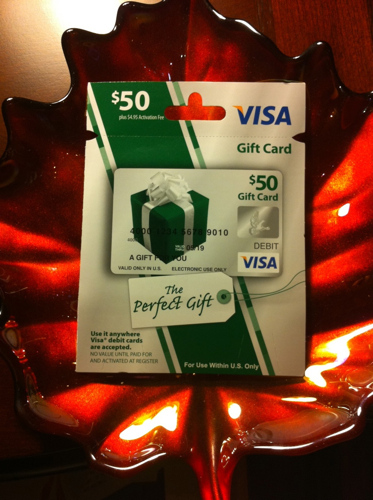 Just in time to help with Christmas shopping or a little splurge on yourself.  In case you are wondering, no, I am not rich.  Could I use this $50?  You betcha!  But I just feel very thankful for everything and want to give one of you a little treat.
I am thankful for many things, but today I am especially thankful for this sweet lady.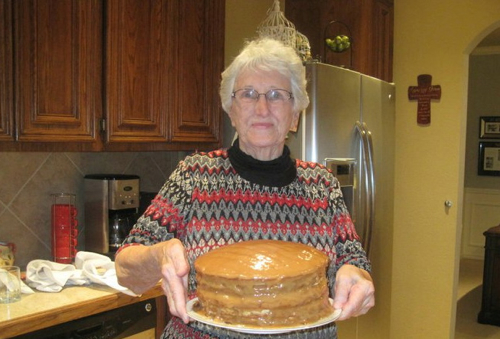 I am grateful she taught me how to make the stockings, and grateful for her famous caramel cake.  That cake is the best thing you will ever put in your mouth.  That particular one she made while she was here, and it was 5 layers, but she's made them in 6 or 7 layers before!  It really is decadent.
So if you would like to enter the giveaway to win the $50 gift card, all you need to do is:
1. Leave a comment and tell me what you are thankful for this holiday season (please be a follower first).
As additional entries, you can:
2. Become a follower of my blog, or let me know you already do.
3. Blog, tweet, or facebook about this giveaway and get people to start thinking what they are thankful for. :)
Be sure and leave separate comments for each thing you do.  I'll run this through Saturday, November 27 and will announce the winner then.
Thanks again everyone.  I really appreciate all of you!!
If you are new here to my site (thank you!), don't forget you can follow me on Facebook, Twitter, and subscribe to my RSS feed by clicking here.  :)
I'm sharing this post at Blue Cricket Design, Someday Crafts, Be Different Act Normal, Funky Junk Interiors, The Shabby Nest, Between Naps on the Porch, My Romantic Home, Thrifty Decor Chick, Kate's Holiday Craft Party and Under the Table and Dreaming.
GIVEAWAY IS NOW CLOSED
xxoo,
Decorchick!