Yes, that's right, sewing.  I've been wanting to learn for a long time, and I finally did.  We've had a brand spankin' new machine my mom got us for Christmas that hasn't been touched really since then.  But last week a sweet friend of mine, Sherri, came over and taught me.  She showed me how to make a pillowcase dress and it was actually easy!  So a few days later I attempted it all by myself and it was a success.  Of course there were several dumb text messages I had to send to Sherri during this, and she is a very patient person thank goodness.  So with her help and the help of youtube videos, I got it all down and made this dress for Emma's 1st birthday…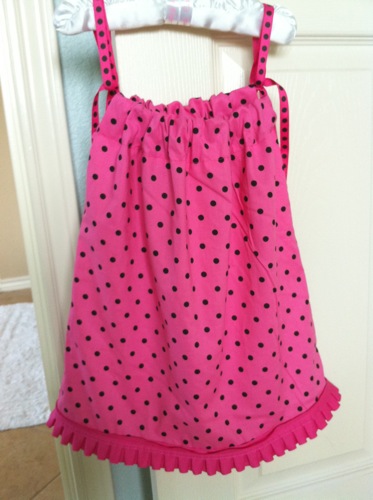 I still need to iron it, but I wanted to go ahead and show y'all.
This is a big deal for me.  I've always wanted to learn, but just didn't think I had it in me because I'm not very patient and a sewing machine is intimidating to me.  But, to my surprise, once you do it once and get the threading the machine down, it's actually easy…and FUN!  I love sewing now and have even made a few other things since.  I'm so excited and it was such a blessing for Sherri to teach me.  Trust me when I tell you this…if I can sew, YOU CAN TOO!!
I just used the pillowcase pattern Sherri already had, but I would think they are the same pretty much everywhere.  The measurements are so easy that I just memorized what to do.
It just means a lot to me that my daughter will be wearing something that I MADE, for her first birthday.  Everything came together so easily.  I'm just very grateful. :)
xxoo,
Decorchick!