I'm about to make someone's Saturday pretty exciting. :)  Thank you to everyone who entered to win the custom piece of art from Modern Bird Studios.  Don't get discouraged if you didn't win though.  See the bottom of this post for a special offer!
Okay, and the winner is…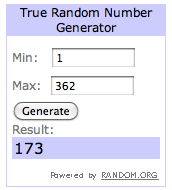 Commenter number 173!  That's you, Jennifer V!  Now you get to find the perfect photo. :)  Please email me!
And now for the special offer…From now until October 9, 2010, Modern Bird is offering all of you lucky readers 15% off your order if you use the code DECORCHICK at checkout!  How awesome!!
Thank you all again for entering, and thank you Megan and Gregg for the awesome giveaway!
Have a great weekend!
xxoo,
Decorchick!
Thank you to all of my sponsors: