Nothing really gets me in a better mood more than new bedding and fresh new sheets! It can really change the look of your room and even affordably. Especially when they are all BHG products from Walmart!
I've been working with BHG and Walmart for a while now, and I love showing you guys what all they have to offer now for home decor. We have TONS of things in our home from there, and everything has held up great so far!
Ok back to the bedroom…
So I've been wanting to change out the comforter that we had on our bed for a LONG time now. And for a while, I just had an old down comforter that we were using, with no duvet or anything. So I thought it was about time to step it up a bit and get a real comforter.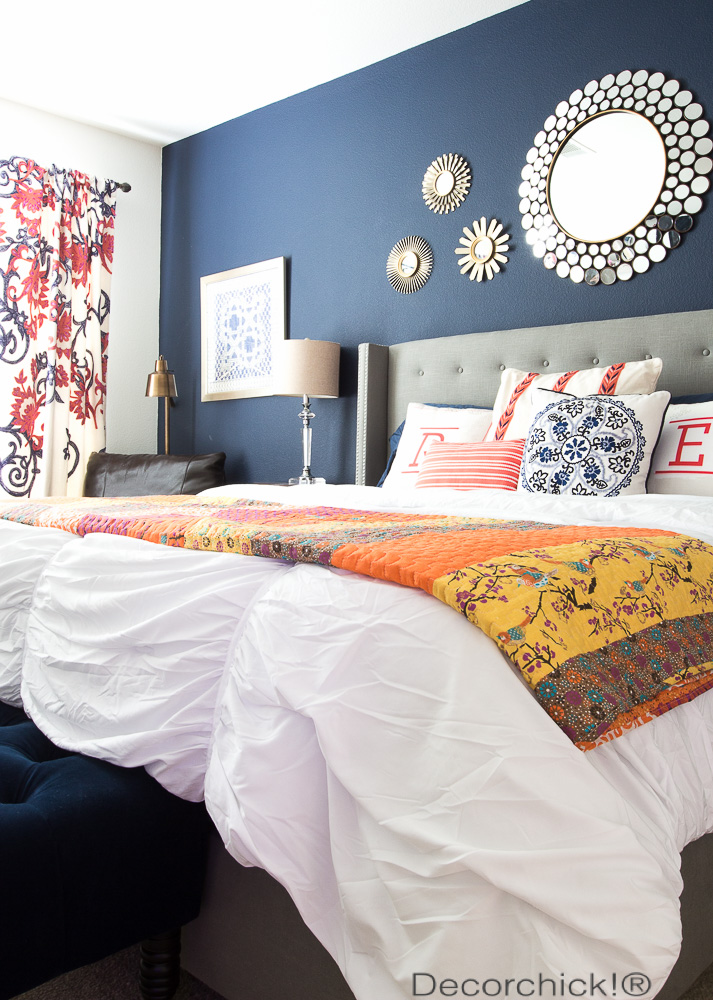 And I really love this new white ruched comforter! It hasn't been too hot while sleeping, and I like how it's plenty long on both sides of the bed. That really annoys me when you get a king size comforter and it barely covers the mattress. So it's a very generous size!
We already had the navy and coral thing going in here from that makeover, so by adding just a plain white comforter really softens up the room. Before, the comforter was all coral and orange too. And it was a lot of orange.
So I also decided to bring in a few other new colors too by adding a quilt at the end of the bed. Now granted, no, we don't need a quilt right now during the summer, but we WILL in the winter, and plus it just looks pretty. :)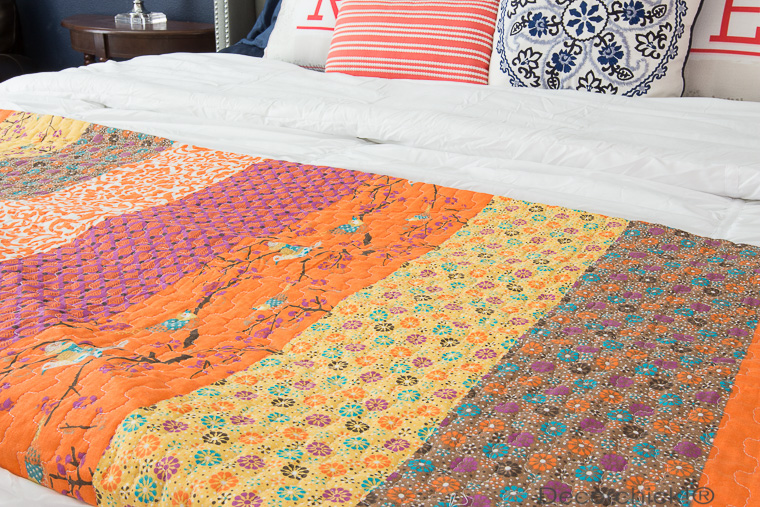 This is the Royal Empire 3-piece bedding quilt set in the tangerine color. The orange on the quilt isn't an exact match to the coral on the pillows or on the curtains, but I think it still works!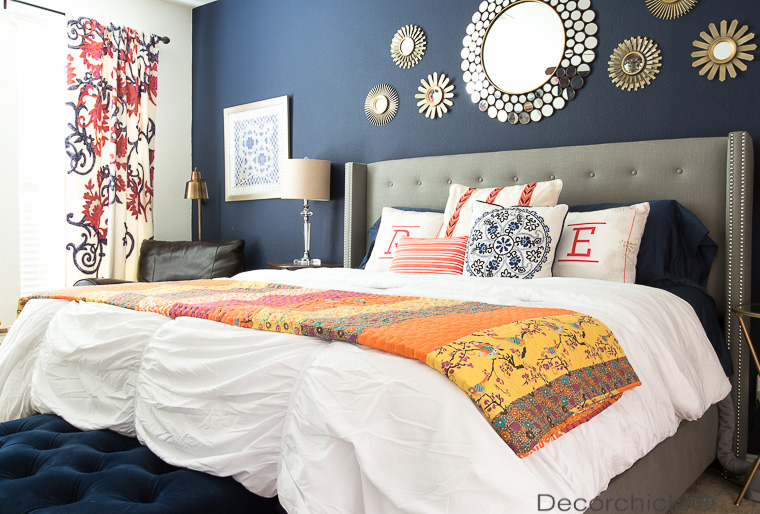 Isn't that little navy ottoman so cute? I originally bought it for my husband's man room makeover, but it didn't work out in there so I brought it to our room and it was a perfect match!
And instead of going for plain white sheets like I usually do, I chose a navy that BHG at Walmart had, and again, it was spot on to our paint color!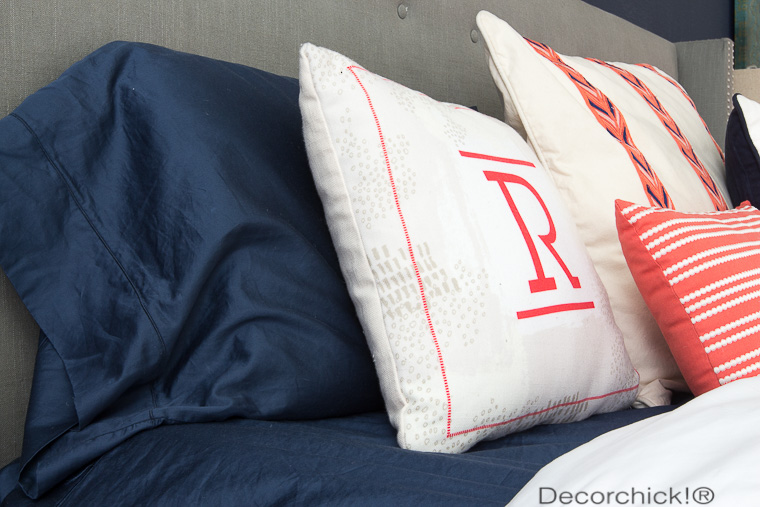 These are the 400 thread count Egyptian Cotton sheets in Indigo Blue color. The sheets are SUPER soft, almost silk like. I am very picky about sheets, and these have been very good so far. Our mattress is 15″ thick, and these sheets fits up to 18″.  So they do fit over each corner with no problem. I wouldn't say the elastic on them is the most snug, so after a night's sleep, the fitted sheet will have some wrinkling and such. These sheets do seem they will hold up well during washings and such though, so for the money, they are totally worth it!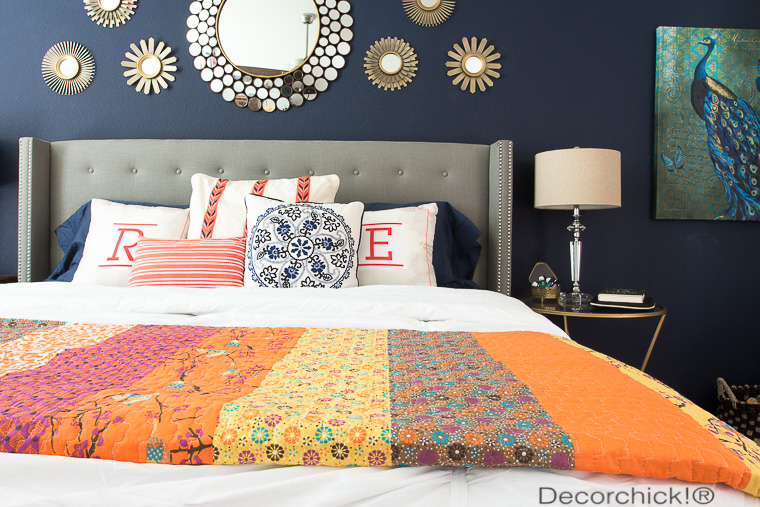 Here is another shot without the quilt, so you can see more of the ruching on the comforter.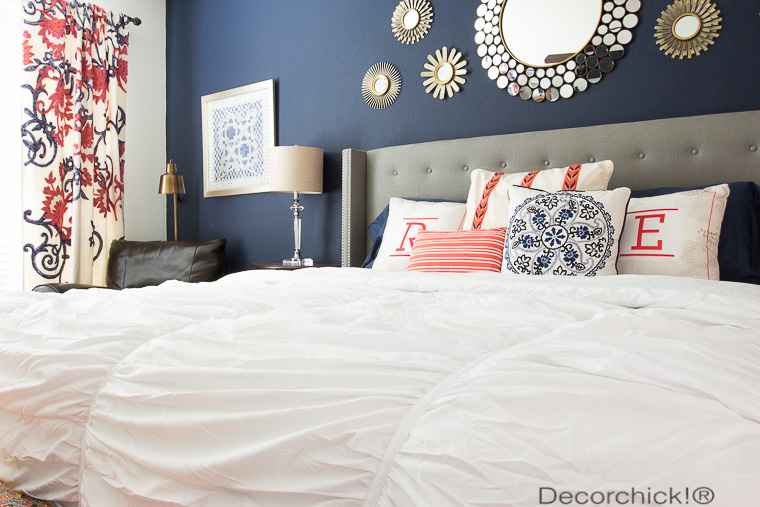 It's so pretty and fluffy and billowy!
Oh also, the white comforter and the quilt, also came with 2 matching shams per set. I just did not use them because we have SO many pillows already that end up on the floor and it drives me a little insane. :)
And that's it for our bedroom refresh!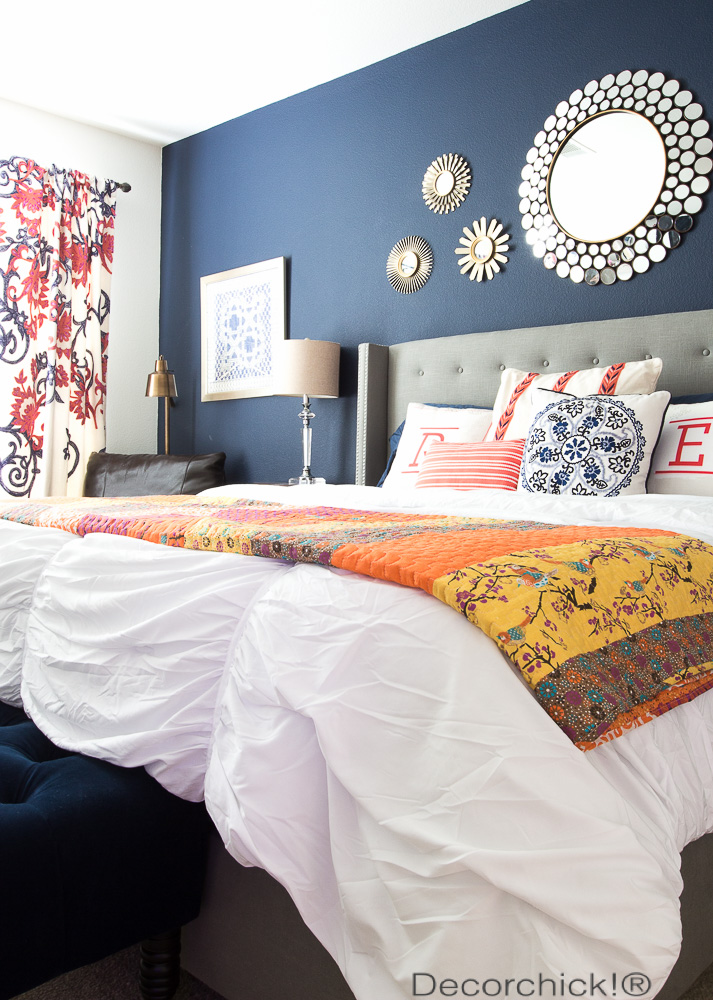 What do you think? Changing out bedding and even your curtains can make a room feel like brand new! And it's a big bang for your buck and not a lot of work involved! :)
Be sure and follow BHG Walmart on Pinterest, Facebook, Instagram, and Twitter to get their latest ideas and inspiration too.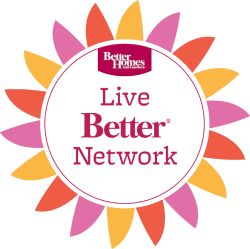 xxoo,
Decorchick!®
Disclosure: I received compensation from  BHG at Walmart for my time and participation in the BHG Live Better Network. Random thoughts, opinions and musings are of course always mine.