I came to a realization this past weekend. That I have a hard time letting go of furniture pieces that we bought with our hard earned money. You know, not the cheap thrifty finds that we find at garage sales or thrift stores, but the "real" furniture that we bought at a furniture store. The expensive stuff.
But as our style evolves and changes, or when you crave something different other than that all brown leather living room set, I find it difficult to just get rid of it, or even sell it sometimes because it's still "good furniture!"
But when the furniture just doesn't fit in the room, well that's a whole other ballgame.
Case in point…our living room.
We just rearranged it in July. July!
But I wanted to use everything that was previously in there and didn't want to lose a seating area by getting rid of something, so, we made it "fit."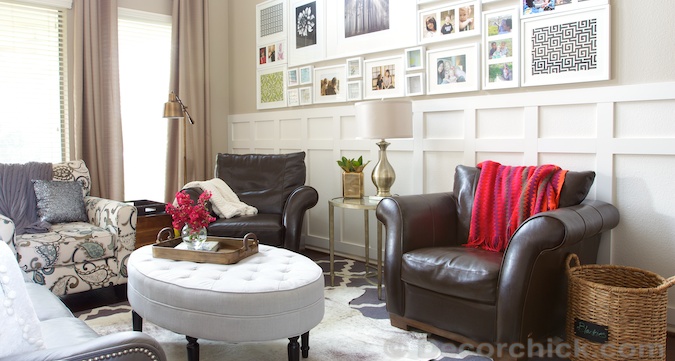 And while I really did love it, after living with it a few months, the hives began to break out last weekend.
The room did feel more cozier, but it felt crammed. And cleaning the floors was extremely difficult because there were so many things to maneuver around.
It just did not work.
So when the realization hit me that I am trying to fit 2 big brown leather chairs (one is a recliner), in our living room just because we paid good money for them, I finally said enough is enough! Then moved the recliner to our bedroom. Haha.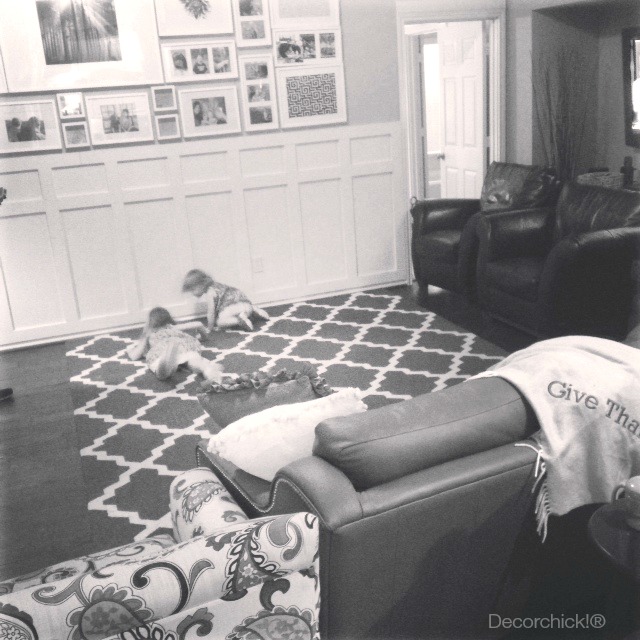 Yes, clearly I have issues, but recently the blue and white Ikat chair that we had in our bedroom bit the dust, so I put it out at the street and it was gone in like 5 minutes. Our neighborhood either really loves us, or really hates us for all the stuff I donate to the curb. :) So our bedroom needed another chair anyway, and while the recliner is not my first pick because it's big (and brown), it's just temporary and will work for now.
Sooooo, that's what I was doing on Friday night. Rearranging the living room again. We've always struggled with having the furniture placement centered around the TV, and I know that is a no-no in the design world. But we don't live in a magazine and we have a real life, so that's what we did. And we don't even watch the darn thing.
We are logical people I tell  ya.
But, I have to say, it's so FREEING having that recliner GONE. Or at least moved to another room in the house. :)
The living room is completely different again, and I will show you soon. Still need to take new pictures! But we have space now, and that is what is so nice.
I have sold many things on Craigslist and donated to various places. So I don't know what my problem is with this brown leather stuff! I think it's a sentimental thing because it's the first "real furniture" that we bought as a married couple, at a nice furniture store, and saved up and paid cash for.
There are other pieces of furniture that I am hanging on to also and I just need to let them go. Sell them, and use that money and get something that I love! Sounds easy enough.
Do you struggle with letting go of things too? Try to cram too much furniture into a space to make it work, when in actuality it doesn't work? Then you're in good company. :)
xxoo,
Decorchick!®