Remember the pantry carousels we all know and love?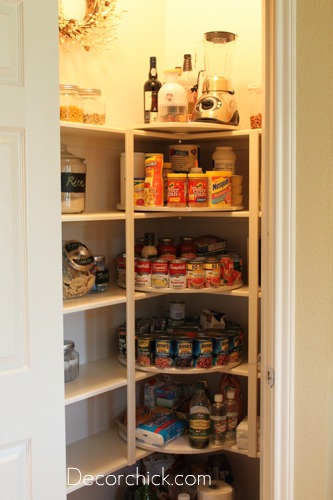 Well I am still getting TONS of emails daily about them and questions about when my Dad will be able to make and sell them again. I had updated the original post to say that they are on hold indefinitely right now because he is too busy, but you all still want to know when they will be available again.  And I don't blame you because they are awesome, but the sad news is that he is still unable to make them.  Work has been extremely busy, and as you can imagine, the carousels are pretty labor intensive, and getting an order ready to ship out is just as intense.  When and if things do calm down with his work, I will definitely let everyone know in a blog post.
So I am very sorry if I have not responded to your email if you sent me a pantry inquiry.  I wasn't trying to ignore anyone or anything, it's just hard to keep up with all of the email requests.
And believe me, if they were easy enough to make to where we could post up a tutorial on how to make them, I would. But it's not that easy and my Dad has already explained why in a different post. Just take my word for it. :)
So maybe one day I'll be back with a post singing a different tune.  I wish I could say I know of another product that is equally as good and well made, but I can't. These really are top notch and nothing compares to them.  Ok, anyway, maybe one day again soon. :)
xxoo,
Decorchick!