When I started doing my stepson's room, I knew what color I wanted in my head.  I didn't want the standard boy blue, thought about doing navy, but then decided a dark teal would be pretty. And by the way, my stepson gave me free reign in his room as far as the paint color goes, and he only had one request which I'll show you soon. :)
So off to Home Depot I went and found the perfect swatch color.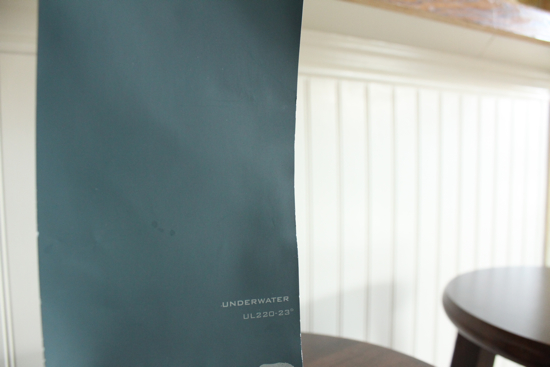 I bought a sample of it, tried it, and I loved it.  Um, why can't I have that luck with the rest of our house?? Anyway, if y'all have been following me for a while, you all know that I am a hard-core SW gal.  And as much as it pains me to say this, I think I may be a Behr convert now.  It only pains me because I get the SW paint SO cheap, and Behr, well, not so much.  But the Behr Premium Plus Ultra covered SO nicely and I absolutely love the finish.
This is the finish I got.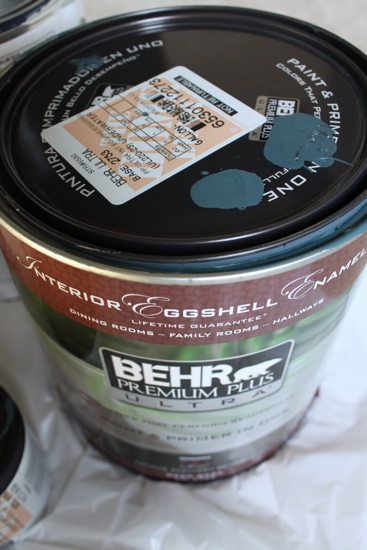 The "Interior Eggshell Enamel."  It's not quite a flat, and not quite a satin–it's a happy medium between the two.
The color of the paint in case you missed it in the swatch photo is called Underwater.  I had Home Depot lighten it just a tad by adding an extra ounce of white to it when they mixed it.  It was perfect!
And here is a little sneak peek of the room painted.
I just love how all of the white pops now! And especially the paneled wall. :)
I plan on adding splashes of yellow and really want some yellow lamps.  So if anyone knows of some great, affordable yellow lamps, hit me up.  I've been everywhere!  I've even been to Goodwill looking for some to spray paint but no luck.
Oh yea, back to the title of this post…I've seen some other great bloggers recently do some cool teal colors too.  It's such a fun and bold color.  Check out what Stefanie, Kate, and John and Sherry did with their love of teal. :)
Do you love teal too?
And p.s.–you will definitely want to come back here on Monday.  I might just be giving away something that kinda rhymes with "wet." ;)
And special thanks to Remodelaholic for the awesome feature!  Head on over there and say hi. :)
Also, welcome to my newest sponsor, AboutOne!

xxoo,
Decorchick!