Well I was until these crazy flu-like symptoms started up on Sunday night. Grrrr.  We've all been sick around here, including our little girl.  So needless to say, I haven't accomplished much this week except eating pints of Blue Bell ice cream. :(  BUT, I will show you what I am going to try and attempt to finish today…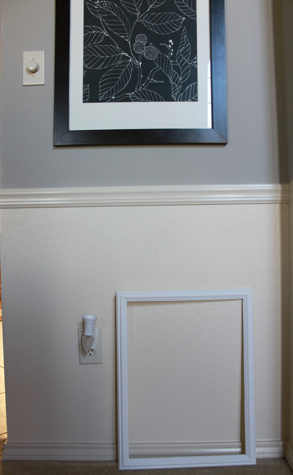 The fake wainscoting.  The office will be complete once I put all the boxes up.  Y'all didn't know I painted the bottom out white did ya? :)  So if I am able to tolerate the nail gun with my pounding headache, it should be finished today.  But then of course I will still have to caulk and paint the boxes the same white color as the wall, so it will be at least a 2 day project.
Oh, and an update to my pity post the other day…Y'all were right.  Once I started accessorizing and hanging things on the walls, the room really came together, and I LOVE the paint color. :)  Yay!!  I took that rug back also.  Hubby didn't like it, so we won't have a rug for now.  It still looks good without a rug, so that's a plus too.  There is one I want to try from Overstock though…maybe one day.   I'm just so glad I like the room and won't have to repaint it.  <high five!>
So that's about it.  Just wanted to give y'all a brief little update. :)
Don't forget to enter the giveaway from The Vintage Pearl HERE.
Please visit these lovely sponsors too. :)
Altar'd – How to paint furniture guide
xxoo,
Decorchick!