Chalkboards are a great way to add that touch of coziness in any room of your home.  It's a fun way to write sweet notes, honey-do's, your favorite scripture, the dinner menu, and the list goes on.  They are also very inexpensive to make which makes them even better.  I buy the chalkboard spray paint at Home Depot and it's only about $6 a can.
I buy all of my pictures at thrift stores and haven't spent more than $3 on any of them.  The key is to just find an old, ugly picture that has a decent frame around it, and then you can always spray paint the frame any color you want.
This was the first chalkboard I made and I just painted an old plastic charger I've had for a few years and put in the kitchen…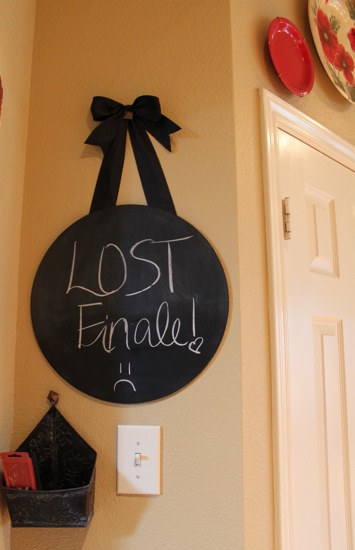 The back surface was flat so I just used those Command double sided thingamamobs and stuck to the wall.  Then I hot glued some ribbon to the back and made it appear like it's hanging from ribbon, but it's actually not. :)  This is the chalkboard in our home that the kids are allowed to write on. :)  And yes, we are sad that Lost ended. :(
I made this chalkboard for our breakfast area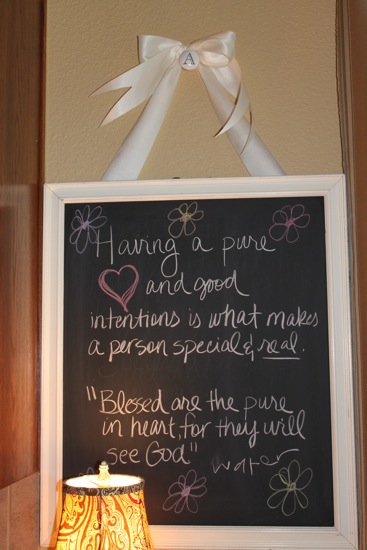 I love this one because I didn't have to paint the frame or anything.  It was already white, and slightly distressed so that worked for me!  All I did for this one was tape up the frame and spray the chalkboard paint directly on the glass of the picture.  I sprayed 4 coats to make sure it wouldn't scratch off over time, and it's still holding up great!  Oh, and see how the word "water" crept up after the scripture?  My stepson is pretty slick. ;)
Next I hot glued some ribbon to this one as well (never can have too many ribbons and bows), and used a knob I got at Hobby Lobby to again, appear like it's hanging from it.  I just screwed it into the wall by hand and luckily it was just sheet rock and no stud. :)  I got the knob idea from Thrifty Decor Chick when she redid the Bub's room.  You can check it out here.  She is so creative and what an amazing transformation on her boy's room!
Here's another close-up of the knob…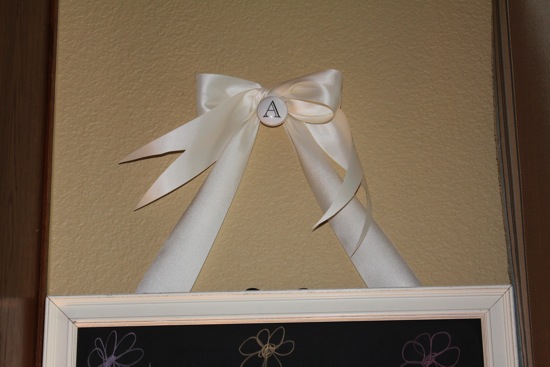 And another…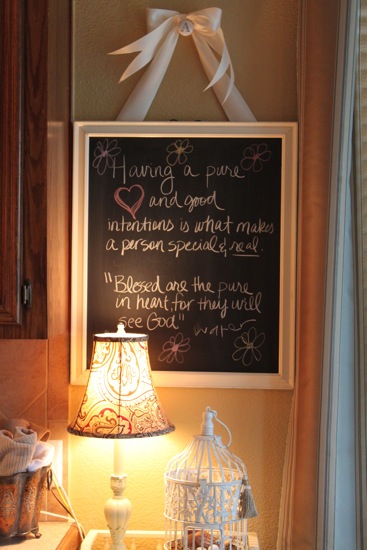 See that pretty fabric hanging down on the right?  That's a sneak peek of some new window treatments that I made for our breakfast area!  Will post about that soon. :)
And lastly, chalkboards make great birthday gifts…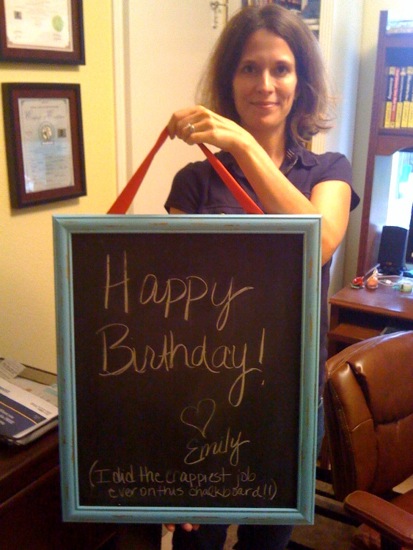 That's my lovely sister modeling her new chalkboard.  I painted the frame an aqua blue color and distressed it a little with sandpaper.  My distressing job didn't go as planned, so that's why I wrote that message on the bottom of it.  But she liked it so that's all that matters. :)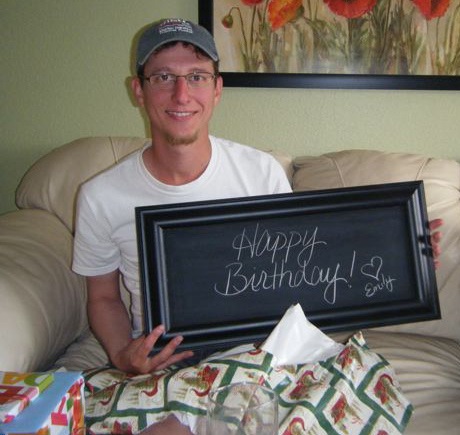 And I made one for my brother.  Yep, my brother.  Has he used it?  Ummm, probably not, but that's what you get when you're on a budget!  I think that framed picture was only $1!  And pay attention to the paper it was wrapped with.  Yes, I am known to wrap gifts with Christmas paper all year long.  But at least I wrap it inside out.  Thrifty huh?!
So go and get a cheap, ugly picture and make a chalkboard!
xxoo,
Decorchick!