Woohoo happy Friday!! I'm just a little excited today. Why? Because I get to sit back and relax and let someone else do my cleaning now! That someone just happens to be a new little robot friend.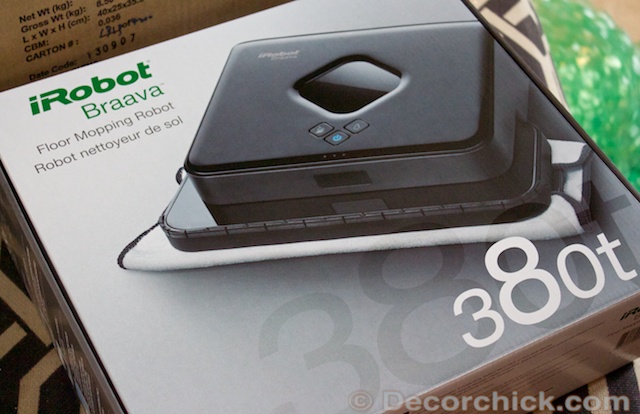 I got an offer I couldn't refuse and had to test this baby out, the iRobot Braava 380t. I've been wanting my own real life robot or clone for quite a while now, so I figured this could be the next best thing.
Unpacking it was simple and it's a cute little compact machine.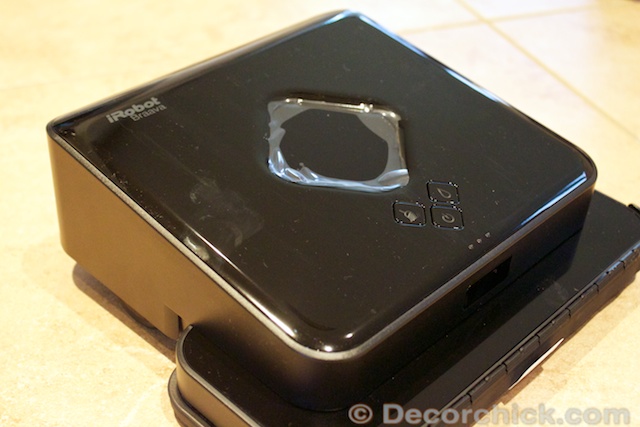 I read the manual and the directions and they were very easy. Normally I have my husband do this sort of thing but I decided to give it a whirl. When he came home and saw me reading an instruction manual, he was quite astonished needless to say.
You just pair it up with what they call a GPS cube, and that's how the robot knows what to clean and where.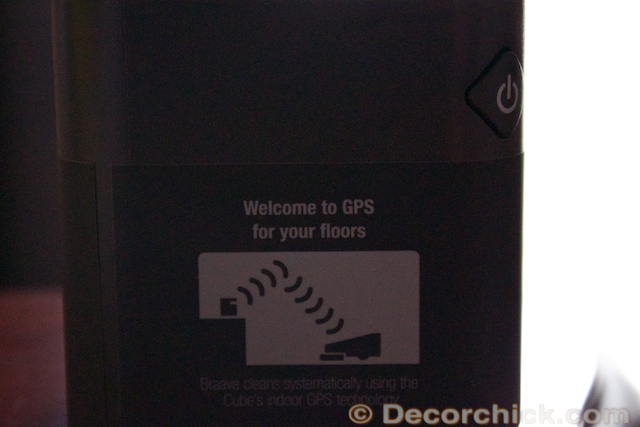 I was happy to see it cleans up to 1000 sq feet on the dry mopping! That's a big room.
A few other features I like are:
• Two Cleaning Modes for Damp And Dry Cleaning: Uses either disposable cleaning cloths, including Swiffer brand or Braava's specially designed reusable microfiber cloths.
• Whisper-Quiet: Quiet motors, soft-touch bumper and careful system design enable the robot to operate without disrupting your daily activity or sleep.
When you turn it on it plays a cute little jingle, and same when it is finished and then it returns to the spot where you started. So cool!
I snapped a few photos when it was cleaning our hardwoods.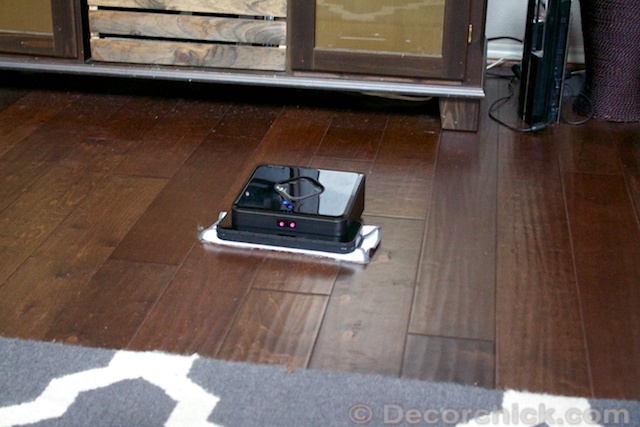 See all that dust underneath the entertainment center? Yes, I was letting it accumulate all week for this moment.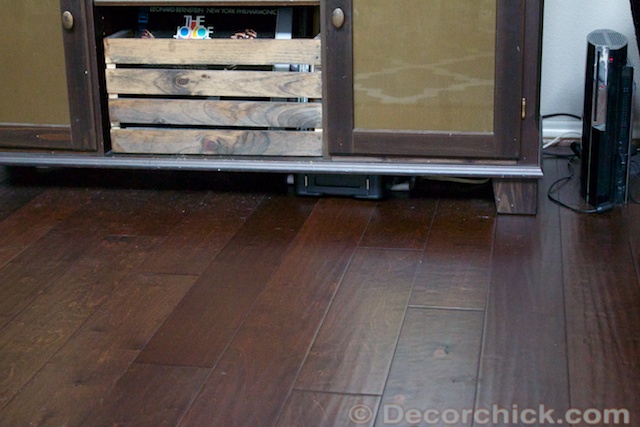 I love love LOVE how it cleans underneath furniture! And it did a great job too.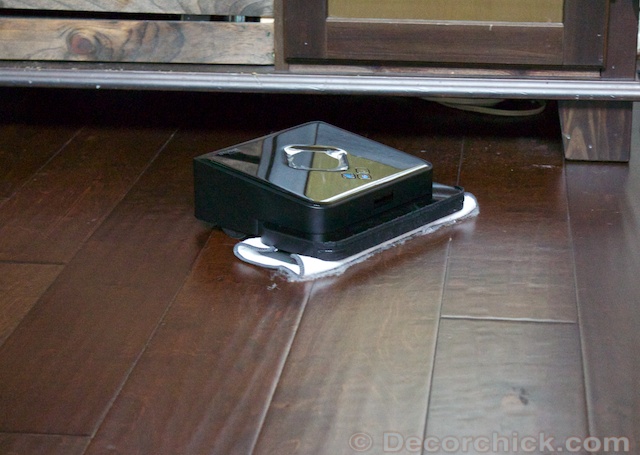 That's how much it picked up from under that piece of furniture.
And this is the dirty mop pad after it was done with all of our hardwoods in the living room.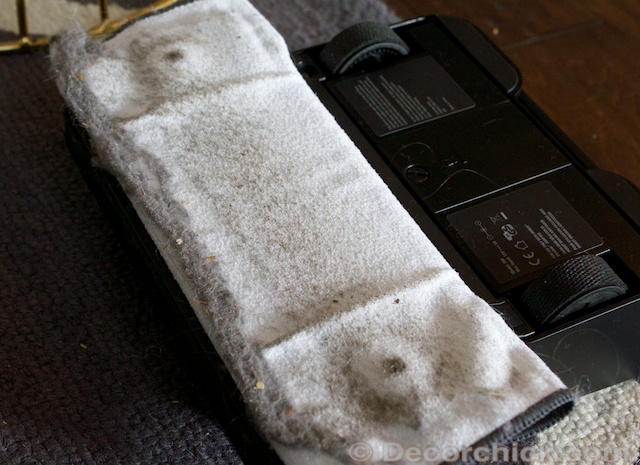 Then I put it to work in the kitchen and breakfast room and this is the result from that.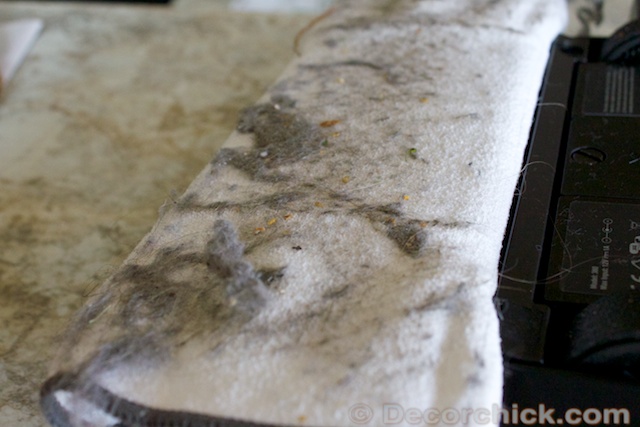 Yea, ew.
Just a reminder that this isn't a vacuum per say, but it does dry mop and wet mop. Can't wait to use the wet mop feature. I was just so excited about the dry mop I had to post it already! But it does do a very good job of cleaning the floors and I was very impressed. I was looking around too online and the reviews are really great on this thing. I do believe we have become long life friends in a matter of a few days.
Something to point out is that in our living room for example, where we have the big area rug, the iRobot senses that and lightly bumps into it and knows not to go on it. So it just does the floors. So if there is a big area I would want done, like our entryway or something, I would just move that entry rug to the side or somewhere else so the irobot can do it's thang and do the entire floor. And something like a toy or a basket you'd want to move out of the way too so the iRobot can really clean. Know what I mean?
I even made a short video so you can see it in action in our living room. This was the very first time I used it and the first time Ellie saw it. She was excited to say the least. And "no" is apparently my favorite word.
See how quiet the iRobot is though?? It's really super cool and even better that I will have more free time this holiday season to cook and make more crafts because my floors will be getting cleaned by someone other than me! It's my new holiday helper. :)
Ladies and Gentlemen you need this in your lives. It really would free up some time this holiday season while you are slaving away in the kitchen or just enjoying family time, so let this machine do the dirty work for you. Read all of the details about the iRobot and where you can purchase it here. It would make a fab gift this year! What will they think of next?
Do you have a robot already that does your floors? I'd love to compare notes and see what you think. Is this on your wish list?
xxoo,
Decorchick!
*Thanks to iRobot for sponsoring this post. I do really love it!*