Yep that's right. Hormones. Gotta love em' right? But I have the most amazing testimonial to share today. I am pretty blown away by it myself. So sit back, grab a cup of coffee or tea, and relax. Because I'm sure your hormones could use some relaxation too.
Now I'm going to tell you how this little miracle in a bottle helped make me normal again.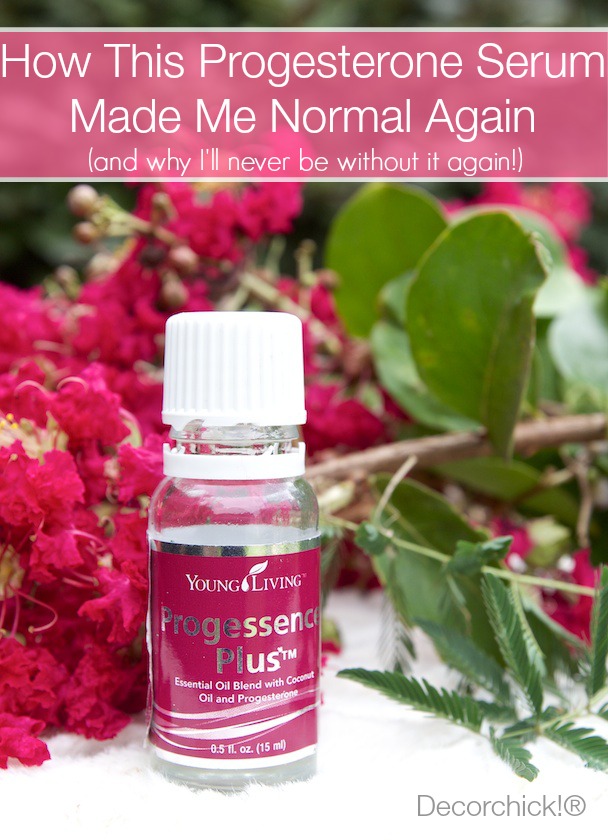 So, hormones. Mine were out of whack after having Ellie, my 2 year old.
When I joined Young Living in November of last year, this Progesterone Serum was the most I was excited to try. Why?
Because I was having cycles twice a month
I felt lethargic (probably because I was bleeding twice a month!)
I had crazy mood swings during that time of the month, and since it was happening twice a month, well, I wasn't very pleasant those 2 weeks. ;) 
I even went to the doctor and everything checked out normal, but she did want me to have an ultrasound to make sure I didn't have a cyst or something. And well, I never went to get the ultrasound and kind of took matters into my own hands. I'm not recommending you do that, but before paying for the ultrasound, I wanted to see if the Progessence Plus would work.
And you know what?
It DID work! 
It took about a month for me to see results. Before I knew it, I had regular monthly cycles only once a month, shorter cycles, less pain, and I was happier.
Was it too good to be true?
Well they say sometimes to switch up your oily routine so your body doesn't stop responding to whatever it is you are using. And since I was running dangerously low in July, I stopped using it. Cold turkey.
Not a smart idea y'all. 
You know what happened in August? I had 2 cycles. I had horrible back pain and cramps. I felt depressed. I haven't felt like that since January when I began using the P+. And this second cycle has been one of the longest and most painful cycles EVER.
Did you know that it's been studied by Young Living that about 99% of women that were checked had 0 levels of progesterone in their blood, regardless of their age? That's a REALLY big deal. That might explain why women deal with hot flashes, night sweats, migraines, loss of libido, depression, etc. We NEED progesterone in our bodies to function!!
Here are some benefits and uses for the Progessence Plus.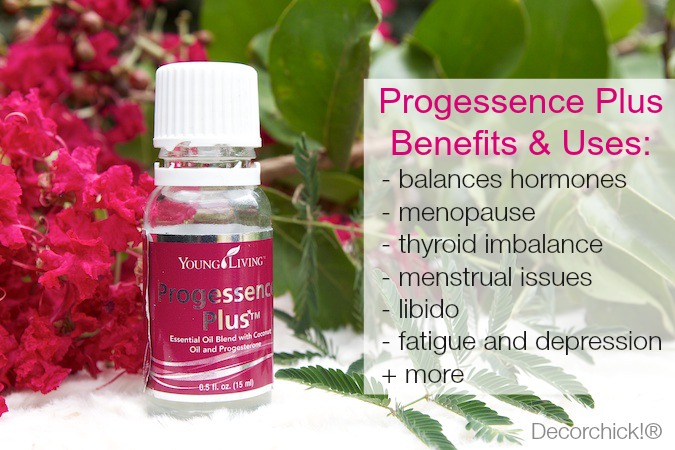 Another thing I've noticed this month? Are headaches. I don't get them often. But I sure did this time. It was hard to kick them even with my peppermint oil, so these were definitely those hormonal headaches so many people suffer from each month.
I just find it SO fascinating and interesting that something as simple as an extra dose of progesterone is what my body needs. And many people use this serum for their HRT (hormone replacement therapy) with great success.
Remember, like with many oils, it won't be an overnight thing. I know with the Progessence Plus it took me a good month to get regulated and notice results. Stick with it and be consistent.
Needless to say, I've started back up on my P+ and can't wait till my body returns back to normal again. I am already feeling MUCH better mentally and out of the "funk." A drop on each forearm daily is all I need. You may need more and it might take getting adjusted to. Of course always consult with your physician before trying something, if that is what you are comfortable with doing.
Are you wondering why in the world I'm talking about hormones? Well because these things shouldn't be left in the dark. Many people suffer from situations each month, and there is nothing wrong with talking about them. People find comfort knowing they aren't alone. So I want all of you to know you aren't alone if you are struggling with something like this.
If you don't have double cycles like I do, the Progessence Plus isn't just for that. It can help treat menopause symptoms, thyroid issues, other menstrual issues, lack of libido, fatigue, depression, and more. I know of SO many wonderful testimonies on this serum it would be a crime if I didn't let you all in on it.
UPDATE: This is back in Stock!! You can also try Dragon Time Essential Oil, Ylang Ylang Essential Oil or Clary Sage Essential Oil. All are great for controlling hormone issues, and since not every oil works the same on each individual, these could be a great option for you. You never know until you try.
So there you go. That's the long story of why I'll never be without my beloved Progessence Plus again!!!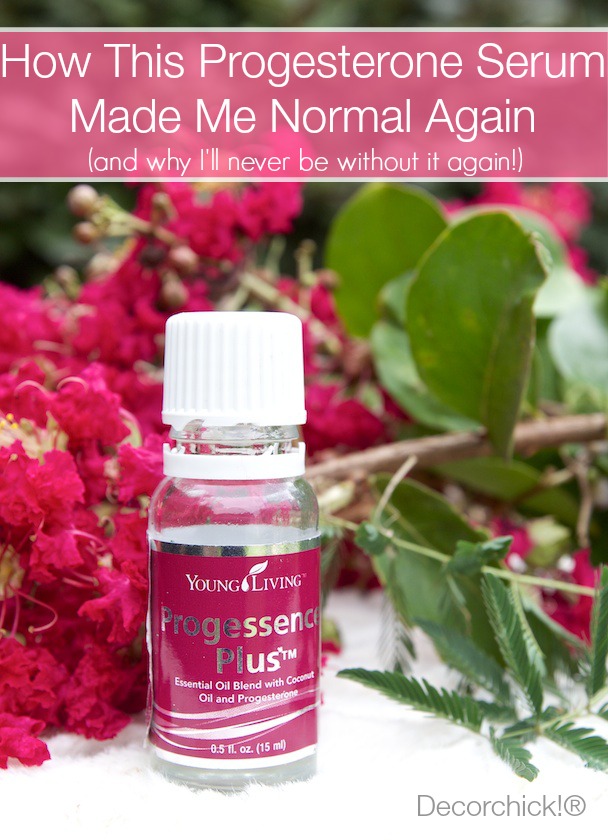 My poor husband. It's a good thing that I'll be back to normal very soon and I promise not to experiment with this again. Ha!
But that's the great thing about essential oils! Find what works for you and stick with it. Experiment. Trial and error. That's life. And when you find the winning component, your life can be changed like mine and many others.
You can order your premium starter kit HERE and get your free wholesale membership for life, then just add on one of these extra oils to your order is what I'd recommend. Leave the information filled in, and don't change it to customer, unless you want to pay 24% higher retail prices. Plus, you'll get the FREE goodies from me once you do order (see this page for the latest promotion)! They will really help you get started on this journey. I explain why the Premium Starter Kit is the best option in this post.
Edited to add: I just want you all to know that when you create your wholesale account, you are by NO means agreeing to sell anything at all. All it means is that you will get a wholesale membership and get the wholesale prices forever! The business side of things is completely optional and definitely not a requirement. And I will never hound you on doing that part. Many people just use the products because they are THAT wonderful. :) 
I'd love to hear your thoughts. Do any of you struggle with monthly issues? Suffer from thyroid issues?  Depression? Let's talk.
xxoo,
Decorchick!®
*These statements have not been evaluated by the FDA. This product is not intended to diagnose, treat, cure, or prevent any disease.